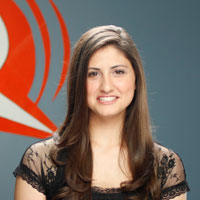 KATHERINE VISCONTI
Follow her on Twitter via @k_visconti
Email her via: katherine.visconti@rappler.com
Katherine is a reporter, writer, video editor and videographer for Rappler.
She has been called Italian is really American but is considered Filipino at heart. She was born in San Francisco, California.
Katherine wants to make business news more than just about bulls and bears, to explain why sin taxes aren't sexy, and why the stock market matters to the everyday man. She graduated cum laude with a primary major in Writing Seminars and a secondary major in East Asian Studies from Johns Hopkins University and began hunting for a safe opportunity to deposit an adventure-seeking American offshore. She found Princeton-in-Asia, the program that sponsored her yearlong fellowship in ABS-CBN.
She is very often asked why she came back to the Philippines. She answers that the country is a worthwhile investment.