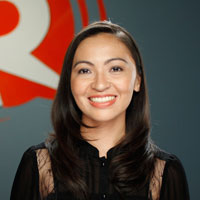 AYEE MACARAIG
Follow her on Twitter via @ayeemacaraig
Email her at: ayee.macaraig@rappler.com
Ayee Macaraig, born in Davao City, reports on politics, government and the media. She got an early introduction to national politics, covering former President Gloria Macapagal-Arroyo's near flight and eventual prosecution, and the impeachment trial of former Chief Justice Renato Corona. She follows the opposition United Nationalist Alliance (UNA) for the 2013 senatorial elections.
She began her training in political reportage as a writer and executive producer for ANC, the ABS-CBN News Channel. For 3 years, she was behind programs focusing on media critique, campaign platforms, and social commentary.
Ayee was News Editor for Ateneo de Manila University's official student publication The Guidon and graduated magna cum laude with a degree in Communication from the Ateneo de Manila University. She is passionate about humanities and the arts. She pursued a minor degree in Philosophy also at the Ateneo, and was a member of the Company of Ateneo Dancers.
Ayee is perhaps one of the most recognizable of Rappler's reporters. It is difficult to miss a pink backpack bouncing down the Senate session hall or a pink laptop charging at St Luke's stakeouts. She calls herself Rappler's resident showbiz reporter. She has reported on presidential lovelessness and blockbuster crises, congressional catfights and castration, and continues to follow the real-life melodrama of the nation's glitterati.