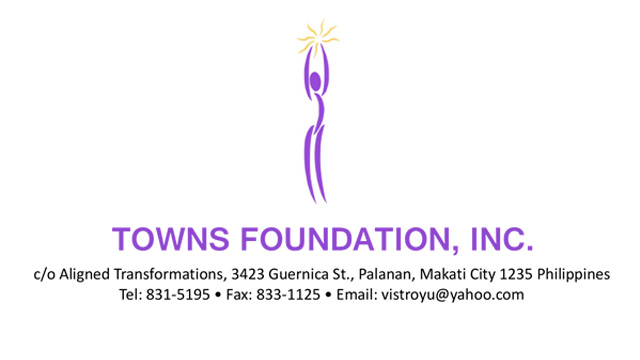 TOWNS Foundation Inc. announces the opening of the 14th Search for the Outstanding Women in the Nations' Service. Nominations are open to Filipino women aged 21 to 45 years old. Any person, organization, or entity may nominate one or more women who
meet the following criteria.

1. Aged between 21 and 45 years old by October 2013.
2. A Filipino citizen.
3. Is distinguished in her field of specialization
4. Has a well-balanced personality that is worthy of emulation
5. Is committed to the promotion of well being and upliftment of the Philippines and Filipinos
6. Possesses a pioneering spirit as evidenced by projects that she has initiated in the service of our country
TOWNS Foundation Inc. conducts this triennial search for the purpose of identifying outstanding Filipino women who, in their various capacities have served the country well. TOWNS awardees are true role models for Filipino women and girls who wish to dedicate themselves to nation-building. Once selected, they are expected to continue their excellent work as leaders in their respective fields.
For more details, email Catherine Vistro-Yu at vistroyu@yahoo.com.