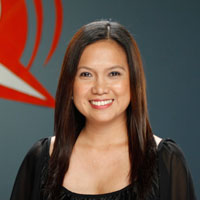 LALA RIMANDO
Follow her on Twitter via @lalarimando
Email her at: lala.rimando@rappler.com
Lala was packaging loans and handling fixed income investments for clients of the Bank of the Philippine Islands when she stumbled into journalism. A financial journal she wrote for merged with Newsbreak, where she started to write about issues and personalities involved when business mixed with politics.
Her stories on political economy, boardroom dramas, investment scandals, unlawful contracts have resulted in legislative investigations, turned into academic and industry case studies, and yielded recognition from the Jaime V. Ongpin Awards for Excellence in Journalism where she is a four-time finalist.
She was deputy editor at the online and mobile news arm of ABS-CBN as news consumers turned to friends and trusted networks on social media. She co-authored the book "The Seven Deadly Deals: Can Aquino Fix Arroyo's Legacy of Costly and Messy Projects?," where she wrote a chapter about the messy Ninoy Aquino International Airport Terminal 3 project.
She earned her degree in psychology with emphasis in business from the Assumption College, cum laude; completed the coursework for Masters in Business Administration from the Ateneo Graduate School of Business; and taught corporate finance to senior college students in Assumption. As a British Chevening Fellow, she studied Responsible Business and Corporate Social Responsibility (CSR) at the University of Nottingham in the United Kingdom. She has led projects on media coverage of and survey researches on CSR practices in the Philippines. She was cited by London-based Ethical Corporation group as one of the 15 Best of the Best Ethical Persons in 2007.
She also collects stamps on her passport, coffee stains on her books, and photos of her feet perched on lounge chairs shot against a variety of sunsets.