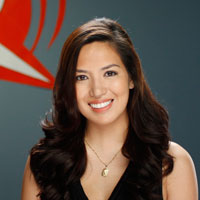 NATASHYA GUTIERREZ
Follow her on Twitter via @natashya_g
Email her at: natashya.gutierrez@rappler.com
Natashya has staked out hospital lobbies, the Senate halls and football fields, and reports general news with a focus on politics and sports.
Her love for sports stems from her years as a former swimmer and football player, when she competed in various countries across Southeast Asia and at youth tournaments in Europe with the Philippine delegation. She enjoys covering politics in the Philippines for its unique mix of drama, vibrancy and unpredictability.
Natashya graduated cum laude from Yale University in 2010 with a degree in psychology, and as a Yale Journalism Scholar. In college, she worked with various publications, and was Co-Editor-in-Chief of the Yale Journal of Human Rights.
She has lived in New Haven, Dallas and New York, spent summers working or studying in Hawaii, Puerto Rico, Kentucky, Paris, Accra and Johannesburg, and is happy to conclude her favorite city is still Manila, where the adrenaline is free, stories are rich, and the people, according to her, are the best in the world.