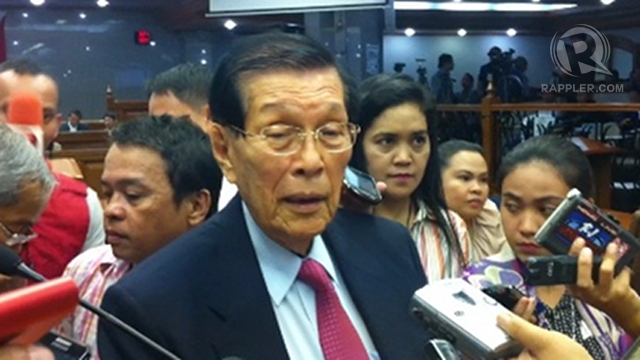 AMENDMENTS OUTVOTED. Senate President Juan Ponce Enrile was outvoted when he sought to delete the phrases "safe and satisfying sex" and "pleasurable sexual experiences" from the RH bill. Photo by Ayee Macaraig
The Senate voted against amendments of RH critics on Tuesday, December 4. Enrile and Recto first proposed the amendments to RH bill principal sponsor Pia Cayetano. When she rejected 4 of the amendments, the Senate decided in all 4 times to uphold Cayetano's decision. The most contentious amendment concerned the removal of the phrase "safe and satisfying sex life" from the definition of RH. Cayetano stressed that "many women are denied a pleasurable sexual experience" and that to delete the phrase would be to deny them of a pleasurable experience" in lieu of sex just to get pregnant. Cayetano is pushing for a vote on the bill soon similar to her counterparts in the House of Representatives.

Read more on Rappler.