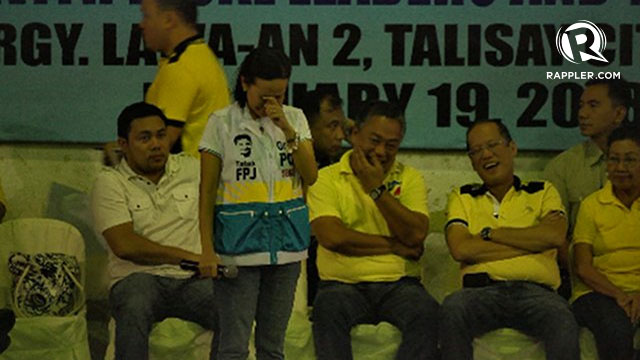 TEARFUL. Grace Poe was moved to tears when she recalled how her father, the late actor Fernando Poe Jr, lost by a very big margin in Cebu during the 2004 elections.
A tearful Grace Poe stood before Cebuanos at Team PNoy's campaign rally in Talisay City, last Tuesday February 19. Cebu is the province that she said stole the presidency from his father, the late actor Fernando Poe Jr, in 2004. "FPJ lost here in Cebu by a very big margin," she noted. Poe says what made the loss in Cebu more painful, she said, was that her father grew up in this province. Poe was not present at the proclamation rally of the United Nationalist Alliance in Cebu last week. She says the reason she was absent was because of what "a few people" have done to her family in the past. Although she did not name names she was apparently referring to the family of suspended Gov Gwendolyn Garcia.

Read more on Rappler.