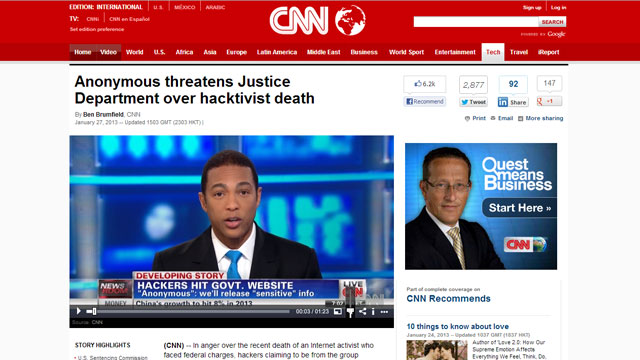 Hackers claiming to be from the group Anonymous threatened to release sensitive information about the US justice department after they hijacked the website of a US government agency responsible for federal sentencing guidelines on Saturday, January 26. The hackers posted a message on the US Sentencing Commission's website, demanding that the US reform its justice system or face incriminating leaks to select news outlets, CNN reported. The Commission is an independent agency of the US justice department. The hackers said they were carrying out the threat to revenge the death of Internet freedom advocate Aaron Swartz who committed suicide. Swartz faced 35 years in prison and a $1-million fine over allegations he stole online academic journal articles from the Massachusetts Institute of Technology. Anonymous said the secret data they had copied could embarrass judges and other federal employees.

Read the full story on CNN.

A related story is on Rappler.