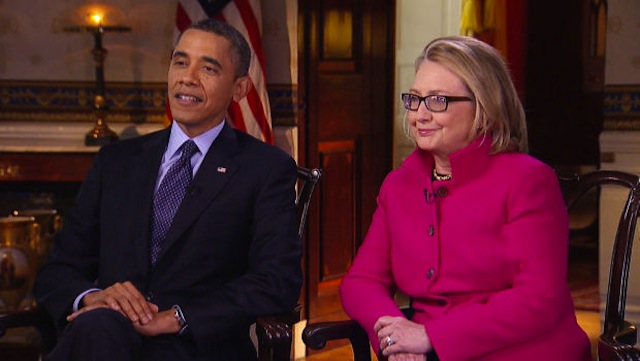 DYNAMIC DUO. US President Barack Obama and Secretary of State Hillary Clinton during a joint interview with CBS News's Steve Kroft, aired January 27, 2013, on CBS. Photo courtesy of CBS.
In what was seen as a subtle endorsement for Hillary Clinton's presidential run in 2016, US President Barack Obama sat down with his secretary of state in a rare joint interview with American network CBS. Said to be Obama's idea, the sit-down interview was filmed at the White House. "I want the country to appreciate just what an extraordinary role she's played during the course of my administration and a lot of the successes we've had internationally because of her hard work," Obama said on Sunday, January 27. With days left as America's state secretary, Clinton who was defeated by Obama in the 2008 Democratic party race for presidential nominee, said, "I am still secretary of state. So I'm out of politics." Yet she stressed she still cared "deeply about what's going to happen for our country in the future." Indicating she was open to possibilities despite pronouncements she was stepping out of the limelight, Clinton said neither she nor Obama "can make predictions about what's going to happen tomorrow or the next year."

Read the full story on Rappler.