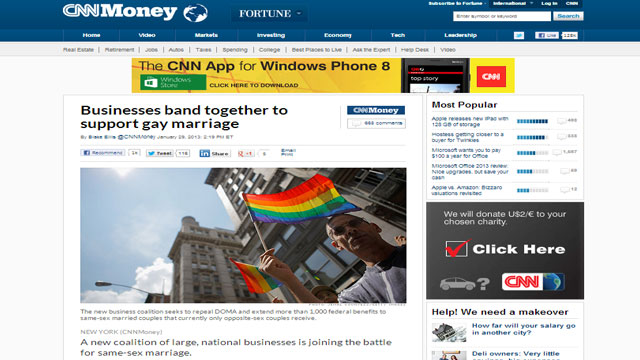 Screen shot from CNN.
A new coalition of businesses in the United States have banded together to campaign against the Defense of Marriage Act (DOMA) of 1996, a law that defines marriage between a man and a woman. Among the businesses that have signed up to join the coalition are Armani Exchange, eBay, Thomson Reuters, and Marriott International. The forming of the coalition is timed a month before the Respect for Marriage Act is expected to be reintroduced in Congress. If DOMA is repealed, same-sex couples will enjoy up to 1000 benefits that currently only opposite-sex couples receive such as the ability to file taxes jointly and qualify for tax exemptions.

Read more about the new coalition on CNN.