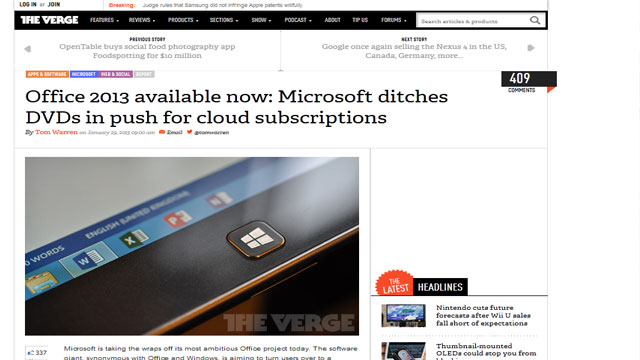 Screen shot from The Verge.

Microsoft unveiled the latest version of its popular Office suite of productivity applications including the ubiquitous Word, Powerpoint and Excel today. Microsoft Office 2013 for PC is now available both as a boxed set and as a digital download via Office.com. Boxed sets in developing markets will contain product codes and not DVDs. What's interesting about this release is Microsoft's move to a subscription based model, along with Office 2013 it introduced Office 365 a service that provides the productivity suite to users at a monthly or yearly fee. One of the key features of Office 2013 is its integration with SkyDrive allowing users to save documents on the cloud and giving them the ability to share and edit from any computer. Microsoft has yet to discuss if it is planning mobile versions of its software.

Read more about Microsoft Office 2013 on The Verge and Office 365 on Microsoft.