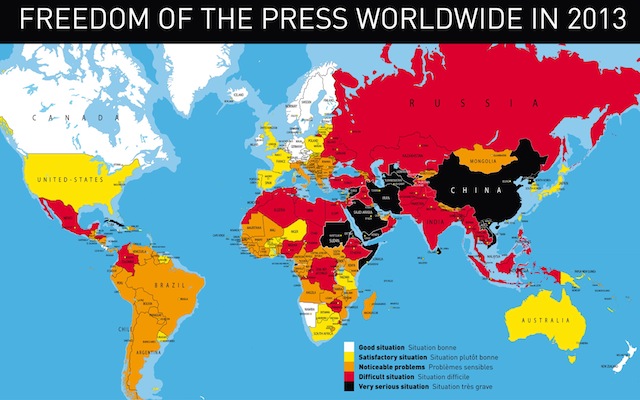 Image from the 2013 World Press Freedom Index by Reporters Without Borders
The Philippines dropped 7 places in press freedom ranking according to the 2013 World Press Freedom Index of the Paris-based organization Reporters Without Borders. This year, the country ranks 147 out of 179 countries surveyed -- a drop of 7 places from 2012.
The report did not indicate the specific events or factors that influenced the Philippines' ranking but according to National Union of Journalists of the Philippines the low ranking was to be expected, given the Aquino administration's lack of decisive action against media attacks and its failure to pass the Freedom of Information bill. The RSF reported there was a general decline in press freedom in the Asia-Pacific, with 25 countries placing at the bottom 45 of the index. Only Burma or Myanmar registered a notable improvement after its government moved to free journalists and netizens from prison and outlaw censorship.

Read more about the press freedom ranking on Rappler.