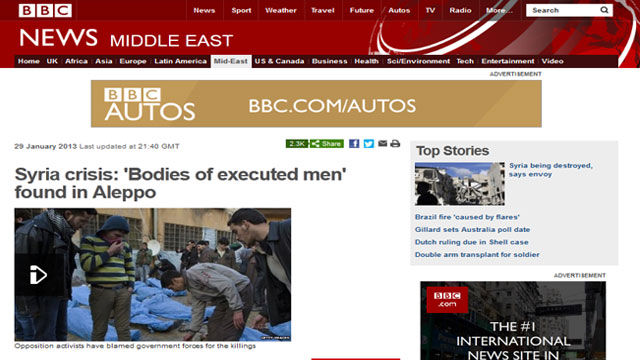 Screen shot from BBC.
The bodies of 78 young men, all executed with a single gunshot, were found Tuesday in a river in Aleppo City, adding to the grim list of massacres committed during Syria's 22-month conflict. The gruesome discovery came ahead of a briefing by peace envoy Lakhdar Brahimi to the UN Security Council on the uprising, which the United Nations says has left more than 60,000 people dead. Rebel fighters say regime snipers were behind the massacre but security officials accuse rebel forces of the killings. There was no immediate claim of responsibility, but the official SANA news agency said the jihadist Al-Nusra Front carried out the executions.

Read more about the crisis in Syria on The Huffington Post and BBC.