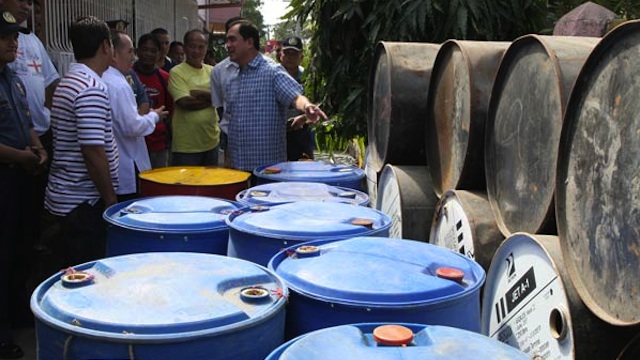 OIL SMUGGLING ON THE RISE. Local officials seize a cargo of smuggled oil products in San Fernando, La Union. Photo courtesy of www.sanfernandocity.gov.ph
Billions of pesos in government revenues are lost each year from smuggled petroleum products. The Petroleum Institute of the Philippines, which groups industry players like Petron, Chevron, and Total, among others, estimates that about a third of diesel products being sold in the market are smuggled. In 2012 alone, Pilipinas Shell Petroleum vice president for communications Roberto Kanapi said lost revenues could go beyond the P20 billion-P30 billion previously estimated. Computations peg government revenue losses at around P6 per liter, he added. Industry players have requested the Bureau of Internal Revenue to do advanced collection of VAT on fuel imports in free trade and economic zones like Subic and Cagayan de Oro. BIR collections have however been suspended pending decision on a court case that opposed the advanced VAT collections.

Read the full story on Rappler.