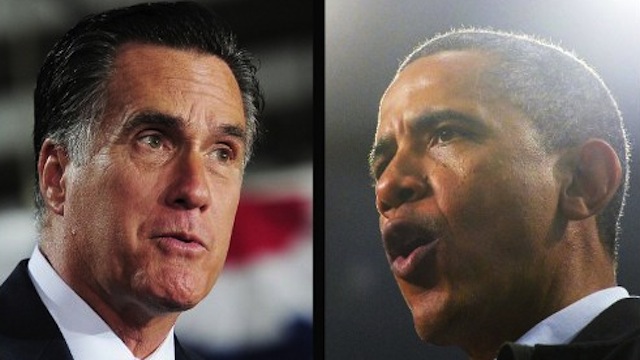 FACE-OFF. US Republican Presidential candidate Mitt Romney and US President Barack Obama slug it out for votes in one of the "swing" states, Ohio. AFP PHOTO/Emmanuel Dunand (L) / Jewel Samad (R)
It's a virtual dead heat between US presidential bets Barack Obama and Mitt Romney. A new NBC/Wall Street Journal survey showed Obama leading 48%-47%, while an ABC/Washington Post poll showed the two tied at 48%. Even independents are evenly divided with 46% saying they favor Obama, and the same number saying they prefer Romney. Rappler's Carmela Fonbuena reported from Ohio that the presidential elections has come down to 9 swing states – Ohio, Nevada, Colorado, Iowa, Wisconsin, New Hampshire, Virginia, North Carolina, and Florida. Obama and Romney barnstormed through electoral battlegrounds over the weekend. In Concord, Obama accused Romney of trying "as hard as he can to repackage the same old ideas and pretend they're new." Romney told supporters in Iowa a second term for Obama would mean a new economic downturn.

Read the full story on Rappler.

More details are available on CNN.

Read a related story also on Rappler.