One of the new features of Rappler, powered by Lighthouse, is that it is built as a Progressive Web Application. This means readers can download it as an app on their phones and desktops.
We have good news for Rappler readers!
Readers can now add Rappler, powered by Lighthouse, to their mobile and desktop home screens.
Early in May, Rappler released the beta version of Lighthouse, our new content delivery and community engagement platform, as we gathered feedback from our readers and prepared to move to this new system.
Lighthouse is the product of a long journey. We began conceptualizing this new platform in 2016 but were forced to shelve plans as legal cases threatened Rappler's very existence and sustainability. We finally put together the team that built this system in late 2018 and started designing and building in 2019.
On Tuesday morning, July 14, we successfully moved www.rappler.com to this new system.
Add it to your home screen like an app
Lighthouse is built as a progressive web application (PWA). This means you can save it to your mobile and desktop home screens.
It will replace the native mobile applications that Rappler previously built for iOS and Android devices. Following this shift, previous versions of the Rappler app will no longer have access to the latest stories.
Instead, readers can now save Rappler on their Android phones (iPhone not yet supported) and as a Chrome app on their MacBooks.
For Android users
Here's a step-by-step guide to install it on your Android phone:
Visit our site. To install it on your phone, just visit our website on your mobile Chrome. A small prompt saying "Add Rappler to home screen" will appear on the bottom of your mobile screen.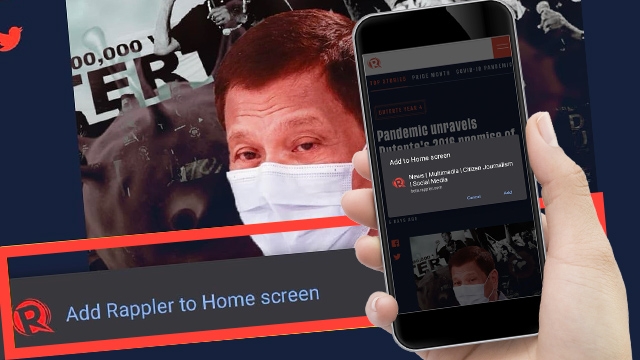 Click 'Add Rappler to home screen.' Once that notification pops up, tap "Add Rappler to home screen." After a few seconds, the new Rappler app will be added to your phone.
Use it as an app. Once on your home screen, you may now start accessing Rappler stories directly from the app. 
For iPhone users
Visit our site. Open your Safari browser and go to the Rappler website.
Click the share button. Scroll down until you see the option "Add to home screen"
Click add to home screen. The Rappler icon should now appear on your mobile home screen.
For MacBook users
Here's a step-by-step guide to install it on your MacBook:
Make sure you have Google Chrome. On your Google Chrome desktop, visit the Rappler website.
Click the add button, and install. A small plus sign will appear on the rightmost side of the address bar. Just click the "add button" and follow the installation process.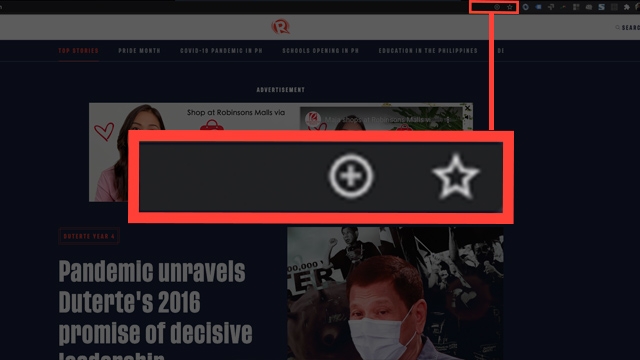 Access Rappler through your desktop. After a while, the app will be installed on your laptop as a Chrome app. You can now start browsing Rappler through your desktop like a standalone app.
– Rappler.com
Lighthouse is a work in progress. We welcome feedback on what you like, what you don't like, as well as any additional features that might be useful to you and your community in the long run. If your company, civil society group, or news organization is interested in using Lighthouse for your content distribution, and community engagement needs, you can email: lighthouse@thenerve.co.