This is AI generated summarization, which may have errors. For context, always refer to the full article.
(1st UPDATE) St. Scholastica's College also recognizes book publisher Maria Karina Africa Bolasco and showbusiness icon Tessie Tomas, who, like Varona, have 'bravely defied norms' in their chosen fields
MANILA, Philippines – Veteran journalist and Rappler's head of regions Inday Espina-Varona is one of the three recipients of the 2023 Hildegarde Awards for Women in Media and Communication for her "inspiring courage in the field of journalism."
This year's awards, themed "women change makers," also recognizes book publisher Maria Karina Africa Bolasco and showbusiness icon Tessie Tomas.
Given by St. Scholastica's College, the award recognizes Varona's journalism that brings to the forefront issues that matter.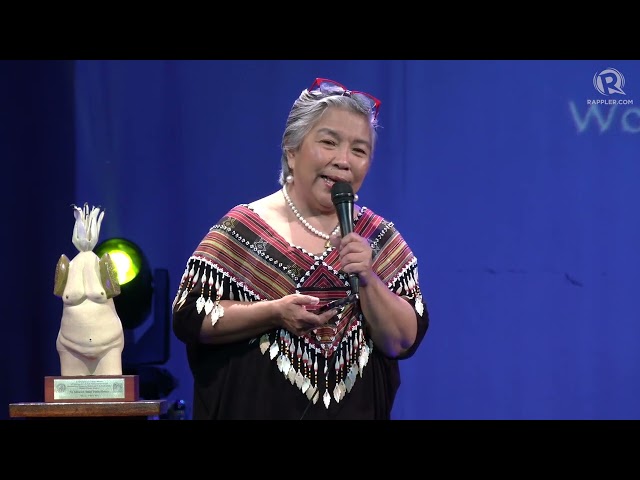 "Her line of work focuses on Filipinos' everyday plight that brings to light injustices, political repression, and other social issues," The St. Scholastica's College said in a press statement announcing the awardees on Sunday, May 28.
"A model journalist-activist of her generation, Varona also continues to lend her voice to amplify advocacies promoting women's rights and issues, democracy, and accountability," it added.
Varona has worked as reporter and editor in different media organizations. She has received numerous local and international awards, including the prestigious Jaime V. Ongpin Awards for Investigative Journalism, the Reporters Without Borders' Prize for Independence in 2018, and the 2022 Gawad Balagtas.
Varona was also the recipient of international fellowships, including the John S. Knight Professional Journalism Fellowships in Stanford University and the Canadian government's Marshall McLuhan Fellowship.
Other Rapplers who previously received the Hildegarde Award were columnist Shakira Sison, then-reporters Natashya Gutierrez and Patricia Evangelista, and founder and CEO Maria Ressa.
'Defied norms'
St. Scholastica's College said the 2023 awardees were recognized for bravely defying norms.
"The three are all pioneers in their respective fields, and broke barriers to help build a better path for the next generation," St. Scholastica's College said. "These awardees bravely defied norms to put social realities at the forefront, and create more spaces for creative expression."
Publishing veteran Maria Karina Bolasco, director of the Ateneo University Press, is cited for "revolutionizing the field of publishing…[and helping] change the country's once-lethargic publishing industry into a vibrant, progressive, and diverse space that inspired many books to be published by Filipinos for Filipinos."
Prior to joining Ateneo in 2016, Bolasco led Anvil Publishing for 26 years. Both publishing houses won Publisher of the Year awards under her watch. Bolasco received the Lifetime Achievement Award during the 40th National Book Awards in 2023.
Showbiz icon Tessie Tomas is being recognized for her "colorful showbiz career" that, the last four decades, has made use of "iconic, satirical, and controversial characters" to put forward "biting social and political commentaries."
"For decades, she regaled generations of Filipino audiences with her unmatched brand of comedy and flair," St. Scholastica's College said, citing her "brilliant works and compelling portrayal of strong-willed women characters that promoted empowerment and social change."
The awarding ceremony is on Tuesday, May 30.
Established in 2007, the awards celebrates excellence and achievements of women in mass media and related fields. It is named after 12th century Benedictine saint Hildegarde von Bingen. – Rappler.com