This is AI generated summarization, which may have errors. For context, always refer to the full article.
Praised as 'searing,' 'vital,' and 'urgent,' Maria Ressa's 'How to Stand Up to a Dictator' takes readers to the frontlines of digital journalism and the battle for truth and democracy
MANILA, Philippines – Nobel laureate and Rappler CEO Maria Ressa, fresh from a global whirl introducing her book, How to Stand Up to a Dictator, launched it in the Philippines at Estancia mall at Capitol Commons in Pasig City, on Saturday, December 10, the International Day for Human Rights.
Guests present at the event included retired Supreme Court justice Antonio Carpio, Karapatan Secretary General Cristina Palabay, economist Winnie Monsod, and architect Paulo Alcazaren. Journalists Tina Monzon-Palma, Howie Severino, and Karen Davila were also in attendance.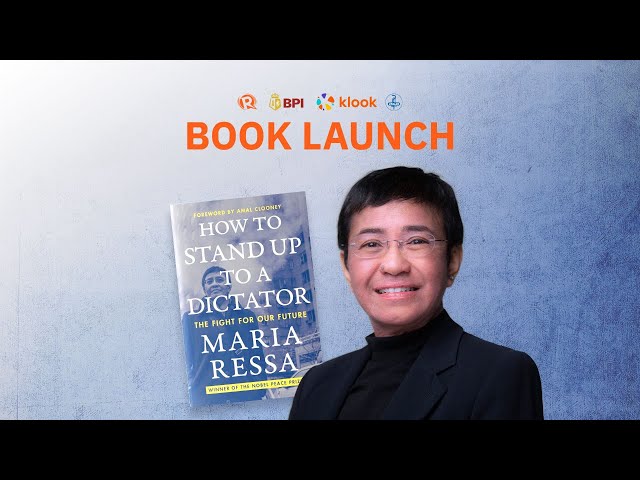 In a speech during the launch, award-winning writer Jose Dalisay praised the book as being the best non-fiction work of the year.
"We identified with her travails, shared her anger and sadness at the abuse she has received, and rejoiced in her victories, whether in the courts or in the larger sphere of public opinion," Dalisay said.
He continued: "But how well do we really know Maria Ressa, and whatever drives her to be who and what she is? This book takes us to the person behind the phenomenon, and answers many questions we may have had about her and her stubborn advocacies."
Among the battles, and advocacies, Ressa takes up in her book include exposing networks of disinformation across the globe. By drawing links from former Philippine president Rodrigo Duterte's drug war, to Brexit in the United Kingdom, Russian and Chinese cyber-warfare, Facebook, and Silicon Valley – and how these ties to individuals' own online presence and votes, Ressa underscored the first way to combat the dangers of social media was to be aware of its pitfalls.
"It is, by design, a lie machine," Ressa said during the launch. "Today, the commodity is our human attention, human emotions, and we are not protected. Do we want to live in a world where lies are rewarded?"
After awareness, Ressa said focus should be placed on stopping "coded bias" which further marginalized groups such as women and people of color online. Alongside this, independent journalism "as the antidote to tyranny" was needed to strengthen democracies.
"Journalists are trained to stand up to power and that's what we need. We need to continue doing that," Ressa said.
"Today, the commodity is our human attention, human emotions, and we are not protected. Do we want to live in a world where lies are rewarded?" Ressa added.
Getting personal
Part memoir, the novel also shows Ressa charting a career by holding power to account and the path she took to get there.
But why take an intimate tone and share her personal story, an approach often avoided by journalists? Ressa said it is because the battle for democracy had become personal.
"I know the moment it became personal – when I was arrested. I moved from being a journalist to being a citizen and citizens should not be treated like this," she said.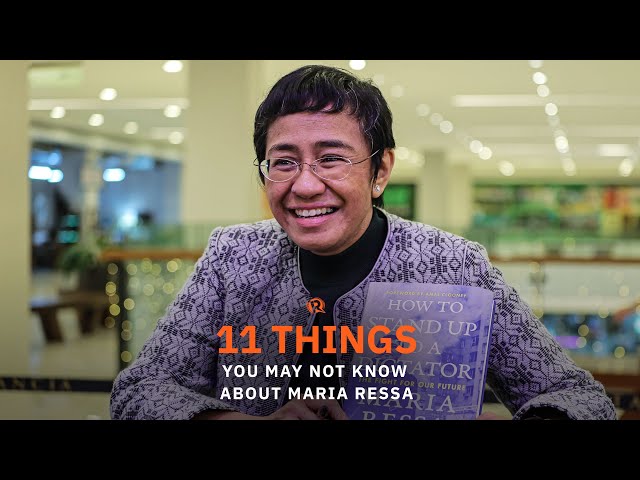 Stories of Ressa's move to America – and later, her return home to the Philippines, the tough calls she made as a journalist covering Southeast Asia and as head of News and Current Affairs of ABS-CBN – give an inside look not only at the Nobel laureate's life, but also journalism in the Philippines.
"You don't know who you are until you're forced to fight for it. How do you decide what to fight for? Sometimes it's not your choice. You live your way into it because the sum of all your choices brings you to that point," Ressa wrote.
How to Stand Up to a Dictator brings readers into Ressa's personal thoughts and the tough questions she confronted as Rappler faced harassment and a slew of legal attacks from the Duterte administration.
As of December 2022, there are at least seven active cases pending in court against Maria, Rappler's directors, and a former researcher, including a closure order initiated by the previous Duterte administration. Philippine media and global advocates have included these as part of attempts to stifle criticism and press freedom.
Praised as "searing," "vital," and "urgent," Ressa's book is "for anyone who might take democracy for granted, written by someone who never would."
As Ressa herself stressed on the day: "This time matters. This is it." – Rappler.com