Don't panic. The section that's your go-to for in-depth, investigative, fact check, inside track stories, and quick explainers is still very much a part of Rappler.
Hello regular and new readers of Newsbreak!
To the new readers, Newsbreak is the investigative and research arm of Rappler. It builds on the investigative reporting tradition of Newsbreak, an award-winning media organization founded in 2001 but which has now become an integral part of Rappler.
Can't find Newsbreak in the new Rappler platform? Don't panic. The section that's your go-to for in-depth, investigative, fact check, inside track stories, and quick explainers is still around.
A short-cut to the section is this link: https://rappler.com/section/newsbreak. Feel free to bookmark it and refresh every so often to see the latest unique stories and articles. This is what you'll initially see: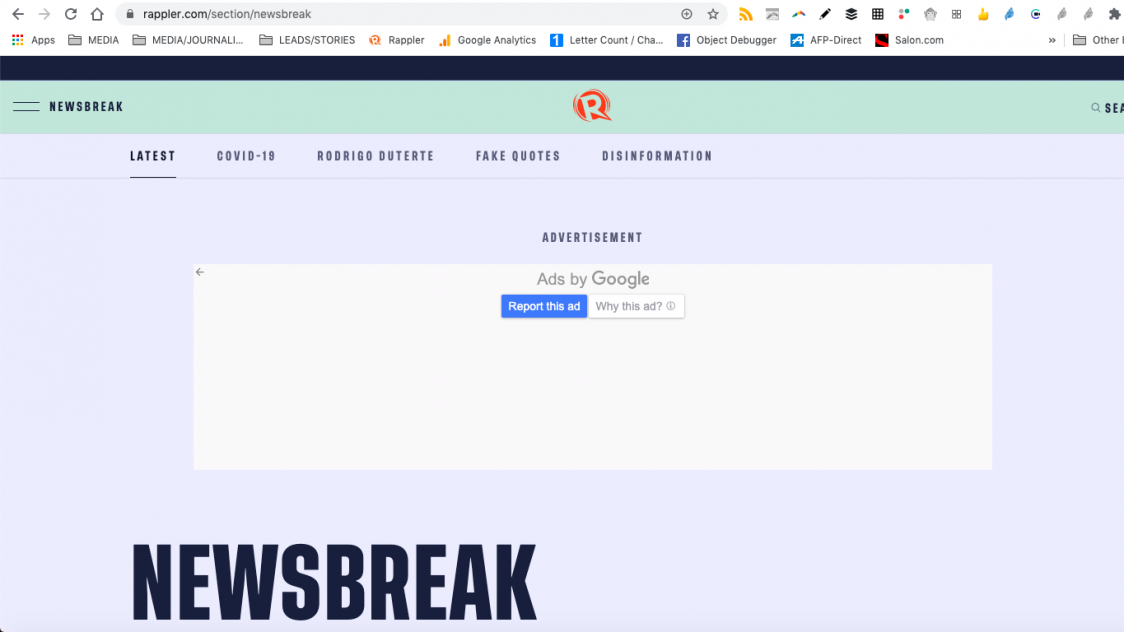 Where are the other categories under Newsbreak, like "In-depth" and the rest? See the "burger" at the top left hand corner, the two horizontal lines in the green zone? If you click on that, it will unlock the categories you're all too familiar with, if you're a regular reader.
Categories
You'll see this and the 8 categories under Newsbreak on the right-most column:

Data and Documents – Numbers, statistics, charts, important documents related to big stories
Explainers – Stories that simplify or break down complex issues
Fact Check – Disinformation abounds on social media and we flag them as False
In-depth – Stories that explain, provide perspective and context to issues that matter
Inside Track – Inside information on people, places, events, and everything else that matters in public life
Investigative – Stories that expose irregularities, wrongdoing, abuse of power, negligence, corruption; problems that need attention, fixing, and action. Stories that explain and make complex issues more understandable.
Newsbreak Podcasts and Video – The latest podcast episodes and video explainers on hot topics of interest
Rappler IQ – Facts, figures, information on almost anything of interest. IQ stands for "intelligence quotient" but it could also mean interesting, incredible, intelligent.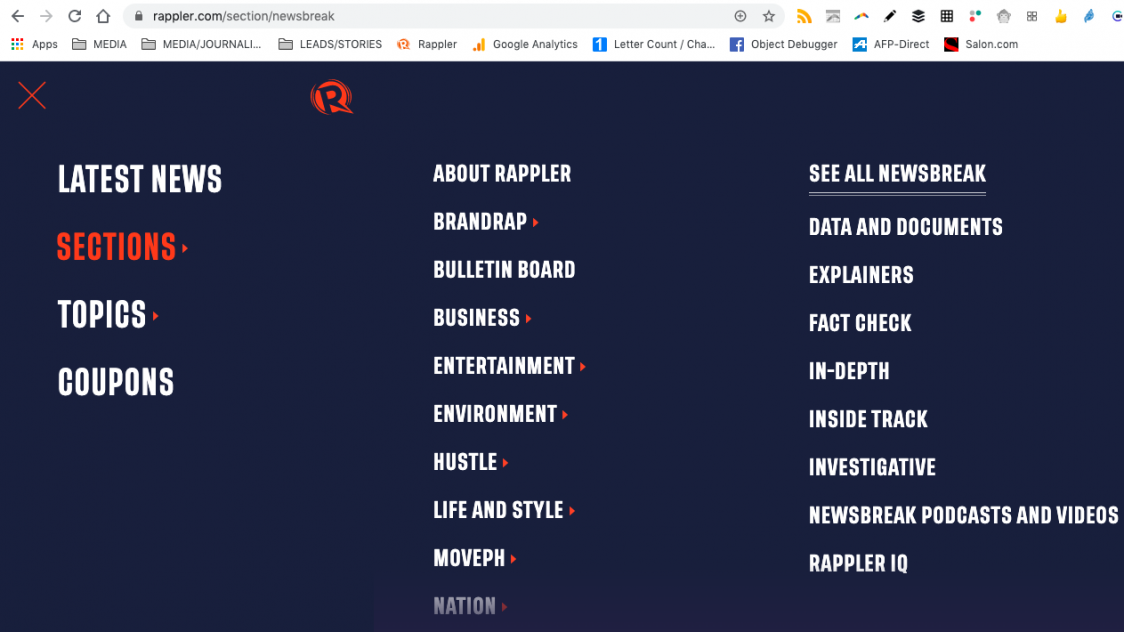 You'll just need to hover over and click on any of them to see the lineup of stories under each of the categories. I invite you to explore each category and see what kinds of stories appeal to you.
For sure, Newsbreak complements your daily dosage of news reports, which tell you in a jiffy who's in the news, what, where, when, how something happened. Newsbreak content will tell you why, what it means, what its significance is, what its implications and impact are, and offer perspective and context to help you make better sense of the news. In other words, Newsbreak stories will unpack the layers of information, explain significance, or expound on the rich narratives of people.
Wait, you might ask, how come I can't see Newsbreak in that screenshot above? Just scroll down if you're on mobile. Same thing on your other devices, and you'll see Newsbreak in the second column (see below).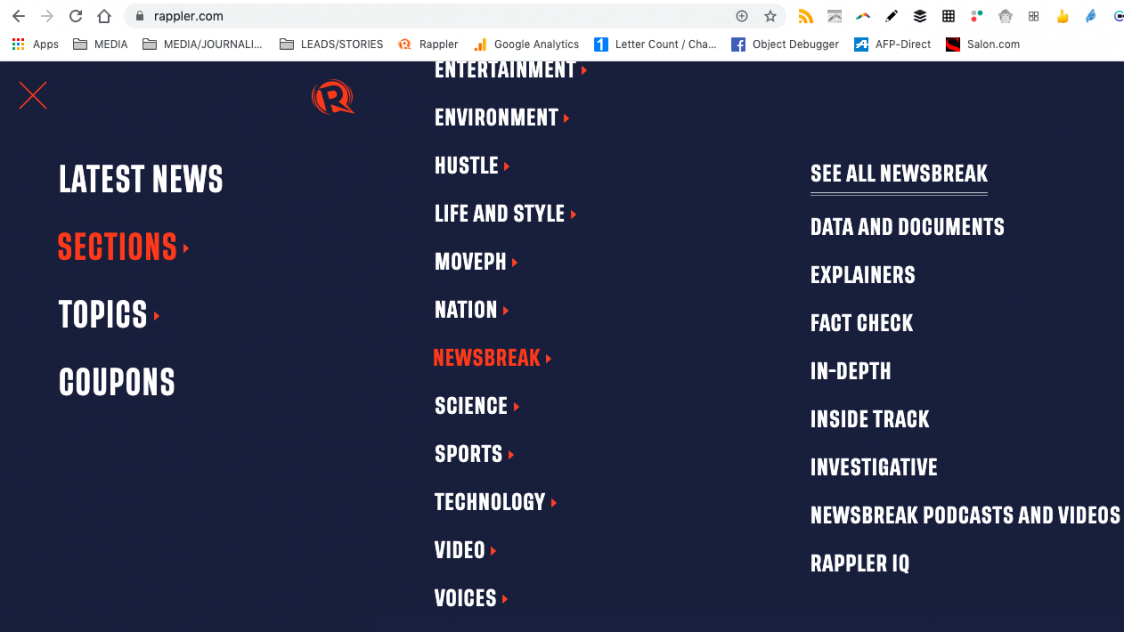 Navigating from Rappler homepage
What if you end up going to rappler.com? Where is Newsbreak? It's not on the menu bar at the top and neither is it on the side. Even if you scroll down, there's no sign of Newsbreak. What to do?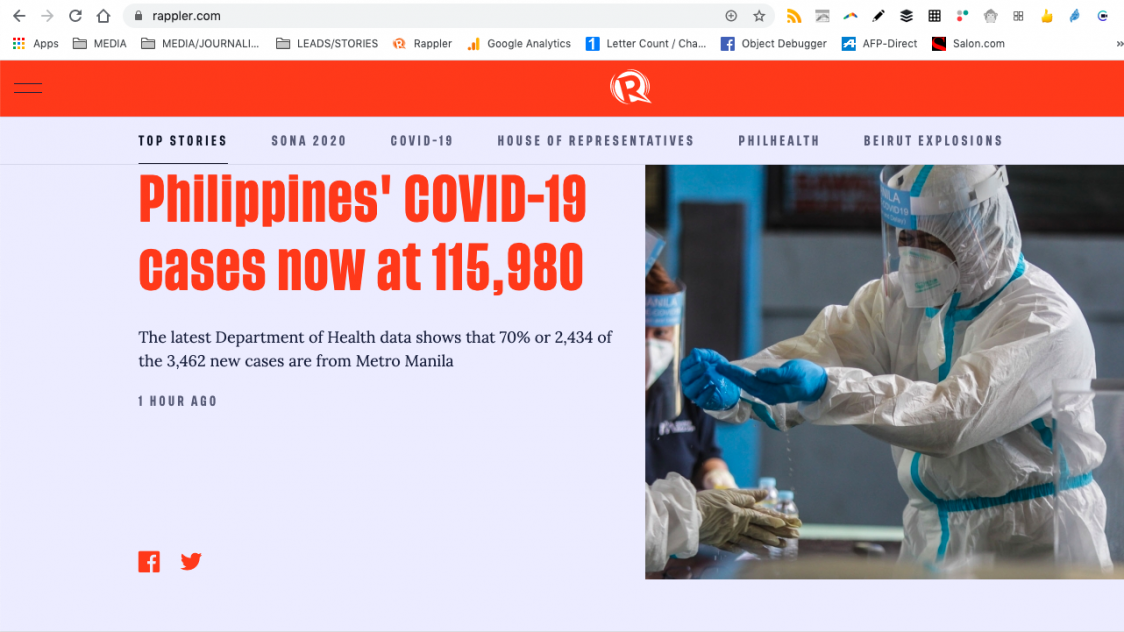 Ok, don't fret. See the burger again at the top left corner, the two horizontal bars? Just click on that and you'll see Latest News, Sections, Topics, Coupons.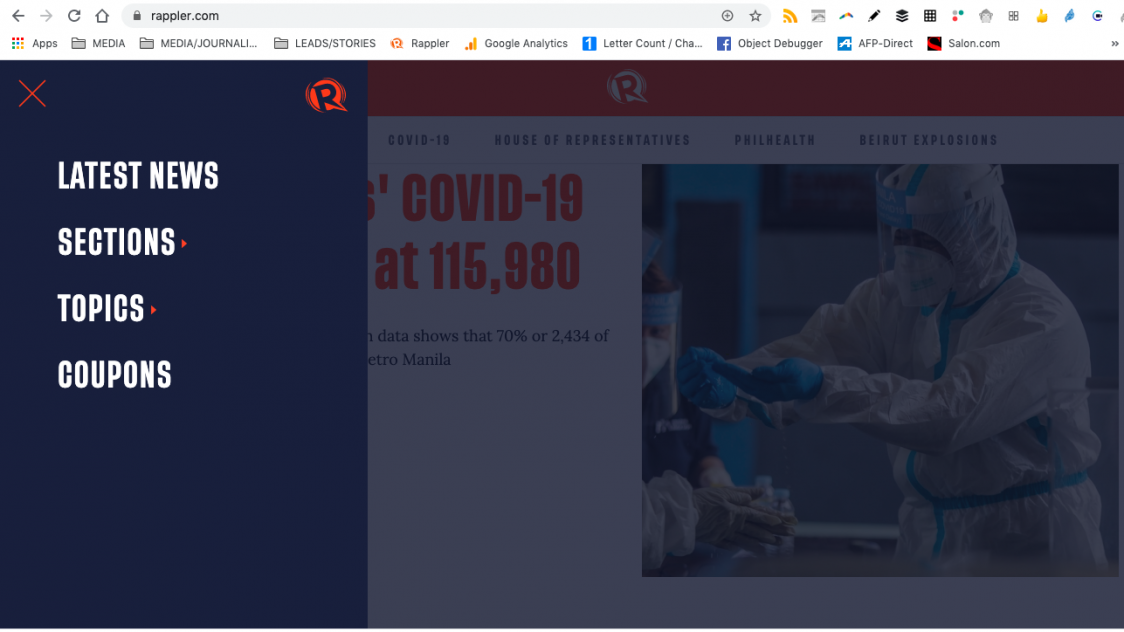 Click on Sections and you'll see all the different sections under Rappler. Be sure to scroll down a bit to see Newsbreak below Nation.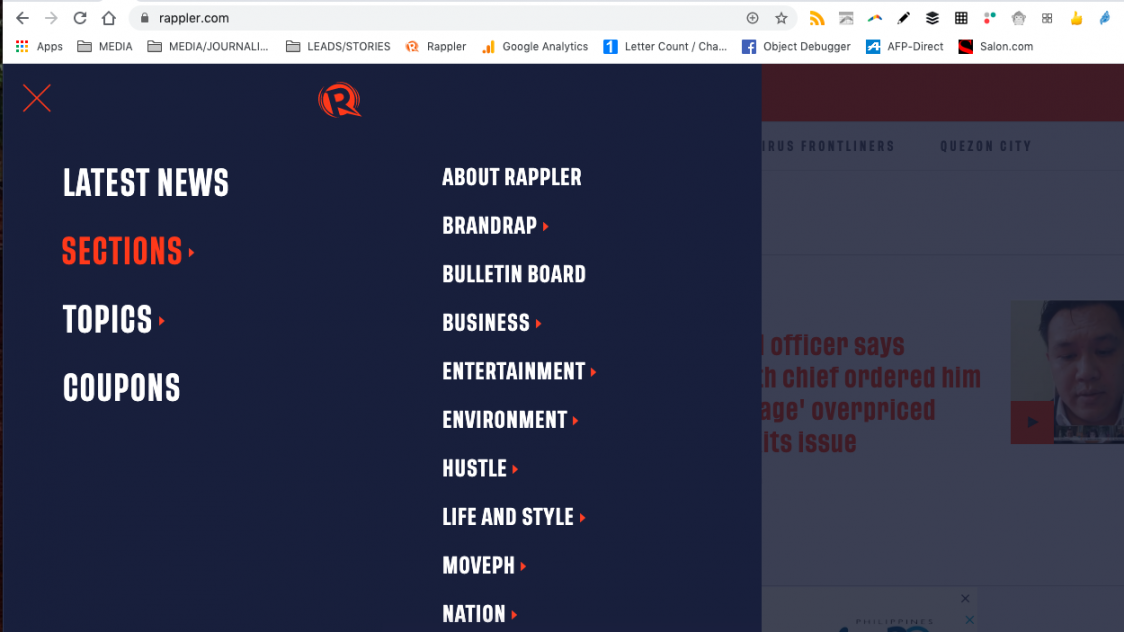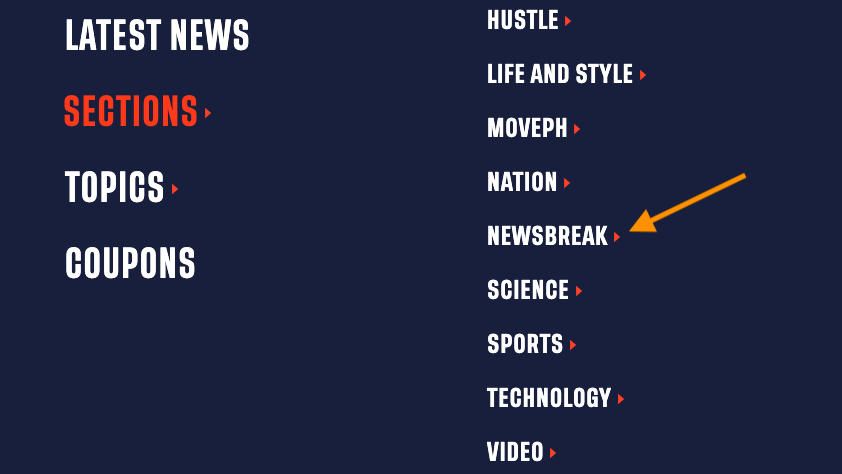 Click on Newsbreak and you'll see the categories under it – pretty much like what you see after clicking on the burger from https://rappler.com/section/newsbreak.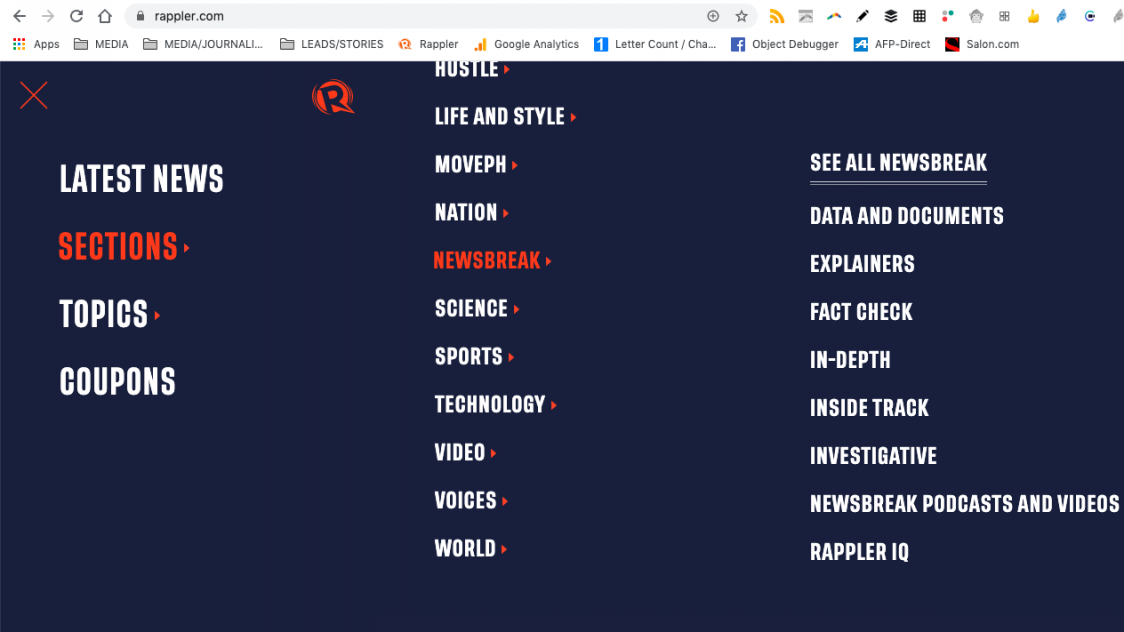 And you're once again in the Newsbreak world, which you can explore endlessly. And you're all set!
If you have tips to share, email us at investigative@rappler.com and we'll try our best to uncover more and pursue the story. Meanwhile, it's ok to get lost in the Newsbreak stories. Do give us your feedback – what you liked and didn't like. – Rappler.com