Reporter-turned-airline spokesperson Steve Dailisan and cabin crews Princess Guevarra and Alvin Lasco are hosting the show
Editor's note: Apart from the Philippines' beautiful destinations, the show also features inspiring stories of airasia's partners and other businesses in the tourism sector. Below is airasia's press release.
Produced by airasia, Allstars at Your Service (AYS) premiered its second season via Facebook and YouTube. This time, it features top leisure destinations and activities with celebrity guests actively participating in airasia's goal to rebuild confidence in air travel.
AYS 2 kicked off via a virtual Facebook live show with its energetic hosts, airasia Philippines' spokesperson and communications and public affairs head Steve Dailisan and Starstruck finalist Princess Guevarra, who is now working full-time as an airasia cabin crew.
This season, Alvin Lasco, also an airasia cabin crew and social media influencer, joins Steve and Princess to add excitement to the show through segments with fellow influencers and celebrities.
Production was taken a notch higher. Aside from transitioning to on-site shoots and flying to top local destinations, two new segments were introduced with the goal of uplifting the air travel experience and featured celebrities and influencers flying with airasia.
The show continues to feature inspiring stories. Season 2 highlights the resilience of airasia's partners, stakeholders, and other businesses who are also diligently working towards the recovery of the tourism sector.
Tara with airasia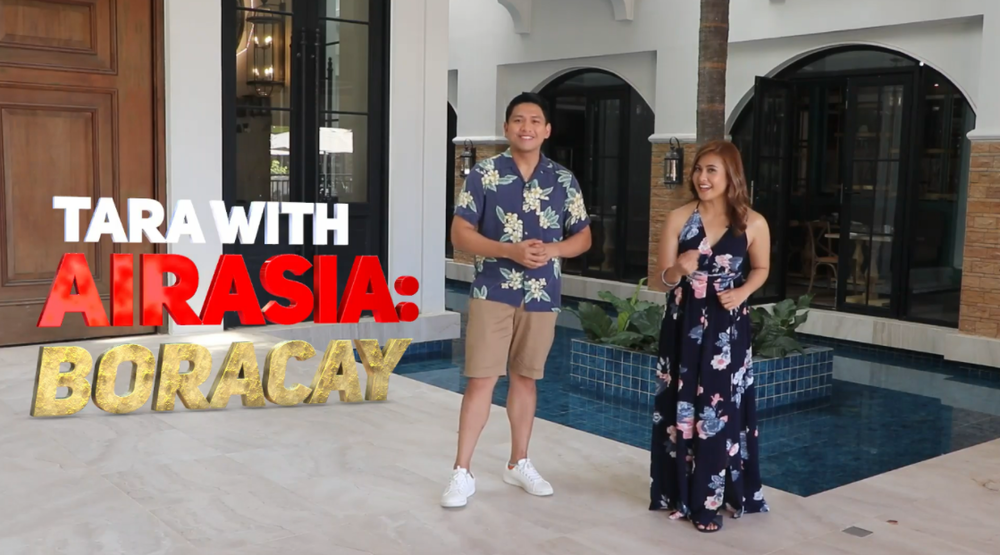 "Tara with airasia," being the main segment of the show, takes viewers to destinations such as Boracay, Bohol, and Cebu.
Alongside the health and safety protocols, the episodes will showcase each area's unique experiences – best eats, locals and their community businesses, and many more – which allow viewers to rediscover leisure destinations that they've missed.
Be with Your Stars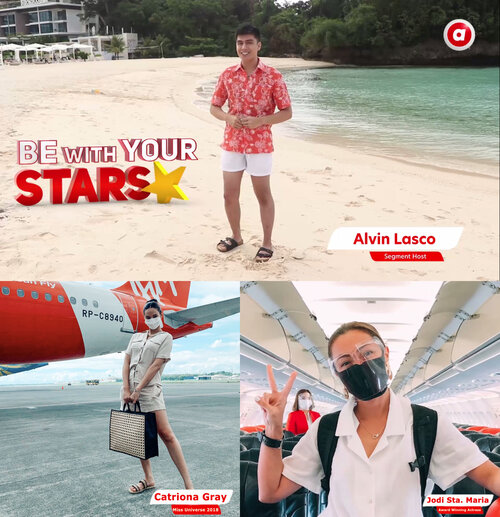 Despite the pandemic, airasia has flown more than 30 celebrities and influencers across the country. Some of the biggest names have agreed to partner with airasia for free to support its advocacy of revitalizing the tourism sector.
The "Be with Your Stars" segment not only highlights the multi-layered safety measures on the ground and in-flight but also imparts messages of hope from the artists to inspire those in the travel and tourism sector to keep pushing forward until we see the end of the pandemic.
On its pilot episode, Miss Universe 2018 Catriona Gray and award-winning actress Jodi Sta. Maria shared their dream destinations. Meanwhile, Binibining Pilipinas Grand International Aya Abesamis and Binibining Pilipinas Intercontinental Emma Tiglao bared tips on how to confidently sport our beautiful beach bodies.
Get to Know Your Allstars
"Get to Know Your Allstars" is the heart and soul of the show. This segment features remarkable Allstars, the airasia employees, as sources of inspiration for their colleagues. 
In this season, airasia Philippines CEO Ricky Isla job swaps with some employees. The experience allowed him to better understand the challenges of their respective jobs and made him appreciate their hard work and passion.
Isla said: "Allstars at Your Service is a product of our innovative ways of communicating the new normal trends in air travel to our guests. More than anything else, it seeks to educate and inspire viewers to continue to dream big while we all look forward to the end of the pandemic."
"airasia takes pride in bringing AYS, the first and only aviation show in the Philippines that also speaks of doing more with less in terms of production value. I'm also grateful to all the celebrities and influencers who have shown support along with helping other businesses to grow and recover, as we prepare for the comeback of greater demand in air travel."
"We also would like to thank our partners such as hotels, resorts, restaurants, and other establishments, who have all come together to help rebuild the travel and tourism industry."
AYS partnered with Crimson Resort and Spa Boracay, Feliz Hotel Boracay, Movenpick Resorts and Spa Boracay, and Tropicana Ocean Villas, Boracay which are all under SNAP, airasia's flight plus hotel bundle option.
At the end of each episode, there is a question of the week that viewers can answer to get a chance to win airasia shop items. On the season finale, one lucky participant will be chosen via raffle, winning a round-trip ticket for two to his or her chosen airasia local destination.
If you miss traveling, catch Allstars at Your Service season 2 every Friday, 6 pm on Facebook and YouTube. Tara with airasia! – Rappler.com