These initiatives aim to empower and forge new ties with Rappler's communities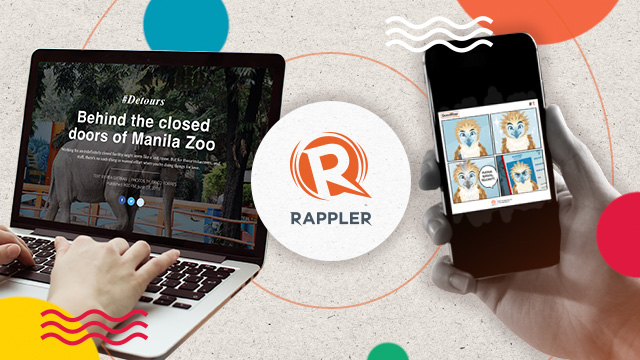 MANILA, Philippines – To keep up with our audience's changing need and behavior, Rappler's innovation team has recently launched a series of projects that aim to tap and empower different communities, groups, and individuals in the Philippines – Detours and GoodRap.
Detours is about giving underrated communities a platform to speak about their passions and what they're advocating for. The first-ever Detours story featured the vegan community in the Philippines. Vegans are often misunderstood and frowned upon for adopting an "extreme" lifestyle. But through this story, people were able to look into what really goes on in the life of vegans and why they do what they do.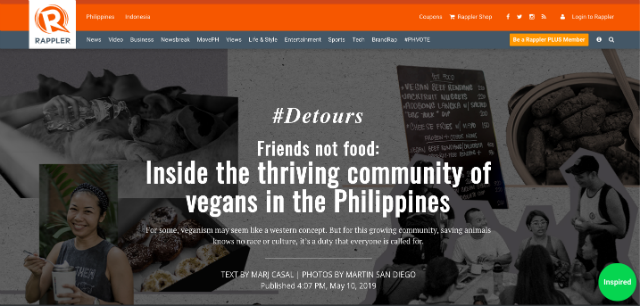 Our second story aims to take people behind the closed doors of Manila Zoo, and talk about the impact of the closure on the animals and its staff, and how its team of dedicated volunteers is making sure that life goes on inside the zoo.
GoodRap, meanwhile, is a weekly column featuring lighthearted yet meaningful stories to give people a break from all the heavy news that they've been seeing. The first story was about the majestic Philippine Eagle and how more and more of them are being spotted in the wild, thanks to various wildlife conservation groups. And for Father's Day, we ran a story about a dad whose dream to celebrate his son's graduation day at Jollibee came true.
And to provide readers with a new way of interacting with stories, Rappler Narrated was born. This gives the reader an option to listen to some of Rappler's long reads so they can do it while they're driving, commuting, or getting ready for bed. Check it out in this profile on Singaporean Olympian Joseph Schooling.
Aside from all this, Rappler also recently launched a podcast where reporters dig deeper into issues and news stories, and Hustle which aims to serve as the millennials' guide to living smart.
"Rappler's innovative storytelling is about creating movements, pushing boundaries, and enabling people to understand and embrace new ideas. It's an avenue for brands to be bold and to connect with the 12 million monthly active visitors of Rappler around the world," said Jenny Velasco-Chua, Rappler's Head of Partnerships. 
"As we continue to understand our audience and empower them with stories that matter, we enable our partners to converse with our communities and even convert them to be customers through various tools we've activated."
For partnerships, visit rappler.com/advertise. You may also subscribe to the "Behind the Brand" newsletter here. If you want to be part of an active community and figure out what to do next to create change, join Rappler PLUS. – Rappler.com