Today's keynote speaker, former chief experience officer John Maeda inspires with his talk about making the most of one's time on earth
[Editor's note: We leave in a world that's obsessed with results and numbers. How do design and culture fit into this? That's what day 4 of DigiCon OMNI 2020 is all about. Below is their press release.]
Day 4 of DigiCon Omni 2020 was all about Design and Culture, and the program certainly didn't disappoint. Going into the penultimate day of the Internet and Mobile Marketing Association of the Philippines (IMMAP) annual learning showcase, the sold-out audience of nearly 2,000 attendees was eager to virtually experience the best the speakers had to offer.
Previous days covered pivot stories, e-commerce, and the role of humanity in overcoming the challenges of marketing in the ongoing pandemic. For Day 4, sessions were centered around how Design and Culture played roles in the otherwise numbers-centric world of business.
Havas Group Global Chief Insights Officer and Vivendi Sr. VP of Brand Marketing Maria Garrido spoke on the role of brands in communicating their relevance to consumers while maintaining authenticity to themselves and their audience.
"Being part of culture is important for businesses," she said. "Culture is broken up into territories; Books, movies, etc, are cultural territories, but not every brand is expected to be part of every territory." While brands being relevant to communities and societies as a whole wasn't a new phenomenon, it had certainly increased with the advent of social media. Presently, she shared that COVID has actually accelerated the process, creating high demand across every category.
"Brands have to be in the cultural conversation if they want to be relevant to consumers," Garrido reminded the audience, sharing statistics that showed how modern consumers had come to expect a sense of community participation and responsibility from the brands they patronized. "Regardless, they (brands) must remain true to their purpose – authentic, and understand people's expectations. The last thing you should be doing (now) is sponsoring a football team."
Part of the problem faced by brands making the transition to Digital –whether they had accomplished it before the pandemic, were in the process when it started, or forced to adapt after the fact- was the lack of any consistent, coherent set of metrics, much less benchmarks, that marketers could refer to.
Formed in 2012, the Digital Measurement Board (DMB) was tasked with serving as a guide for advertisers looking to make their digital leaps. In 2017, the group took the next logical step in their mandate, pioneering the first digital measurement standard in the Philippines. Over a roundtable discussion, Google's Industry and Analytical Lead for CPG and Retail, Asia Geia Lopez shared that the DMB was launching an app to help make things clear.
"Just like creative," said Ogilvy Consulting Head of Consulting and Strategy Director Manny Gonzales, "measurement standards change over time. You can be iterative with it, you can be progressive with it."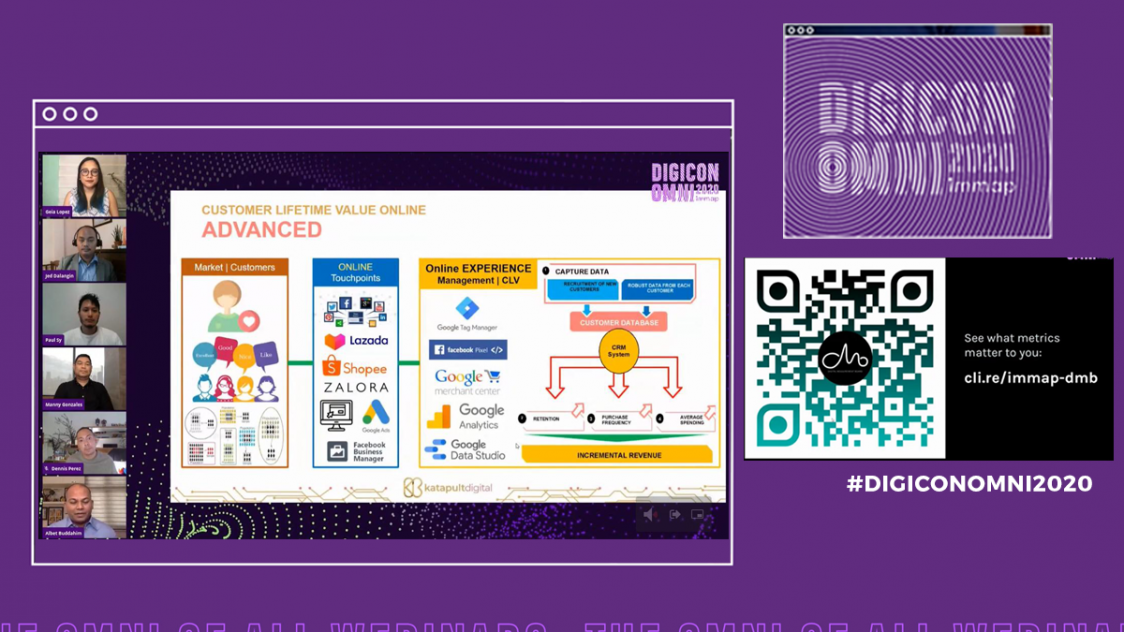 With the new app, marketers, advertisers, and clients could all be on the same page with regard to terminology, applicable metrics, and yes, the all-important benchmarks. As noted by Katapult Digital Corp CEO Albet Roble-Buddahim, the task of navigating the digital waters was akin to building a house, wherein one needed the right tools in order to get the job done.
As per IMMAP President Dennis Perez, "Businesses have always been obsessed with measuring things, and that hasn't changed. Digital just made it faster to get those measurements. We need to be obsessed with what you want to achieve (in the digital space), and embrace the power of digital to get it done faster, quicker, and with more accuracy."
Rounding off the day was a relaxed session with executive, technologist, and designer John Maeda, who started off his keynote speech by informing the DigiCon Omni 2020 audience that he'd recently stepped down from his role as Publicis Sapient EVP & Chief Experience Officer in favor of a new position at a company that he'd be revealing in the coming days.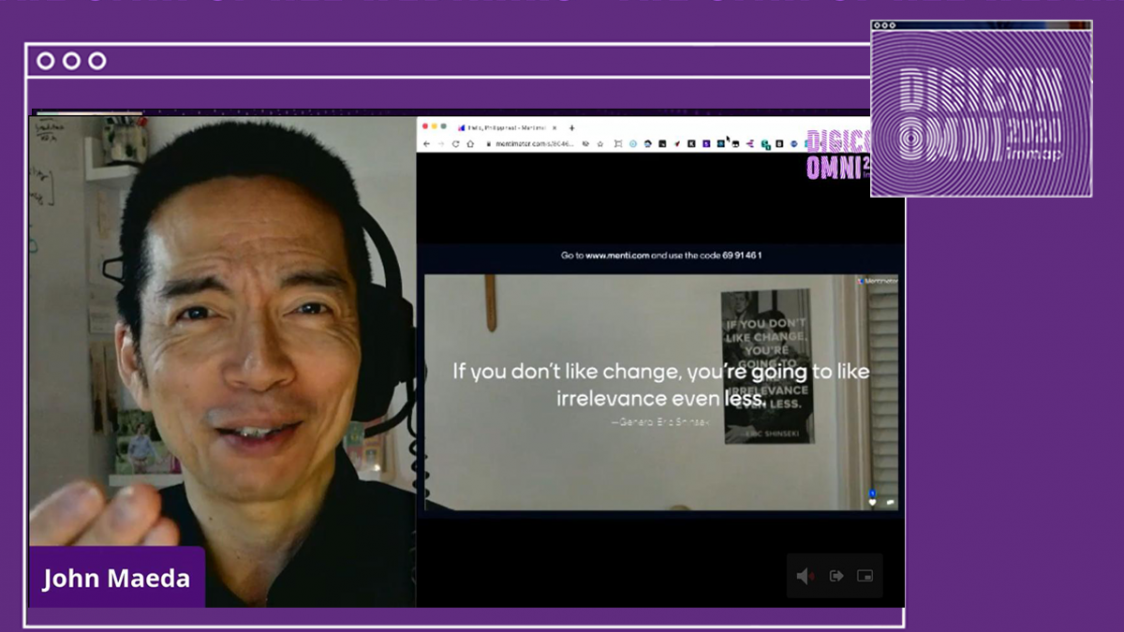 Like Publicis Groupe Senior Adviser Rishad Tobaccowala's keynote address from Day 2, Maeda elected to forego the traditional audio-visual presentation. Instead, Maeda took a page from YouTube livestreamers, asking the audience to log onto a site where the viewers were invited to ask questions all throughout the talk, and even leave hearts to show approval.
The crux of Maeda's talk was to make the most of one's time on earth, citing advice that he had received to "make every quarter count".
"Life is lived in four quarters," he said. "You're either gaining or wasting your time in each quarter, so I believe in ROI." He encouraged the audience to gain what they could from the opportunities they were presented with, citing the reduced haptic sensation when rubbing one's fingers together resulting from the body's reduced moisture levels as we age.
One part philosophy class, one part real talk, Maeda gamely fielded as many questions as he could manage from the seemingly continuous stream that graced his screen. Naturally, many of the questions were related to succeeding while retaining one's creativity in the corporate space.
"The problem with the creative process is that it romanticizes the idea of a creative idea being more important than money, and it's just not true. You won't be able to bring your idea to life without money. You could draw your grandmother with paper and a pencil, and it could be good, but will you ever be in a museum from your sketch of your grandmother? I don't know, but I don't think so."
In pursuing one's dream, however, it remained imperative to become so self-absorbed as to lose focus: "Think about what you can do for others. Don't (just) think about yourself, because that gets boring.
In any case, Maeda shared, the most important thing to remember, was to take opportunities to learn, improve, and expand, as he had when he decided to pursue further studies to better understand the world around him. Opportunities are meant to be taken as they come, for such chances may never come again.
"Cherish your youth. Don't waste time, because once you lose it, it's not coming back." – Rappler.com
DigiCon OMNI is brought to us by Eventscape Manila x Echo Channel, Smart, PMFTC, Spotify, Manulife, PayMaya, Facebook, WeTV and iflix, McDonald's, and Metrobank.
Official event partners are Digimind, CDM, MullenLowe Philippines, OMG Philippines, Kickstart, Sterling Chatbot Tech Philippines Corporation, and FutureProof.
And special thanks to Rappler, CNN Philippines, Manila Bulletin, The Philippine Star, and the Inquirer Group.