Let your 'milky-namnam' dish be the star of this year's family handaan
Editor's note: This content is sponsored by Nestlé Carnation Evap and was produced by BrandRap, the sales and marketing arm of Rappler. No member of the news and editorial team participated in the production of this piece.
Have you been cooking more for your family? Well, it's time to flaunt your shume-chef skills this Christmas.
Christmas may be slowly turning back into the usual festivities as we now have the chance to safely meet up with small groups of family and friends, while following health protocols. Let's take this opportunity to surprise and wow our family with extra special milky-namnam dishes na shume-chef!
Take these classic recipes and give them a dash of your shume-chef touch by cooking with Nestlé Carnation Evap, now made with more milk! Creating milky-namnam dishes also just got easier now that Nestlé Carnation Evap is available in a new easy open and resealable pack.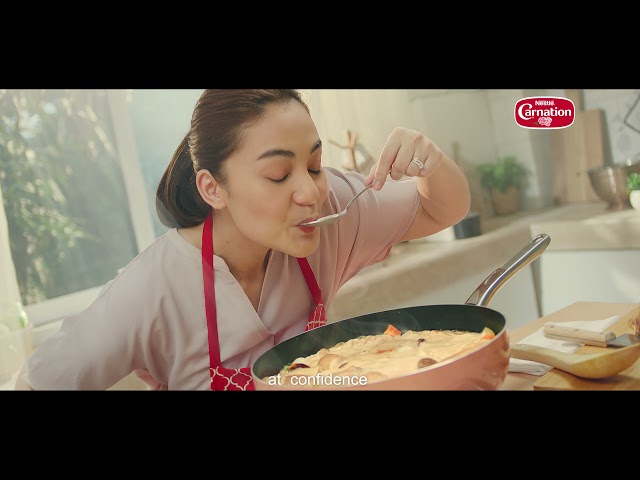 To make it even easier for you, here are recipes that you can try using the new Nestlé Carnation Evap, the cooking milk na shume-chef, for each of the Christmas parties that you'll be going to in the coming days.
This milky-namnam dish has shume-chef skills written all over it. Bring this to Noche Buena with the family and show them how far you've come from cooking sunny side up eggs! This will surely be the star of the potluck.
Nothing says Christmas like beef caldereta. It's usually the signature dish of the cooks we look up to in the family. Now it's time for you to introduce your milky-namnam version and have them start looking forward to your shume-chef sa sarap dish at every family gathering.
There will probably be cakes and ice cream a plenty on the Christmas dinner table. Stand out with your very own milky-namnam cathedral window. This special dessert will surprise anyone who will ask where you bought it and hear the answer that it was made by yours truly.
It's not often that we get a taste of homemade kakanin like maja blanca but when we do, it often tastes so much better than store-bought ones. I think it's the love added to the recipe that makes it so special kaya ang sarap at confidence, shume-chef! Share that love this Christmas by bringing this homemade creation to one of your parties.
I don't know about you but to be able to feast over homemade, shume-chef meals – together and not via zoom – is a wonderful opportunity I'm not going to pass on. And you definitely shouldn't, too!
Want to see even more milky-namnam recipes? Check out cookwithcarnation.ph – Rappler.com
Nestlé Carnation Evap is available in stores nationwide. You can also order online via Shopee or Lazada.