Twelve C-level guests are joining the powerhouse sessions this August
Editor's note: This season of IMMAP Web Wednesdays Premium will be featuring industry leaders from the region who will talk about data, e-commerce, and new marketing technologies. See their press release below.
IMMAP Web Wednesdays Premium, the C-level roundtable edition of the popular learning series for digital professionals, is returning for a second year this coming August 11, 18, and 25.
With the theme "Demystifying Data", the three-part series aims to elevate the discussion on data and analytics to the level of business strategy. "There is a lot of complexity around data, that it runs the risk of being underused," said Hans Roxas Chua, co-chair of the education committee of the Internet Mobile Marketing Association of the Philippines (IMMAP).
"We want to shift the approach that data is just something you consult after a campaign and seen in hindsight. The series will show how data and analytics can be used across the different roles in an organization, from the decision-makers to the practitioners, to achieve business transformation," he continued.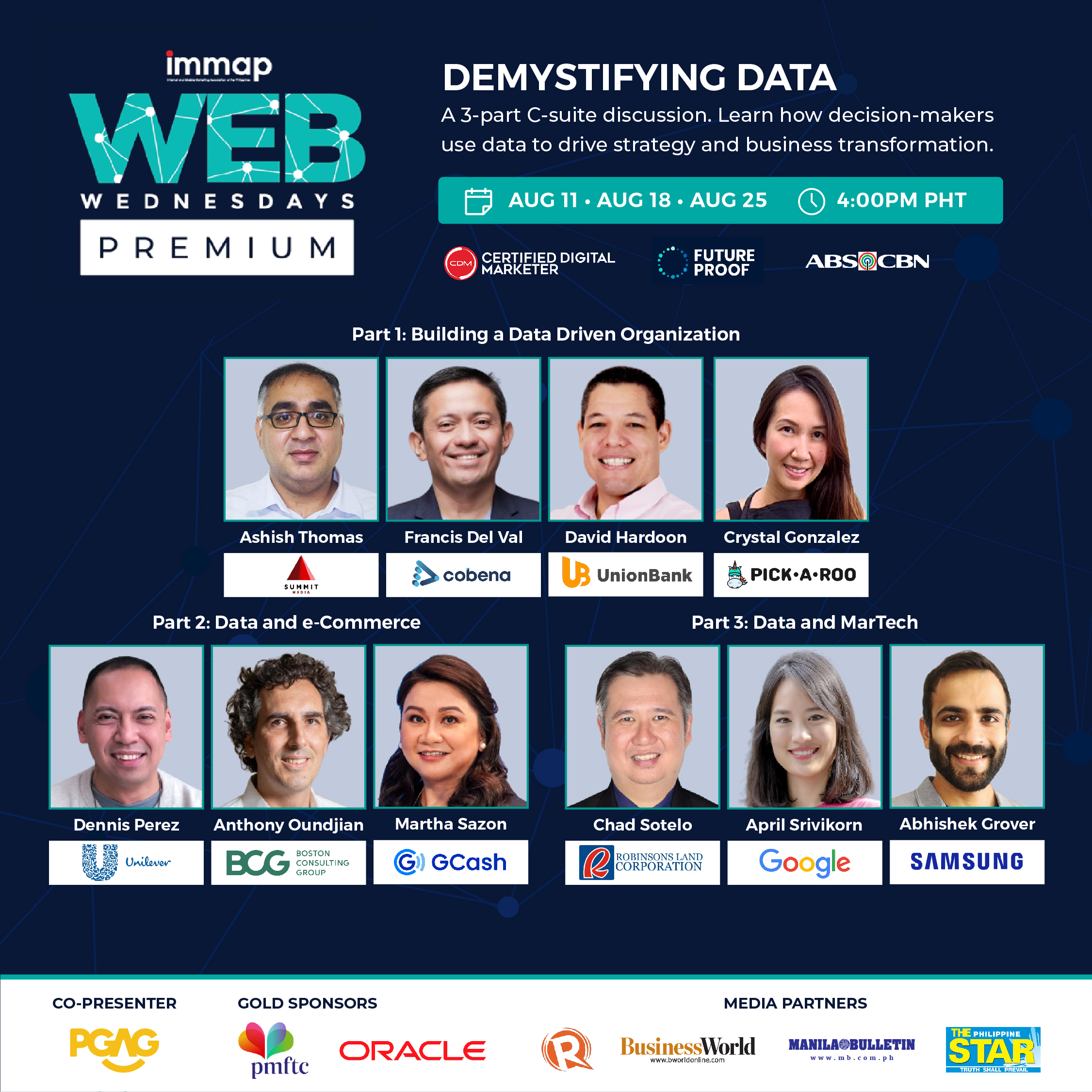 The live, interactive online event will give attendees the chance to hear from and ask their questions directly from twelve business leaders, including:
Session 1, August 11, 2021 – Building a data-driven organization:
Crystal Gonzalez, CEO and co-founder, Pickaroo
Ashish Thomas, chief executive adviser, Summit Media
David Hardoon, PhD, senior advisor for data and AI, UnionBank
Francis del Val, chief executive officer, Cobena
Session 2, August 18, 2021 – Data and e-Commerce
Henrika Fellizar, CEO – Philippines, aCommerce
Martha Sazon, CEO, GCash
Dennis Perez, media director – Philippines e-commerce media – SEAA, Unilever
Anthony Ouindjian, managing director and senior partner, Boston Consulting Group
Session 3, August 25, 2021 – Data and marketing technology (MarTech)
April Srivikorn, country manager for Google Cloud – Philippines, Vietnam, Thailand, Google
Chad Sotelo, SVP & business unit general manager, residences division, Robinsons Land Corporation
Julian Cua, principal – Manila, Boston Consulting Group
Abhishek Grover, head of digital marketing group in the SEA & Oceania, Samsung
The sessions will be moderated by Leigh Reyes, chief product consultant of MullenLowe Treyna and 2021 president of IMMAP.
Over 500 attendees are expected to join this premium series of the Internet and Mobile Marketing Association of the Philippines, which is part of the association's year-long education initiatives under its Web Wednesdays series. As part of the benefits of joining, attendees can get access to the video library of the previous Web Wednesdays sessions, which include Customer Intelligence for Business Growth, Your Customer's Digital Journey from Brick and Mortar to Click and Mortar, and Where Do I Start? A Guide to Digital Media Strategy. Two more sessions are scheduled for the year.
Web Wednesdays Premium is jointly organized by some of the leading authorities in digital marketing, namely, IMMAP, the Certified Digital Marketer (CDM) Program, and Future Proof PH.
Co-presenting the event is PGAG, a social-first brand of humor for Filipinos. Founded in 2018, PGAG has become one of the country's fastest-growing digital content producers for Filipino Millennials and Gen Zs, providing comedy and entertaining content using relatable memes and snackable videos.
In 2020, it also launched its digital creator agency, Hepmil Creators' Network (HCN), which aims to empower and grow TikTok and gaming creators across the Philippines.
"Now more than ever, Filipinos are looking for positive and uplifting content as a means to cope with the challenges of the pandemic, and this is where PGAG has the edge," said Jel Directo, country manager for PGAG and HCN. "We are confident that a partnership with IMMAP will enable us to spread this positivity through brands who wish to connect with the Millennial and Gen Z audiences."
Web Wednesdays Premium is also made possible by the support of its Gold
Sponsors, PMFTC Inc., and Oracle.
Registrations are still open for Web Wednesdays Premium. To sign up, go to
https://webwednesdayspremium.futureproof.ph/ – Rappler.com