In this episode of Web Wednesdays, industry experts share how businesses can create customized digital solutions throughout a customer's digital journey
Editor's note: Catch this Web Wednesdays episode on March 10, 6 pm. Learn more in the press release below.
Internet and Mobile Marketing Association of the Philippines (IMMAP) presents another relevant discussion crucial to fueling digital conversations around branding and strategy. Following the highly insightful webinar on customer intelligence for business growth, Web Wednesdays on its second episode will tackle design thinking and how it is useful in creating a solutions-focused customer digital journey.   
Slated for March 10 at 6 pm, Web Wednesdays features an interesting discourse on digital solutions and customer experience titled "Your Customer's Digital Journey From Brick and Mortar to Click and Mortar." This will be a deep dive on defining and utilizing design thinking in creating customized digital solutions throughout the customer's digital journey.
Leading the panel are digital and brand experts Kay Veloso-Palisoc, E-commerce and Digital partnerships head of Unilever Philippines; Alan Fontanilla, Founding Partner and Chief Explorer of Served Manila; and Denise Haak, Quiddity CEO.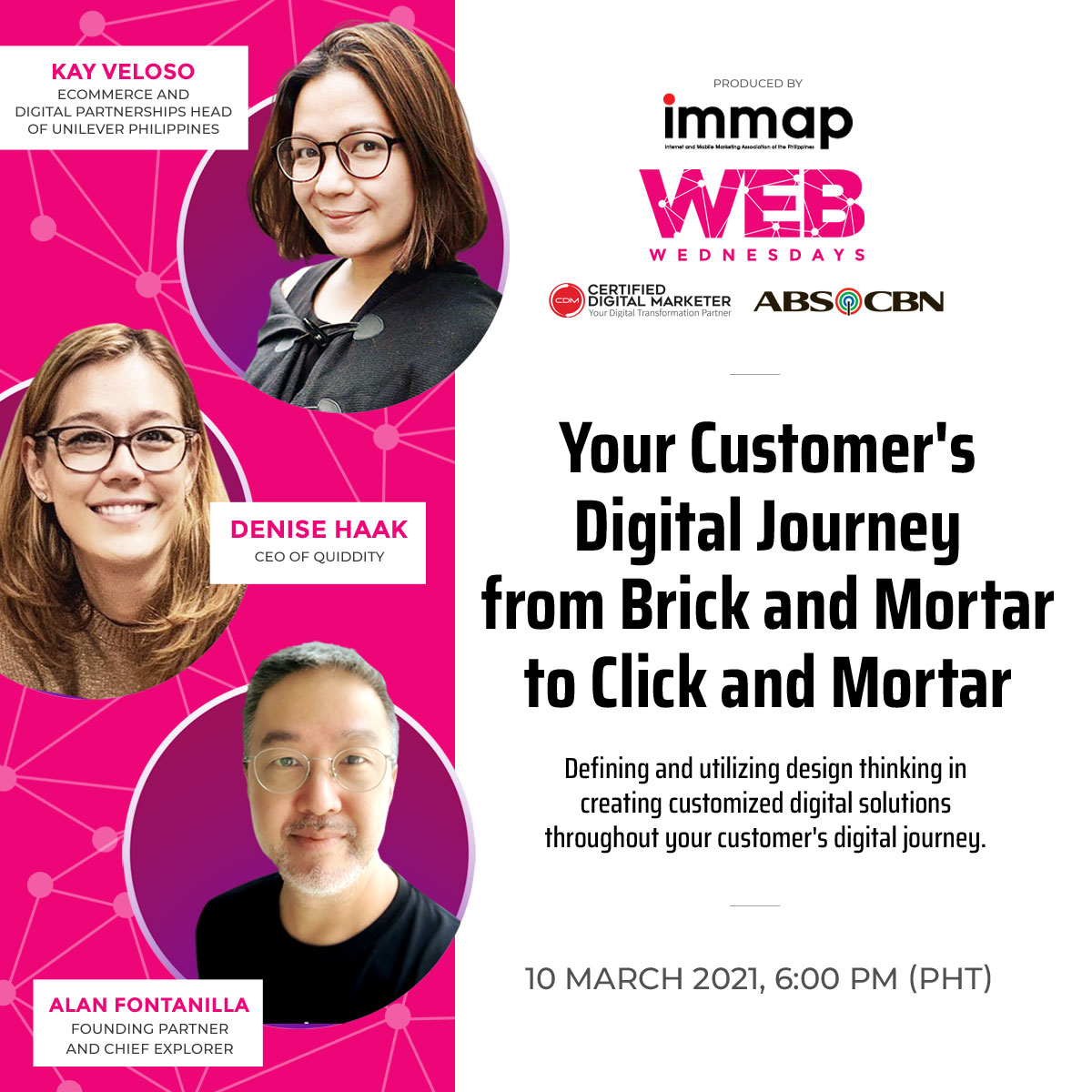 Kickstarting the e-commerce business of Unilever Philippines, Kay launched the brand's e-commerce purpose programs, such as the multi-awarded Shop2Give partnership with Lazada and UNICEF. Passionate about all things digital and purpose-driven, she has worked in multiple industries as a digital marketer, a digital transformation consultant, and an e-commerce practitioner.
An experienced brand communication and activation professional, Alan is a creative thinker who has a demonstrated expertise in operations management, brand strategy, and marketing in the Philippines, China, and Indonesia. He is a volunteer member and board of trustee of the Philippine Association of National Advertisers (PANA) Foundation and has worked for DY&R Philippines, Y&R China, BBDO Indonesia, Basic-Publicis Advertising and MullenLowe Philippines. Alan recently co-founded Served Manila, which is a hybrid digital and experiential tasting platform ranging from food to beverage, skills to hobbies, and new products.
Apart from Quiddity that specializes in end-to-end user experience design and consultancy, Denise runs Halcyon XD, a premiere Experience Design agency in the Philippines. As a recognized speaker in the field of UX, she has personally designed and conducted hundreds of talks, seminars and workshops on user and customer experience, design thinking, human-centered design, lean and agile practices, and cultural transformation among others.
Moderated by Bea Lim, Managing Director of TeamAsia, IMMAP Web Wednesdays is a live one-hour session online that features industry experts and leaders discussing a variety of digital topics. Spearheaded by the IMMAP education committee and co-presented by ABS-CBN and the Certified Digital Marketer (CDM), the series aims to spread awareness on the latest digital data, trends, and best practices that can be adapted to different kinds of businesses.
Be part of this exciting panel discussion on "Your Customer's Digital Journey From Brick and Mortar to Click and Mortar" on Wednesday, March 10 at 6 pm, Manila time. IMMAP's Web Wednesdays series is free and open to everyone. Register now and gain access to the webinars by clicking below. For more information about IMMAP, visit https://www.immap.com.ph/.  – Rappler.com
Register for free here: https://cli.re/IMMAP-Rappler