Are you upgrading this October?
In last June's Windows live event, Windows chief product officer Panos Panay shared with us his childhood home. He talked about the different renovations it has gone through over the years, and how that even with all the changes it still feels like home whenever he steps in. All the memories and connections just come back to him easily. This is how he sees the upgrades Windows has had since it first came out 35 years ago.
And he is absolutely correct.
Over the years, the Windows look that people have come to love has changed drastically but in ways that are still familiar. Navigation through Windows' iconic start key and menu as well as file explorer has stayed the same even as new looks and features were plugged in. The same goes for all other processes that have been updated but with most of their fundamentals and controls still intact.
This year, we're treated with yet another upgrade to the operating system that goes beyond superficial changes yet still preserves the familiarity we've grown accustomed to. While it may be too early to tell, there are several reasons why we think that Windows 11 is yet another winner.
Design overhaul works amazingly well
Glassy edges with rounded corners is the theme that Windows 11 is going for, and it looks absolutely stunning without being distracting. The start menu has also been repositioned to the center of the taskbar instead of the usual left-hand corner. And although this is quite a change from the classic start menu, users can switch it back if they want to.
File explorer has also gotten a design update with quick access tools now minimized, giving you a cleaner and less cluttered look. There are also other subtle changes like more spacing in between icons which is great for those using hybrid or touch devices. But if you rely mostly on a mouse or trackpad, you can also switch to a compressed view which removes those extra spaces in between icons.
One thing I'm particularly excited about is window snapping. We've seen other platforms and devices try to introduce their own form of this feature, which is essential when you're multitasking, but none have come close to how intuitive Windows executes it. With Windows 11, users now get more layouts for snapping multiple windows, and there's also a button that can automatically tile the windows for you. And yes, when you switch outside the snapped group, you can switch back in as well.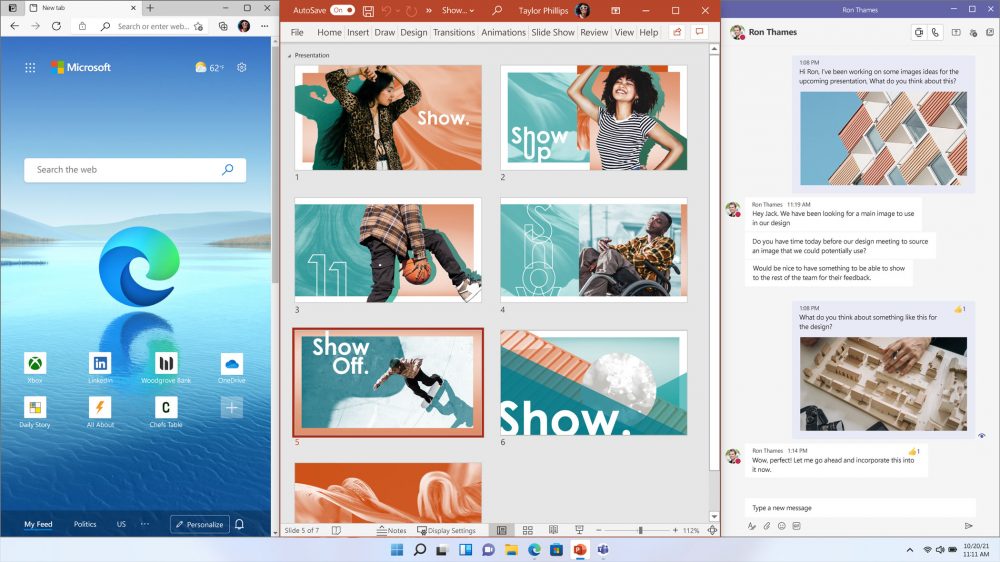 The design is a beautiful upgrade but doesn't necessarily veer too far away from what we've seen in Windows 10 in terms of layout, functionality, and of course familiarity.
More cross-platform capabilities
There used to be a huge divide between users depending on which operating systems or tools they use, and Windows is beginning to bridge that divide with cross-platform capabilities.
One area we see this happening is through Microsoft Teams, where users can now chat or video call with other people, or stay in touch with them through two-way SMS even when they haven't downloaded Microsoft Teams. Teams is also now integrated into the taskbar, making it even easier to stay connected.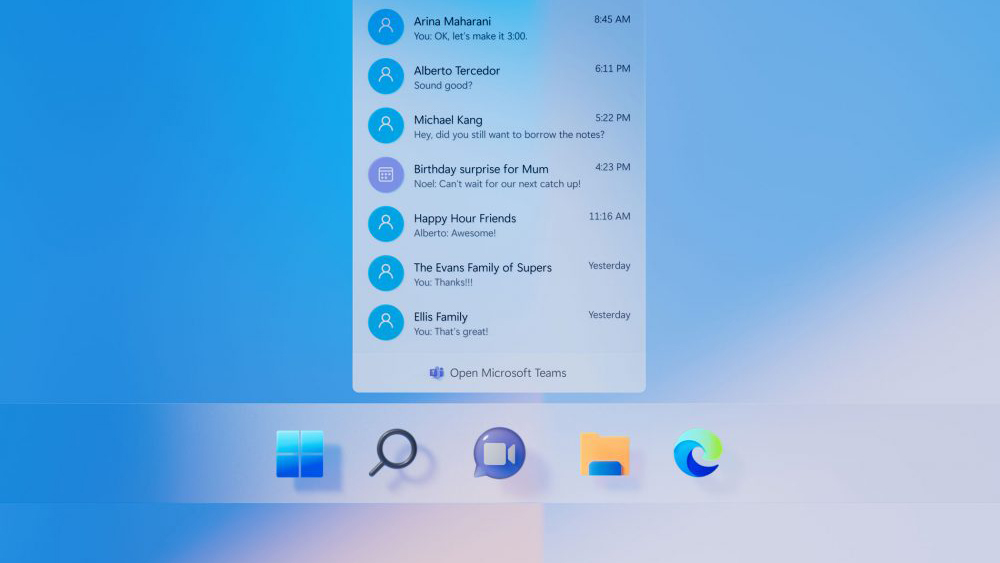 Keeping track of documents is also one of these areas as you can see which documents you've viewed recently regardless of what device you used. So if you opened a Word document on your phone, your laptop now knows it too.
Microsoft is reportedly also working on allowing Android apps to be opened on Windows devices. While that won't be in the rollout this October, that's still something to look forward to.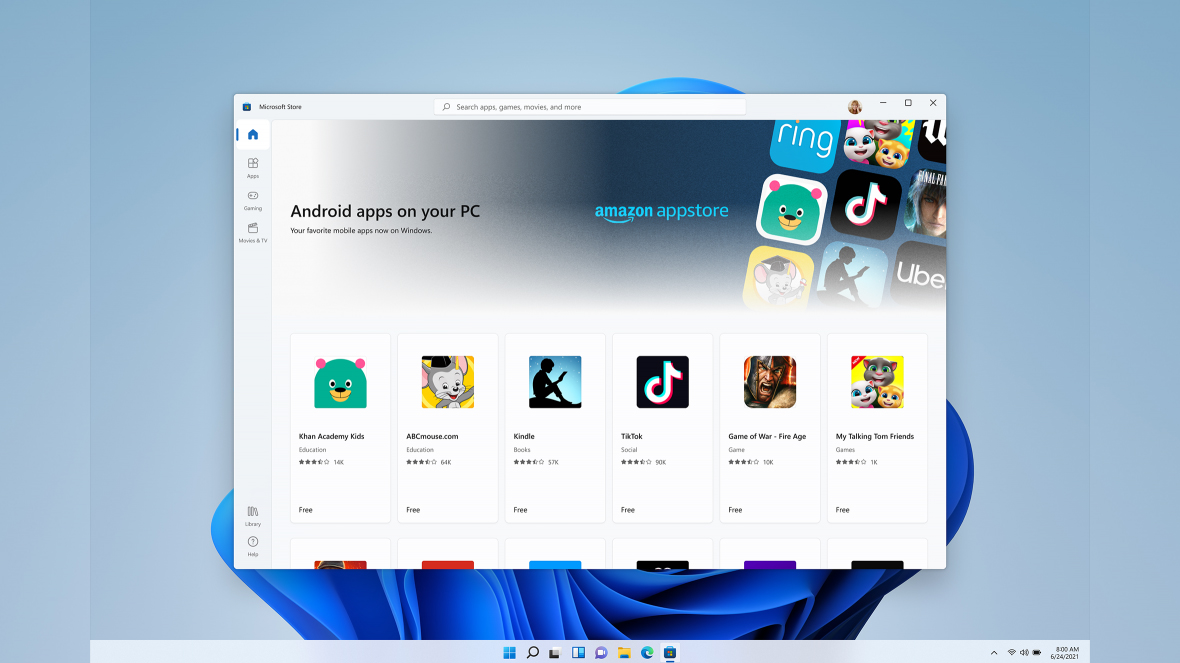 There are also new features that can be enabled through different apps within Windows, like its capability to recognize voice and handwriting so you won't necessarily have to type each word.
Better gaming experience
Productivity isn't the only edge that Windows has over other operating systems, but gaming too. And Microsoft is hard at work at enabling more apps and games to enter the Microsoft Store to make downloading them easier (no more scouring the net for .exe files hopefully). Windows 11 will also have auto-HDR to make game visuals look better, as well as direct loading from the devices' GPU and not CPU to make games load and run faster.
No more monthly updates
Microsoft will no longer release updates on a monthly basis and instead will release them on an annual basis. This cuts down the frequency of updates you have to make and also lessens the chances for buggy installations.
Another introduction in their update management is that when new patches are released, users no longer have to download the entire patch. The Windows update engine will only be checking new information that you don't already have, which would potentially cut down the file sizes you will need to download.
Security from chip to cloud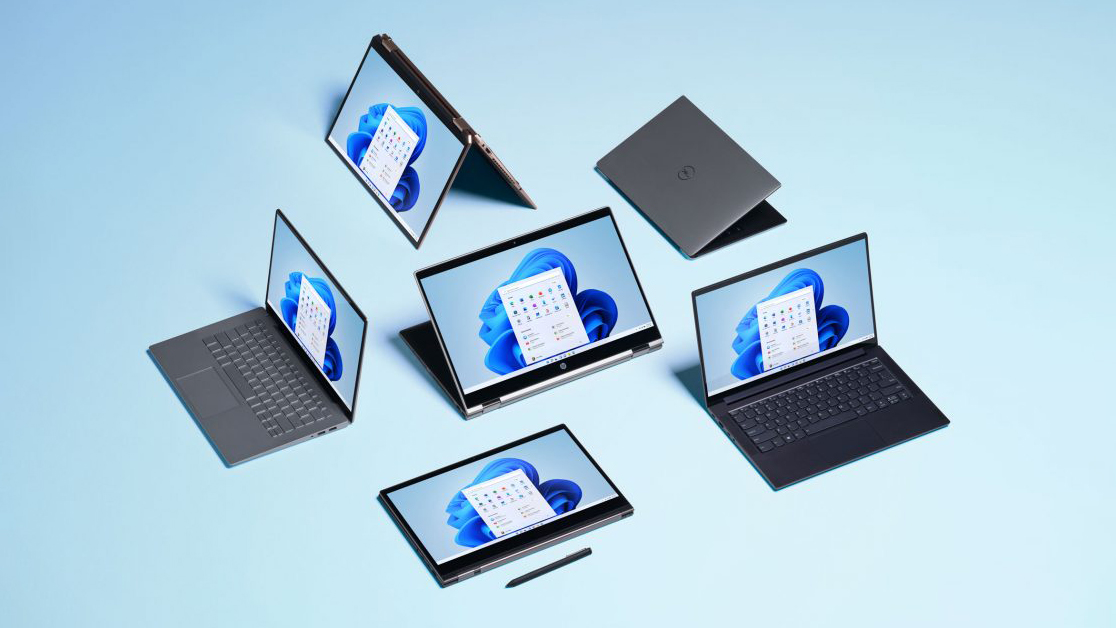 Microsoft recently adopted a new security model for their products — the Zero Trust model. This means that they do not assume any form of identity or device to be secure, they will assume that systems are already breached, and even identities or devices that have been verified could be compromised.
What this means is that Windows will continuously scan each component from chip to cloud to ensure that your device and account remain secure. They have enabled key features like hardware-based isolation, encryption, and malware protection by default, all working in the background.
Upgrading can be easy and free
If you're a Windows 10 user now, there is a chance that you can upgrade your operating system to Windows 11 for free. If you own an eligible device, the Windows Update app will notify you and give you the option to upgrade. You can also use the PC Health Check to see if your device is eligible.
Upgrades will begin rolling out by October 5, 2021, but Microsoft will be deploying this in phases.
You can visit https://www.microsoft.com/en-us/windows/windows-11 to check if your device is eligible for the upgrade. – Rappler.com