The organization turns to play and the arts to help people heal and care for their mental health
Editor's note: This Women's Month, CommuniCart is putting the spotlight on women entrepreneurs and their business journeys. This is the story of how a mental health clinician and educator partnered with an organizational development and human resources practitioner to build an expressive arts therapy center for Filipinos.

Before leaving the country to become a trained clinical art therapist in 2004, Gina Alfonso was bent on making expressive arts accessible in the Philippines. She had her eyes set on this goal because she wished she could avail of such service for her own healing and learning.
"In essence when we say expressive arts, we mean we approach things in an arts-oriented way, knowing that as humans we all have the inherent capacity to create," she shared. "We all have an inherent capacity for self-agency."
With a bachelor's degree in psychology and international postgraduate degrees in education, art therapy and mental health counseling, and expressive arts under her belt, Alfonso built MAGIS Creative Spaces in 2013. It was established as a center for healing and learning through expressive arts.
MAGIS Creative Spaces offers preventive and rehabilitative services, with the former referring to services that help one to prevent mental health concerns and the latter pertaining to services that rehabilitate one from such issues.
The organization's preventive services include psychosocial expressive arts support groups, open art studios, and art retreats. Under this pillar, MAGIS Creative Spaces also provides training for teachers, social workers, caregivers, and health or human resources (HR) professionals so that they may employ an expressive arts-based approach in their respective settings.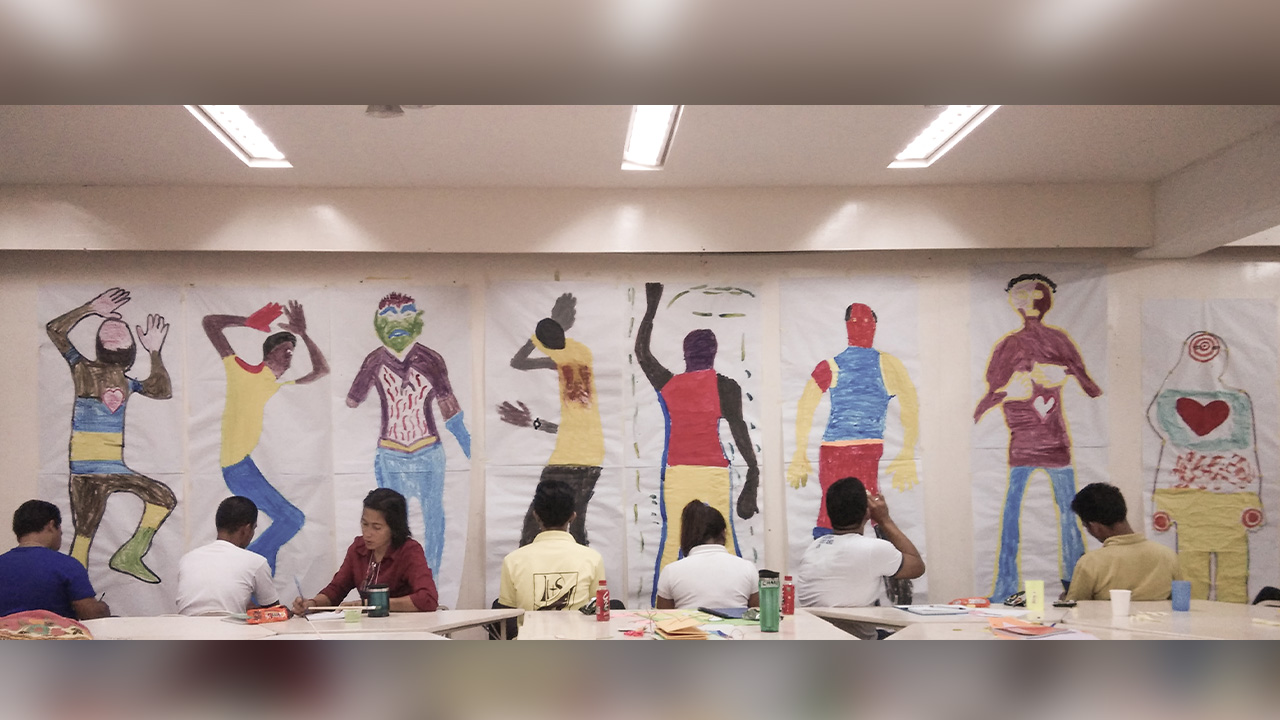 Meanwhile, expressive arts therapy, psychotherapy and counseling or traditional talk therapy, neurodevelopmental therapy such as occupational and speech therapy, neurofeedback therapy, and applied behavior analysis make up the organization's rehabilitative services.
MAGIS Creative Spaces opens its doors to people of all ages, as its services are designed to be holistic.
In Latin, MAGIS means "more." This is what fuels Alfonso and her team: to do their work with more love. It also stands for "Make Art that Gives, Inspires, and Shapes the world."
Creating space for art therapy
Alfonso was not alone in establishing MAGIS Creative Spaces. She tapped Kathy Ponce, the organization's managing director, to be a co-founder.
They started it as a center that caters to the psychosocial and neurodevelopmental needs of children. They worked alongside the special education teachers of The Learning Child School, the home of MAGIS Creative Spaces.
The school connected Alfonso and Ponce. The Learning Child School is owned by Alfonso's mom, while Ponce's mother was then the principal.
Ponce was invited to help with the school's transition to focus on preschool education. It happened at the same time that Alfonso thought of making use of the unoccupied spaces in the school for an expressive arts therapy center.
"She invited me to join her and our lives have pretty much run in parallel since we both belong to a family of educators. We believe that it is a good opportunity to work together and see how the legacy of both our families can be carried out in a creative way through this venture," Ponce said.
Ponce, who holds a behavioral science degree and master of business administration degree, used to work in the corporate world before taking up Alfonso's offer to become her partner.
"I decided to leave the corporate environment because I noticed that I could barely make any impact on the wellbeing and lives of employees as an HR professional, let alone a strategist. I wanted to make an impact," she said.
Their partnership was the right mix as Alfonso had connections with expressive arts practitioners who can work with them, while Ponce knew people with administrative skills to help run the center.
"The value in starting early – even before mental health stepped into the mainstream – is that we began to build a client base who learned about our work. And we have truly built MAGIS, one client, one provider at a time," said Alfonso.
Running MAGIS Creative Spaces
Today, MAGIS Creative Spaces has grown to offer services to children, teens, adults, couples, and families in individual and group formats.
"In the beginning, we were on training wheels, treading in waters that were not too friendly to the idea of the arts for healing or mental health. Now, the idea of being in therapy is no longer taboo, we have legislators and prominent public figures supporting mental health initiatives, and the MH Law (Republic Act No. 11036 or the Mental Health Act) is in place," Alfonso said.
MAGIS Creative Spaces promises to respond to the needs of its clients and provide them with integrated services facilitated by a passionate team of professionals – a mix of clinicians, artists, and program facilitators – who believe that each person is the master of his or her own life and that the expressive arts are a rich pathway to healing and learning.
"MAGIS is a story born out of a deep calling to serve others that evolved over time through living the expressive arts principle of poiesis (learning by making). It continues to be a journey of listening, learning, loving, and serving to normalize mental health through play and the arts in various contexts through trial and error, through making, discovering, and being open to surprise," Alfonso said.
"Most of all, MAGIS' story is a story of a team humbled by the privilege of the opportunity to accompany those we serve." – Rappler.com
MAGIS Creative Spaces is located at The Learning Child School, 111 Cordillera Street, Ayala Alabang Village, Muntinlupa City. They may be reached via email at hello@magiscreative.net or through calling +63-2-850-4852 loc. 220 or +63-927-950-5745. Find out more about their services at https://magiscreative.net/ and Facebook.