Bernz Soriano revels in the art of making whimsical soap bars
Editor's note: This Women's Month, CommuniCart is putting the spotlight on women entrepreneurs and their business journeys. A project manager shares how she turned her passion into an endeavor that helps her earn extra money.

Soap is among the most essential items that you could find in your household. You use it daily for practical reasons – to clean yourself – but one rarely associates it with art.
For Bernz Soriano, she treats the commodity as her canvas. Soap-making is one of her creative outlets.
She's the brains behind Boolah Soaps, an online shop that sells handcrafted soaps. Scroll through her store's feed and you will find a range of soap bars with unconventional looks: from one that is designed to appear as an ocean wave to a sea shell-shaped bar and a soap with roses carved on its narrow surface.
Her hobby of soap-making began in early 2019, when she took a class that taught her the basics of creating cold-processed soap. These are soaps that have ingredients that come from oils and mixed with lye or sodium hydroxide solution.
As for her designs, she gets inspiration mostly from her interests; though she can pick up ideas from anywhere. For example, her soap bars that look like ocean waves were born out of her love for surfing. "I have a notebook where I jot down all my soap ideas and calculations. When the time comes that I need to make them, everything's ready," she says.
"It's fun to make your own soap. You can make your own recipes and configuration," she shares. "It got me hooked."
She makes her soaps in batches using loaf bars. Because of her yield, she gave away her extra ones to her family and friends – the same people who gave her a nudge to make her hobby into a business.
"I consider September 2019 as the time of Boolah's birth," Soriano says. Come holiday season that year, she found herself taking orders from friends and acquaintances who are interested in giving away her soaps as gifts for the upcoming Christmas season.
Molding her soap-making business
Asked about her initial challenges in putting up her soap business, Soriano says it started with coming up with a name. After all, it will be the label that you as a business owner will be known for in the long run.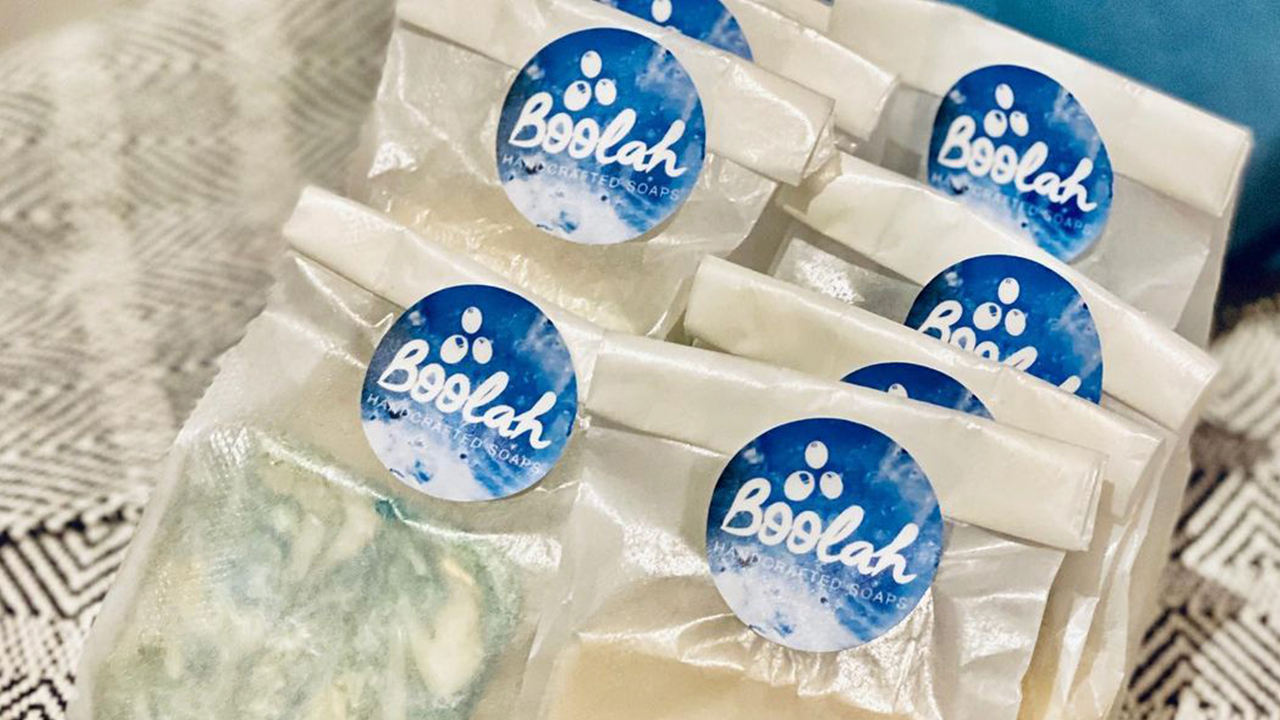 She chose the name Boolah, as suggested by her husband, as it plays on the Filipino word bula, which translates to bubble. The name is whimsical, which reflects her soap bars.
Soriano runs her business alone and she does it in her free time, outside of her regular project management job hours. While she still considers making soap as a hobby, getting income from it has certainly made her think about the direction that she wants for Boolah.
"It's a one-man show. So all of the business decisions – although I have more freedom because I don't have to consult anyone – I have to think of them myself. That's a challenge. You have to think about every aspect of your business: your packaging, delivery, pricing options," she says.
"[It's different now] because sometimes, I just simply want to make soap."
Registering your business with the government is also another aspect that Soriano saw as an initial challenge in setting up shop. "Fortunately, the Department of Trade and Industry has this program for micro, small and medium enterprises (MSMEs) that makes registering your business easy," she explains.
"It was quite painless… [registering] helped a lot because it made me see that I am running a legitimate business and not some fly-by-night transaction."
As a business owner, Soriano says you should also know what your objectives are. Having a business plan helps, she adds.
Advice for budding entrepreneurs
As more people get into more hobbies, some might consider going the same route as Boolah Soaps. If that's the case for you, Soriano says it's important to always find joy even in the nitty-gritty of the business.
"The serious side of business is always there," she says. "It's very crucial that your business comes from something that is very dear to you; something that you value and something that you actually like. Don't just do it for the money."
Most importantly, Soriano says to not forget to show care for your customers.
"Always be mindful that it's not just a business, but also a way to develop relationships. You can even show your advocacy through your business too." – Rappler.com