This is AI generated summarization, which may have errors. For context, always refer to the full article.
DOST, DTI, DICT, and QBO Innovation Hub successfully hold PHSW20
[Editor's Note: The Philippines' largest startup conference held its 5-day virtual conference last November 23-27. Below are the highlights of the event.]
More than 10,000 people attended the recently held Philippine Startup Week 2020 (PHSW20), making it the largest startup virtual conference in the country.
With the theme, "Filipino Startups Powering Up the New Normal," PHSW20 made history as it brought together startup founders, startup enablers, techpreneurs, investors, government stakeholders, and thought leaders from across the country and beyond in one virtual stage from November 23 – 27, 2020.
The 5-day conference was made possible through the joint collaboration of the Department of Trade and Industry (DTI), Department of Science and Technology (DOST), Department of Information and Communications Technology (DICT), QBO Innovation Hub, with support from 917Ventures, AWS, Investing in Women, Microsoft, Youth Business International, Google.org, PHILEXPORT, TeamAsia, Paymongo, PLDT Global, Prosperna, and Credit Information Corporation and 61 community partners.
The changing face of collaboration towards a 'better normal'
DTI Secretary Ramon M. Lopez, DOST Secretary Fortunato T. de la Pena, DICT Secretary Gregorio B. Honasan Il, and Rene "Butch" S. Meily, President of QBO Innovation Hub headlined PHSW20's Opening Ceremony.
"We believe startups can help in enabling the digital transformation of our micro, small, and medium enterprises, our traditional brick and mortar businesses, and especially the SMEs need to digitize their operations in order to thrive and be competitive in the post-pandemic economy," said DTI Secretary Ramon M. Lopez as he shared an inspiring message of hope in creating a better normal through innovation and collaboration.
"Let this Philippine Startup Week 2020 be also our way of showing our startups that you are not alone and that the government is here with you as you power up the new normal. Let us continue to work hand in hand with the government and private sector so we can do more," said DOST Secretary Fortunato T. de la Pefia. He emphasized how PHSW20 comes in at an opportune time as it aims to build an even stronger, more inclusive startup ecosystem through the support of the various government agencies.
'The [Innovative Startup] Act mandates the creation of the Philippine startup development program or PSDP, which offers benefits and incentives for startups and startup enablers – program recognized by the Digital Riser Report as a lighthouse initiative," DICT Secretary Honasan II proudly stated during his welcoming remarks.
He also shared that the Philippines was globally recognized as the top "digital riser" in East Asia and the Pacific.
"Each year, [Philippine Startup Week] gives me confidence that our startups will breakthrough and overcome the gaps in our ecosystem. The youth and vitality of our founders, their dogged optimism and courage in trying new things [give] me faith that a Philippine unicorn or a successful initial public offering is just around the corner," said Rene "Butch" Meily, President of QBO Innovation Hub.
"Accelerators and incubators like QBO and IdeaSpace are important because they provide the oxygen that gives birth to startups, and startups are one of the keys to the revival of the Philippine economy. With their technology, they are at the lead of the new digital landscape," added Meily.
PHSW20 had 56 community events within the event's five specialized tracks – Discover, Develop, Collaborate, Invest, and Showcase – and featured over 100 startups including those in the Top 100 by QBO, a daily segment that showcased the country's hottest, high potential startups to watch out for in 2020.
More than 240 acclaimed local and international speakers also joined the virtual stage, including keynote speaker Vice President Leonor "Leni" Gerona Robredo who graced PHSW20 with her presence and imparted an inspiring message during the Startup Pinay segment led by QBO Innovation Hub in Partnership with Investing in Women (IW).
"If there is any lesson we can draw from this pandemic, it is that there is no better way through any crisis but together – by collaborating to survive, to innovate, to adapt," said Vice President Robredo during her keynote address.
Inclusion and diversity within the Philippine startup ecosystem
DOST, DICT, and DTI also held their respective events to highlight each agency's commitment to the Philippine startup ecosystem. DICT's InnovNation kickstarted Day One of PHSW20 by announcing the completion of the first phase of the Startup Philippines website – a step closer to bridging the information gap and making vital data accessible to startups, enablers, and stakeholders.
DICT's InnovNation also featured speakers and panelists to tackle inspiring stories of startups creating impact in the countryside, building an inclusive startup community, and enabling the next generation of community builders in the Philippines.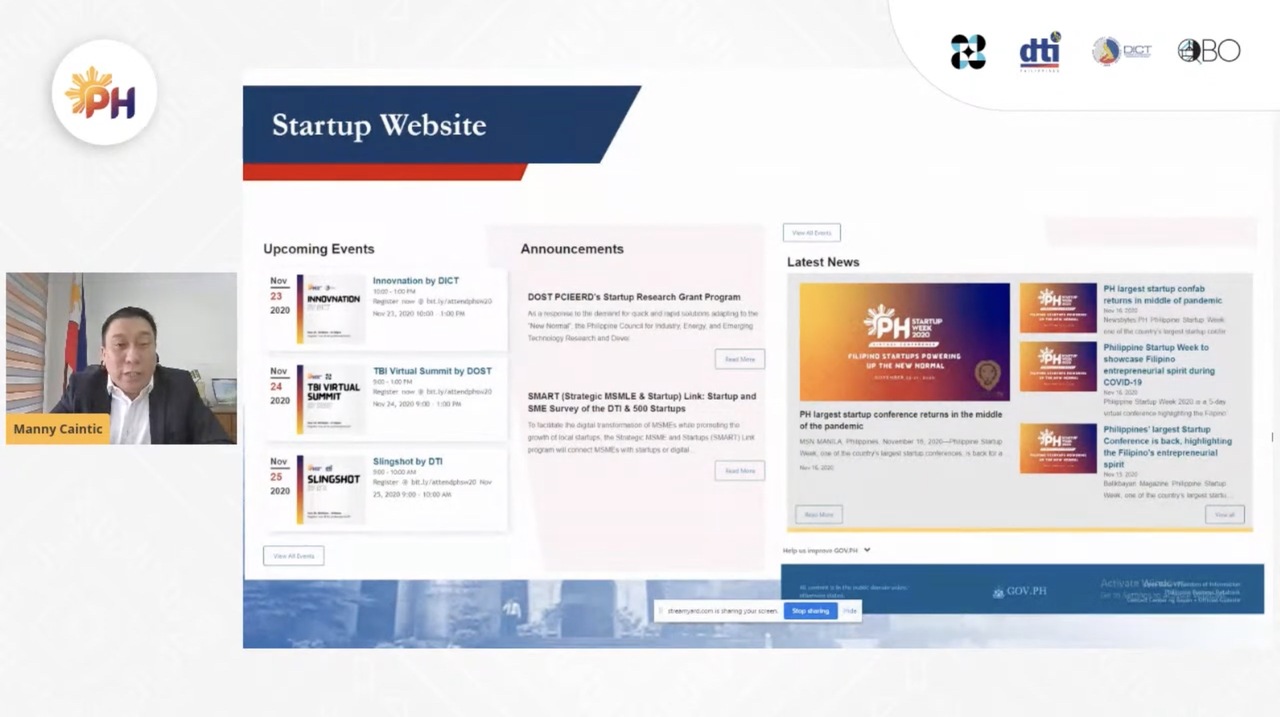 Celebrating success in innovation
Headlining DOST's TBI Virtual Summit at Day Two of PHSW20 was DOST Sec. Fortunato de la Pefia as he formally opened the session, and DOST Usec. Rowena Cristina Guevara who presented the DOST TBIls COVID-19 Report.
During this event, the Executive Director of PCIEERD, Dr. Enrico C. Paringit, also launched the PCIEERD Startup Research Grant Fund Program that seeks to provide a fund mechanism for startups to reinvigorate the economy in the post-COVID era.
The session ended on a high note with the PCIEERD TBI Kabalikat Awarding Ceremony, where QBO Innovation Hub received the PCIEERD Startup Ecosystem Builder Award.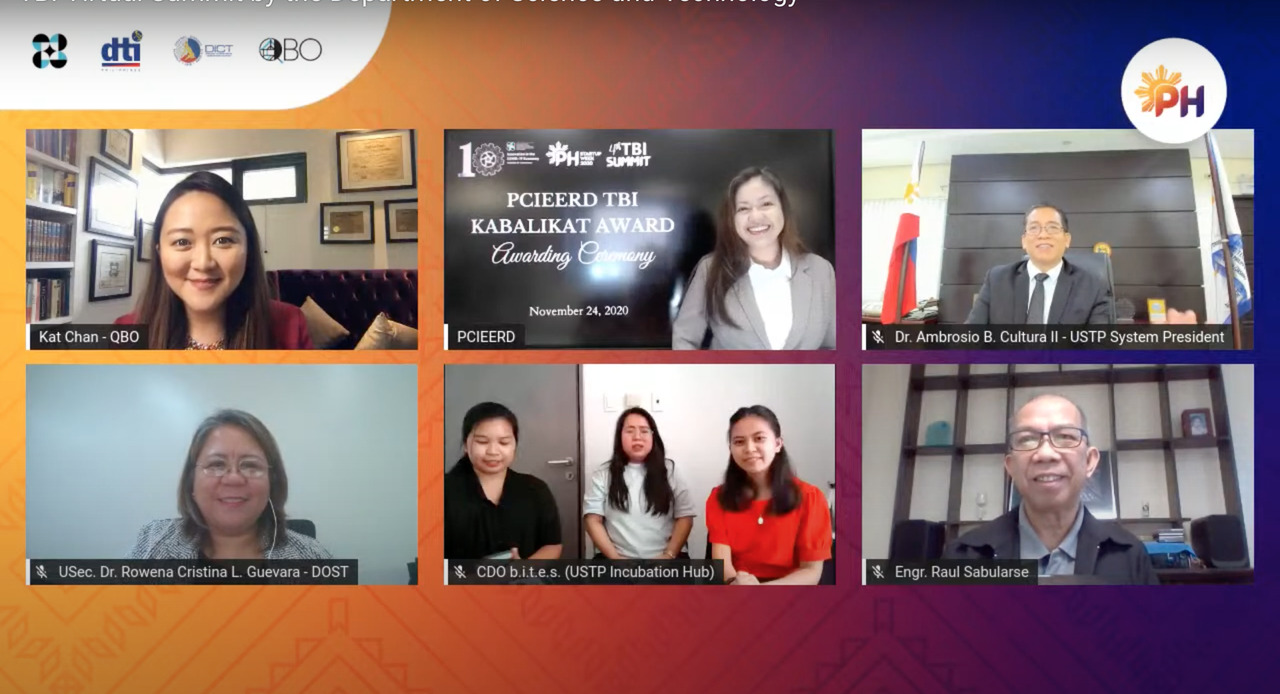 Scaling opportunities to accelerate economic growth
Day Three of PHSW20 opened with DTI's SLINGSHOT – an annual international conference gathering stakeholders of the country's startup ecosystem to discuss scaling opportunities and globalizing startups.
A highlight of SLINGSHOT was the signing of the Memorandum of Understanding between DTI and 500 Startups, a global venture capital and startup accelerator based in Silicon Valley, to work together as DTI prepares to implement the Strategic MSMLE and Startup (or SMART) Link Program.
The SLINGSHOT conference proper began with presentations from Startup Genome's Patricia Russ and Undersecretary Rafaelita Aldaba.
Ms. Russ emphasized the importance for policy-makers to focus on the right action and support at the right time, for ecosystem leaders to let the entrepreneurial core lead the startup community, and for startup founders to think big and go global.
Usec. Aldaba talked about the state of the Philippine startup ecosystem amid the pandemic and highlighted the rise in the Philippine ranking to 50th in the Global Innovation Index 2020, which placed the country for the first time among the top 50 innovation ecosystems in the world.
The event also featured panel discussions on fostering collaboration across borders with various local and international startup enablers, including Minette Navarrete of Kickstart Ventures, Thomas Jeng of 500 Startups, Jojo Flores of Plug and Play, Darren Lee of Enterprise Singapore, and Zhang Li of Taipei Computer Association.
Another panel featured Filipino startups Pearlpay, Cawil Al, Vaquform, 1Export, and Hustleshare PH, who shared their experience in forging international connections that contributed to their growth.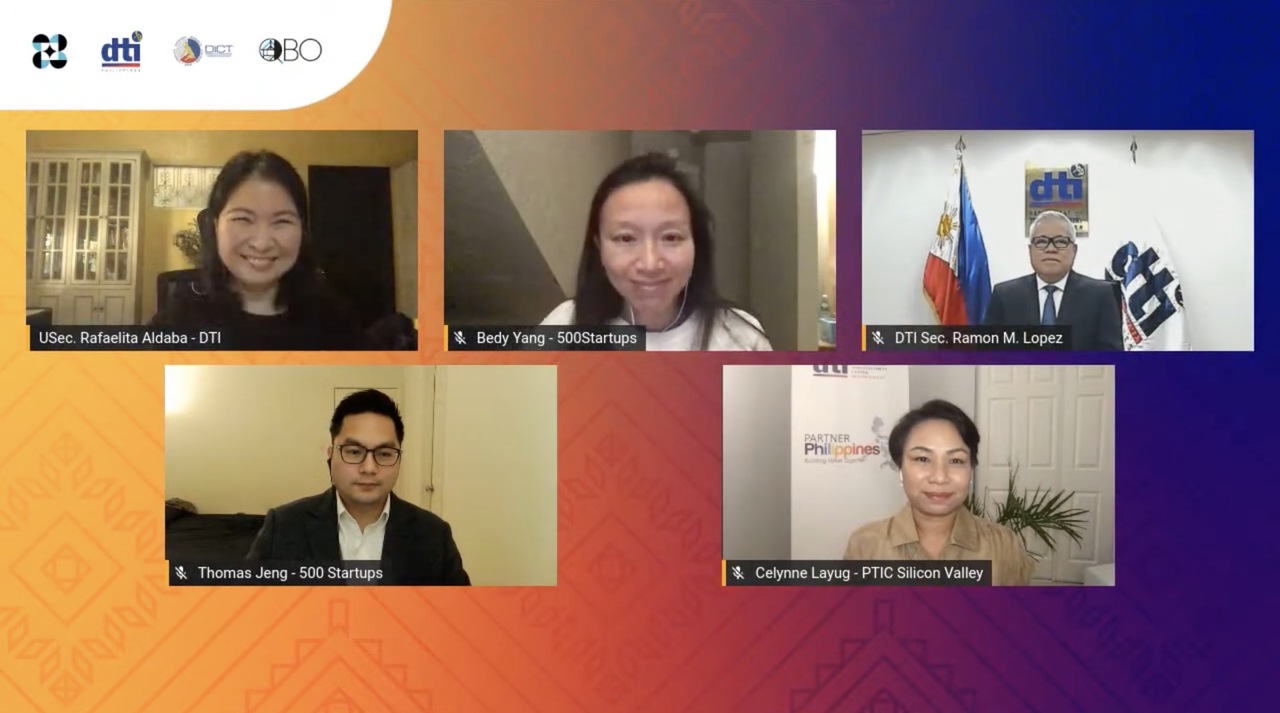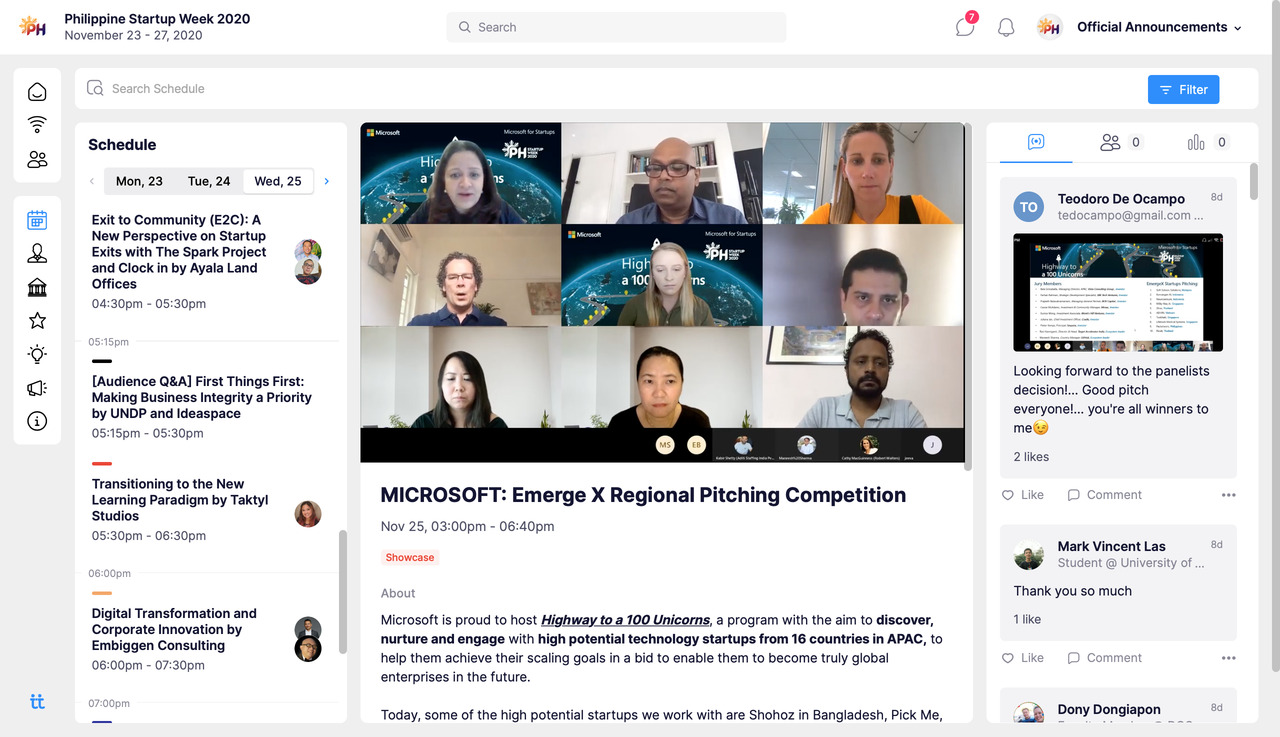 HealthTech startup MedHyve hailed 'big winner' of PHSW20
In the latest iteration of the conference, a series of startup competitions were held, including Microsoft: Emerge X Regional Pitching Competition, where the top 20 Startups pitched their ideas to a panel of judges from prominent VCs.
The ARISE Startup Pitch Competition was also part of PHSW20, where NextPay and Zagana earned second and third place, respectively.
Hailed as the "big winner" of PHSW20, MedHyve bagged first place both in the ARISE Startup Pitch Competition and the Seedstars Manila Competition – which capped off the entire PHSW20 conference.
With a high demand for medical supplies due to the current health crisis, MedHyve's win is undoubtedly timely as the startup aims to provide an interconnected platform for medical communities across ASEAN to acquire their medical product needs.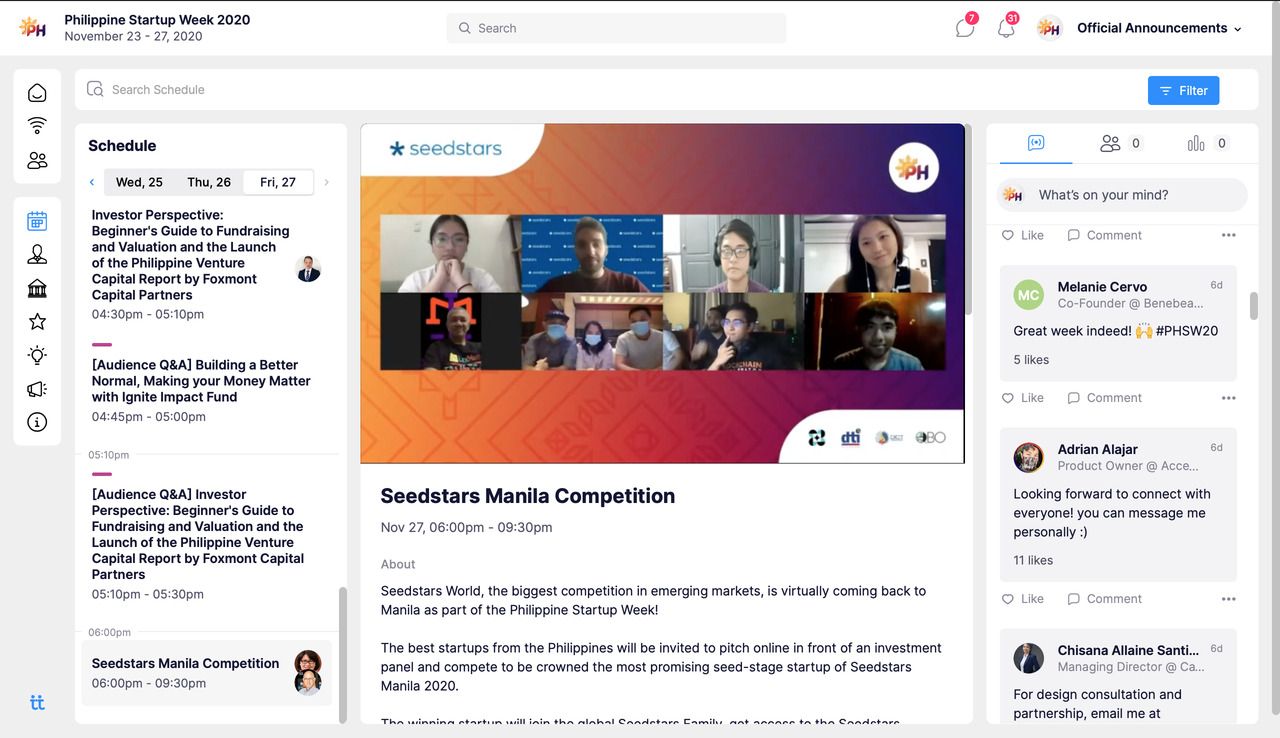 Powering up the next generation of startups
There were also a handful of sessions led by the different Technology Business Incubators (TBIs), featuring their programs, incubated startups, and the current state of their city's startup ecosystem.
Apart from the main events, competitions, and ecosystem features, PHSW20 presented a full range of community events throughout the 5-day conference, where the PHSW20 attendees were given the chance to further explore the available opportunities, gain insight into the startup landscape, and hear inspiring stories from acclaimed speakers and Filipino startup founders.
"The local startup community has rightfully earned its spot under the limelight. With PHSW20 successfully showcasing the brightest minds and most innovative techpreneurs, the Philippine startup ecosystem is on the global map," said Meily.
If you want to relive the PHSW20 experience or catch up on missed sessions, all events will be available to registrants to rewatch on-demand from November 28 to December 15 on the virtual platform at https://bit.ly/joinphsw20.
PHSW20 is also supported by its media partners Ambidextr, BusinessWorld, SparkUp, CNN Philippines, Esquire Philippines, Podcast Network Asia, e27, Kumu, WhenInManila.com, and Rappler. – Rappler.com