'I think that our situation today calls for new solutions, not just for humans but for pets too, and that's what Barkist is trying to provide the market now,' the brand owner shares
Editor's Note: The Get Ready with Me (GRWM) series features the morning routines of people from different walks of life, from their first grabs to the way they get ready for work, and to the items they can't live without.
Got someone you want GRWM to feature? Just email us at stories@rappler.com with the subject line "GRWM" followed by the name and designation of the person.
Kim Malicsi-Feraer is a modern Filipina. She's a loving wife, a passionate career woman, and dog mom – sometimes momager – of chihuahua Macy and dachshund Madie.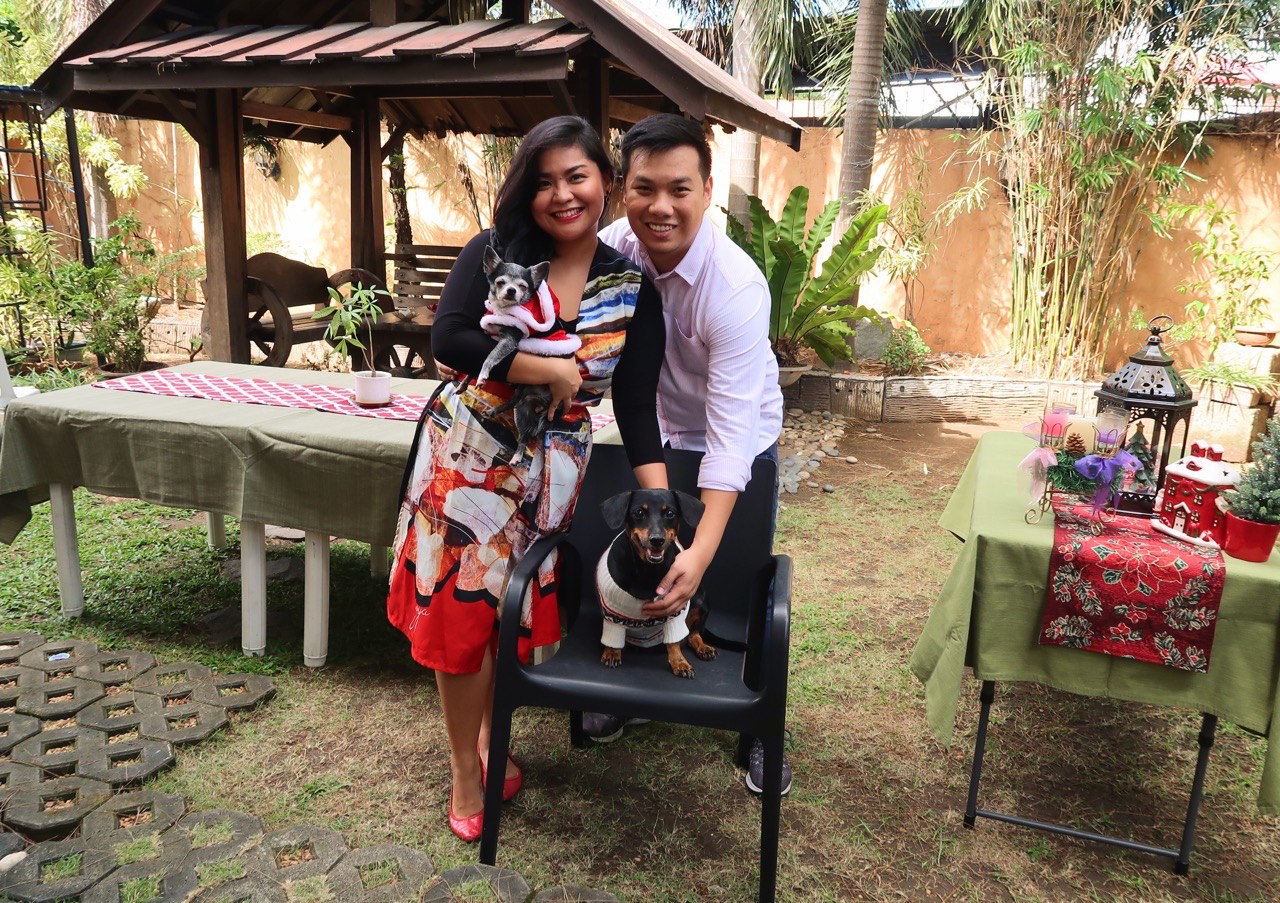 That's not all. She's also a proud brand owner of Barkist, a dog toys and accessories online store.
In true 21st-century creatives fashion, Barkist started as a creative outlet for Kim back in 2016. Over the years, she was able to engage more with the pet community and received positive responses.
In our email interview with the brand owner, she proudly shared, "I am an advocate of good mental health and wellbeing for both humans and animals. This advocacy drove me to create products that not only help form better pet parents, but also enrich and engage the minds of pets."
Barkist's purpose grew even bigger when the pandemic hit. Now that everyone's encouraged to stay indoors, there's a huge shift in how dog parents relate to their pups, and this can have a profound effect on the mental health and wellbeing of both.
"I think that our situation today calls for new solutions not just for humans but for pets too, and that's what Barkist is trying to provide the market now."
Aside from her journey as a brand owner, Kim also finds solace in painting dogs and being a surprise momager. More than once, Madie was featured in lifestyle blogs and newspapers! It's no wonder though, since both Macy and Madie are Barkist's local ambassadors and exclusive models.
Check out how this dog momma is doing it all.
FIRST GRAB. The first thing I grab in the morning is my cellphone to turn off my alarm – around 2-3 times haha – and then I grab my two dogs who co-sleep with us because I need to let them out so they can do their business.
SKINCARE ESSENTIALS. My skincare routine is pretty much the same pre-pandemic, sans makeup. I wash my face in the morning and before going to bed, I put on a few drops of The Ordinary Niacinamide 10% + Zinc 1% daily, and I make sure to wear moisturizer with SPF – either Céleteque's Sun Care Matte Moisturizer with SPF30 or Cetaphil's Daily Moisturizer SPF15. This way, the moisturizer also acts as my sunscreen.
When I have more time, I also put on face masks or use my ice roller.
BEFORE I START. After working out and checking my plants in the morning, I drink my coffee and fill my Hydro Flask water bottle with cold water. I always have it with me because I drink all the time. You also won't catch me without my trusty scrunchy!
IF I MUST GO. Aside from my face mask and face shield, I prefer wearing comfortable clothes especially when we go out with our dogs. I need to be able to hold them or chase after Madie – my dachshund – in case she runs off. What's comfortable for me is a loose top and bottoms or a dress with sneakers. Sometimes, when I need to do a super quick errand, I just go out in my Adidas comfort slides.
IF I'M STAYING IN. When I'm in the mood to "dress up" at home, I wear very loose-fitting dresses or loungewear coordinates – like these Ziya outfits. But there are also days when I grab my oldest, most worn-out shirt and just lounge in that whole day. Mas luma, mas presko.
FAVE DELIVERS. I'm grateful for various courier and delivery services because we use them regularly to shop for our personal needs and fulfill business deliveries. We get our groceries from different MetroMart partners and order our snacks via foodpanda.
I also use J&T and Fastrack to ship products for my small business. Thankfully we haven't had any issues with them and I recommend them to my fellow homepreneurs out there!
ROUTINE REMINDERS. I started working from home even before the quarantine was imposed so not much has changed in my routine with my dogs. I let them play with their Nina Ottoson puzzles and Barkist snuffle mats whenever I can. The only difference now is we all get to stay in with my husband too.
Aside from running a small business, I'm also an advertising and marketing creative and I need to listen to music whenever I conceptualize or write. BTS songs always put me in the right mood.
COME BACK HOME. In the rare times that we go out, we make sure to properly throw our used masks as soon as we get home, remove our shoes and put them in the mudroom, clean our face shields right away, and take a bath/change clothes.
Kim's items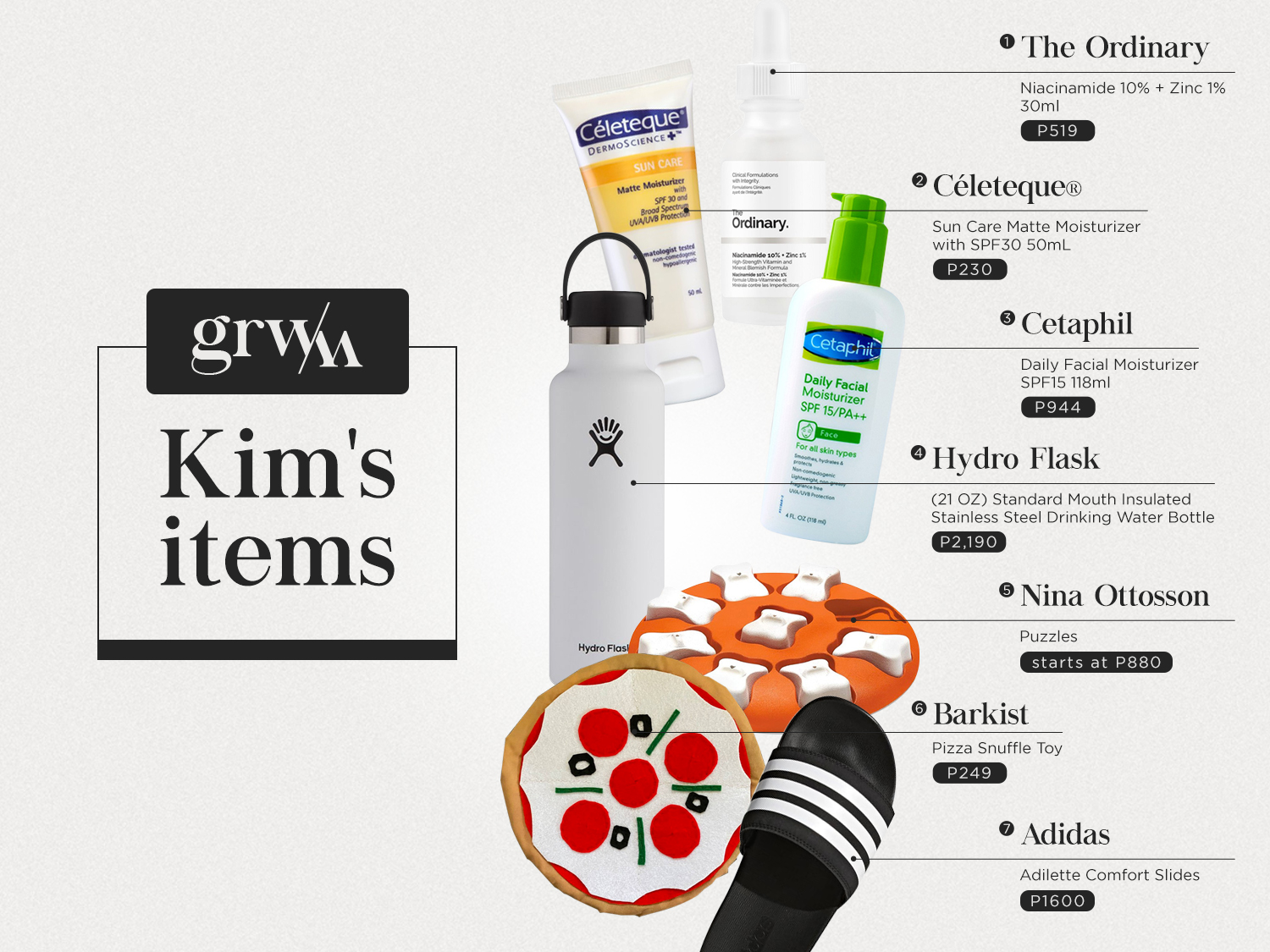 GRWM recommends
Earphones for work music: SoundPEATS Dudios T8 Wireless Earbuds (P1,299)
Snuffle mats: Barkist online shop (starts at P249)
– Rappler.com