For Louise, being a mom has no filter
Editor's note: The Get Ready with Me (GRWM) series features the morning routines of people from different walks of life, from their first grabs to the way they get ready for work, and to the items they can't live without. In this installment, let's get ready with a woman whose motherhood was marked by a series of careful choices.
Louise Antonette Santos, who you might have come across as "Mommy Practicality," has always worn many hats. Aside from being a former program manager for a telco, she's also a part-time acoustic band singer, event host, TV commercial talent, and even does voice-overs.
Her favorite role, though, is being a mother – a reason more than enough for her to pursue it full-time. "When I resigned from my corporate job, I was 100% ready for it…. My husband stepped up as the main provider, I became the domesticated wife and mother I've always dreamed of becoming, and our family relationship became more solid."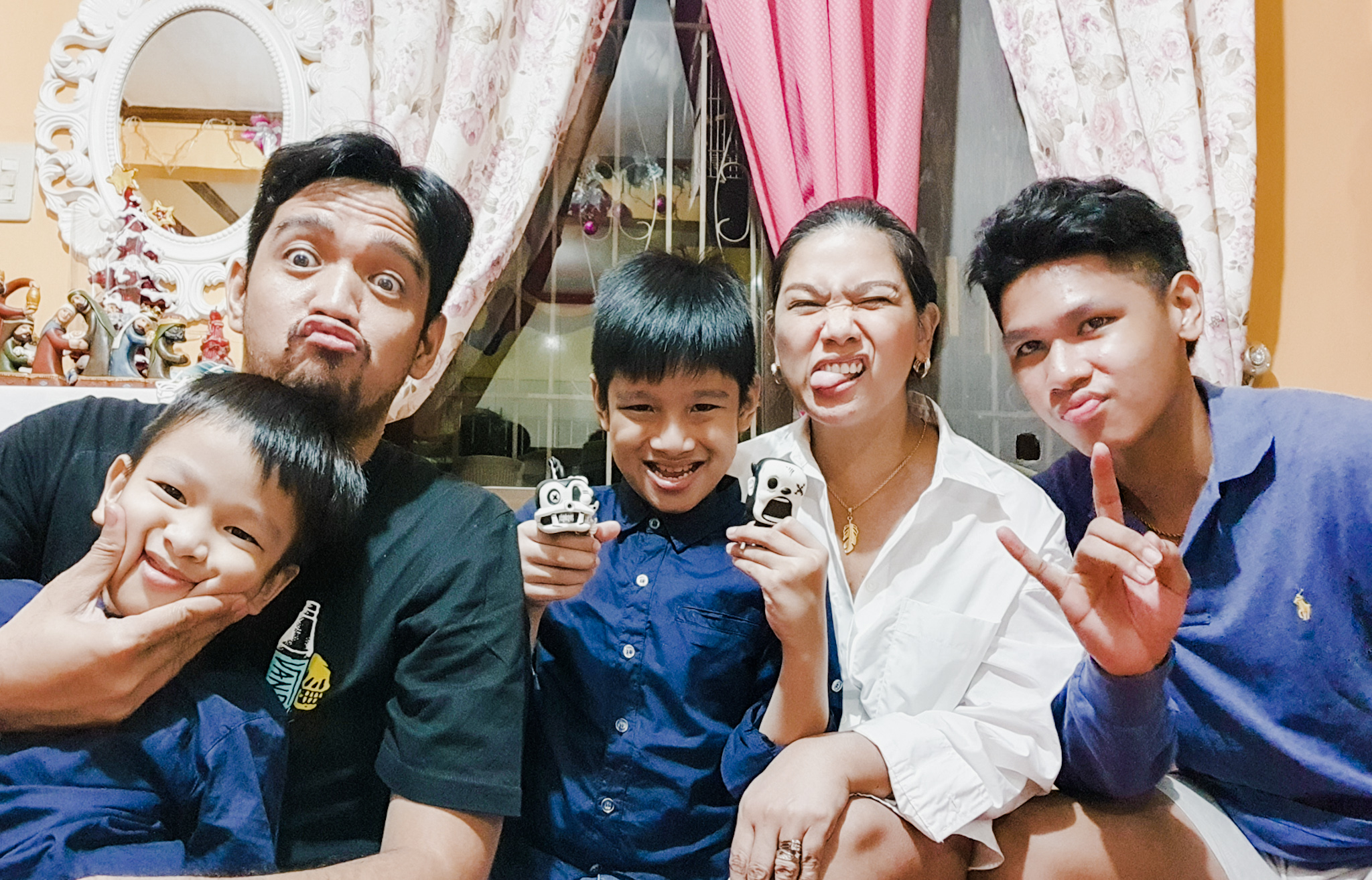 "It wasn't an overnight decision" for them, however, as they had to consider a lot of factors before hitting the switch.
"We talked about our potential losses and gains. Financially speaking, we'll be a one-income earner household, but the savings from regular transportation, food, clothing, and communication expenses I used to spend when I was working offset the income loss. This also made us realize we've been spending a lot on things we don't actually need," said Louise.
This realization would inspire her brand of motherhood as she became a blogger and a content creator. Without pretenses, Mommy Louise takes pride in being the "everyday mom" – showing others that there are nuggets of joy to be found in being simple and thrifty.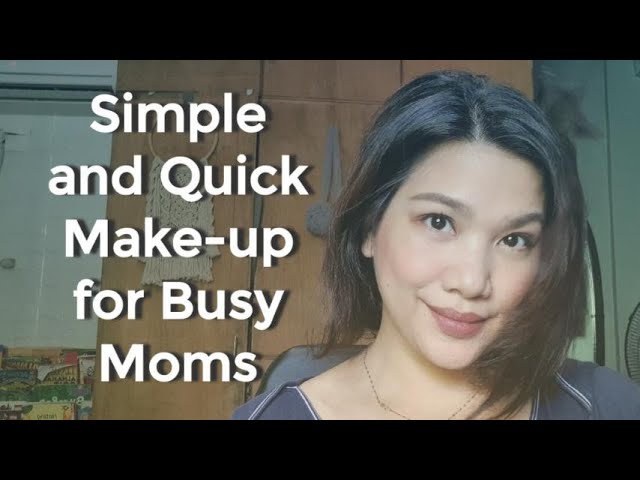 And just like other families, hers wasn't spared by the pandemic. In fact, she has recently recovered from COVID-19, but thankfully, their love and faith in God kept her strong and helped her heal.
"We realized a lot more how health, time with family, and being ready at all times are essential. Most of all, having a strong relationship with God makes us all more hopeful no matter what life may throw at us – such as this pandemic."
How does Mommy Louise do it? How does she make it through each day with positivity and practicality? Here is her routine:
FIRST GRAB. That would be my husband's arm to put around me! But being cheesy aside, I grab my phone, turn on the Bible App for morning devotion, then spend some minutes checking social media on matters related to my content creation work.
MORNING PLAYLIST. On Spotify, I have a playlist of praise and worship songs to start my day right, positive and hopeful.
NO ALARMS. I don't have to set my alarm like I used to when I was still working. Should I need an alarm, I definitely have to turn on snooze and wake up on the second snooze within a 5-minute interval. Naturally, I'm nocturnal, so honestly speaking, hirap akong gumising sa umaga (waking up in the morning is difficult). Buti na nga lang (Thankfully), I'm not in corporate anymore so I don't need to rush in the morning every day.
SKINCARE ESSENTIALS. It's always been "cleanse, tone, protect, and moisturize" for me. I have different products for these steps for day and night use.
By day, I use Human Nature Balancing Facial Wash and put on my Face Republic Purity Sun Essence SPF 50 sunblock. At night, I wash alternately with SNAILWHITE Gold Whipp Soap and Garnier Pure Active Anti-Acne Scrub on bad skin days. Then I tone with Morrison or Face Republic Toner, use Face Republic Hydro Boost Solution Serum, moisturize with SNAILWHITE Gold Facial Cream, and for my eyes, SNAILWHITE Gold Advanced Retinol Eye Cream.
For my age (I'm 42 by the way), I need all the hydration and anti-aging regimen I can get to properly take care of my skin and address other skin issues. I consider them versatile because the products I use change depending on my skin's needs. There are seasons when I'm acne-prone (because of stress or slept late or on "red flag" days), and there are moments when it's all clear.
BEFORE I START. I need to start with a clear desk, so at night, I put away my notebooks and planner in my desk drawer. Yes, I'm an old-fashioned pen and paper gal. I also diffuse Young Living Essential Oils as a pick-me-upper – my favorite day or work scents are Lemon or Citrus Fresh and Peppermint. Then, I take out my notebook to jot down tasks for the day or for the week. That's pretty much my routine before starting to work.
IF I MUST GO. Aside from essentials like a face mask with necklace holder (so I don't have to put it down or keep it in my bag) and a face shield, I usually wear comfortable Uniqlo Rayon button-down tops – I have them in different colors – and "skorts" or pants. I also have some dresses and Style Ana PH skirts that are always head-turners, 'yung skirts ha, hindi ako (I meant the skirts, not me). Those are my meeting outfits. My errand outfit would always be shorts and shirt or any of my Uniqlo tops – I swear they're really comfortable and always smart-looking! Footwear can be any of my sandals, closed-heeled shoes, rubber shoes, or boots. It depends where I go or what my mood is.
COMING BACK HOME. It's a non-negotiable for us to immediately take a bath straight from outdoors. Properly dispose used masks or wash reusable masks right away. Wash face shields with soap and water. Separate used clothes and wash them immediately.
IF I'M STAYING IN. I'm really a comfortable shorts-and-shirt lady. Lately, I have purchased coordinated pambahay shorts-and-shirt pairs or essential clothes in different colors. Grabe they are so comfortable and Zoom-able! I attend online meetings in them because they look so decent and well put-together kahit pambahay lang (even for at-home wear).
GETTING READY FOR MEETINGS. Make-up! Even if I stay at home most of the time, I am faithful to my skincare routine in the morning and I follow it with applying make-up on days when I know I'll have online meetings, virtual events to attend to, or sariling-sikap (self-made) photoshoots for my partner brands. And of course, the most important of all, my internet connection should be good! That's why we switched to PLDT Fibr.
FAVE DELIVERS. It's always food, wala nang iba (and nothing else). If there's a luho when it comes to deliveries, I spend a lot on food. But the food I order are those I can't make myself. I always crave the following: Subway Roast Beef Sandwich, palabok, calamansi or passionfruit green tea with pearls, and for a time, takoyaki.
QUARANTINE LIFE. My routine has changed a lot and I love it! I sleep longer. I spend more time with the kids who are schooling from home. I also get to spend more time with my husband whenever he works from home. And when he's here, he's in charge of cooking. Not really a downside, but I start working a bit later than usual because I have to prioritize my family's morning needs.
It has become our new normal already, so just like any routine, you get used to it over time. By knowing everyone's schedule and understanding my role in my husband and children's lives, it's easier for me to know what to prioritize.
Louise's picks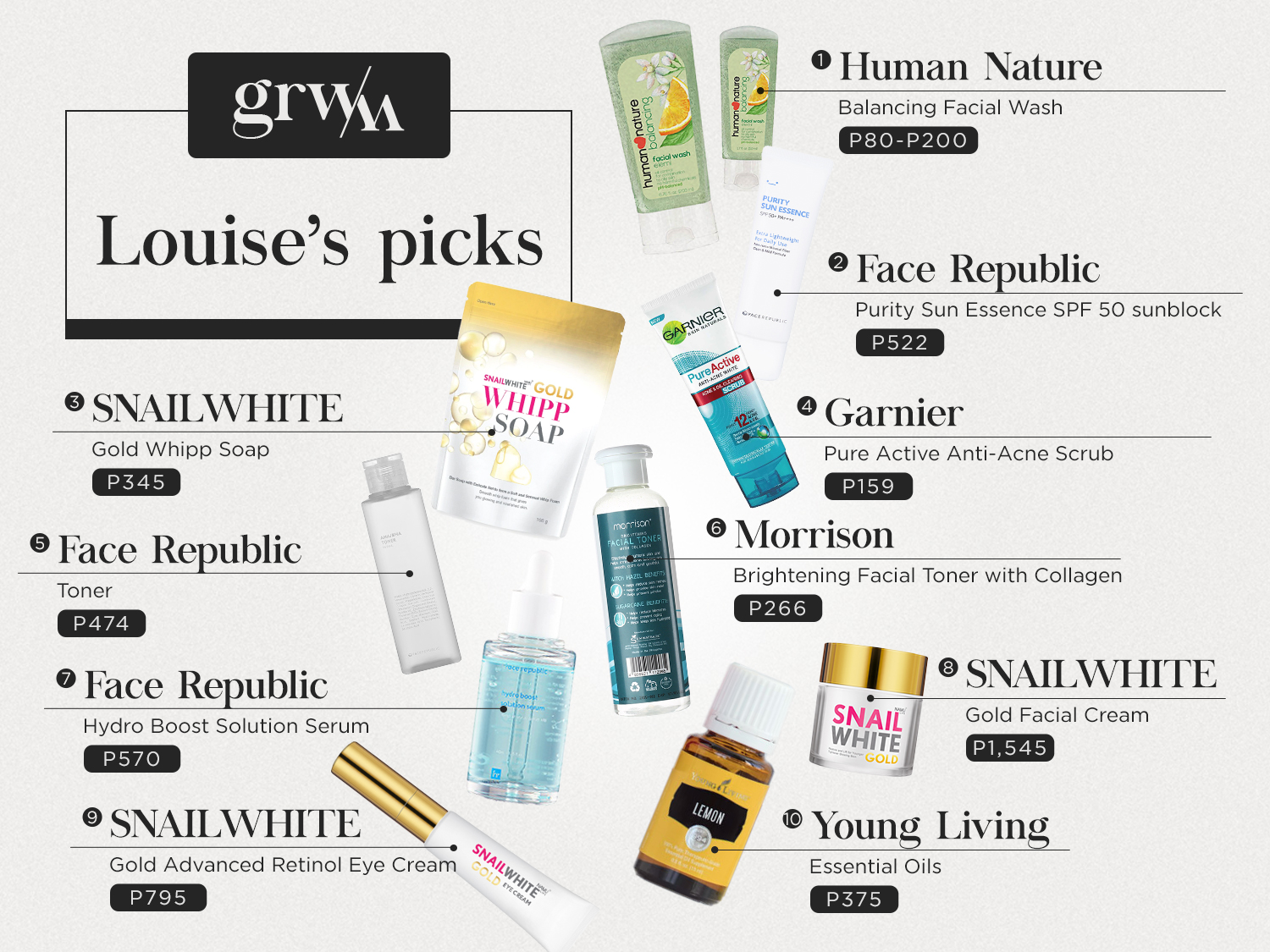 Skincare essentials
By day
At night
Toners and moisturizers
For the room
Young Living Essential Oils (starts from P375)
Got someone you want to feature? Just email us at stories@rappler.com with the subject line "GRWM" followed by the name and the designation of the person. – Rappler.com
*Responses edited for brevity