Filipino girls swear by this!
Over the past few years, our desire for connection has been answered by producing online content where we introduce our top picks, whatever these might be. I'm sure you've already shared a link to your favorite song, messaged a friend about a restaurant recommendation, or posted a photo of you with your favorite product.
For girls, many shared products are related to beauty. When we discover our holy grail item, we immediately brag about it on social media. Before we purchase new products, most of us look for favorable reviews online.
Because of this, there are now a ton of skincare recommendations available on the internet. But how do we know which product is truly worth the hype?
The answer is simple. Turn to a product that different groups of people trust: the Garnier Vitamin C serum.
Garnier Vitamin C serum is #MyMostLovedSerum
These past few weeks, the hashtag #MyMostLovedSerum has been taking over social media feeds. This product is loved by celebrities and netizens, no matter what their daily lives are like.
Celebrities like Kim Chiu and Bela Padilla have professed their love for a serum that, according to Kim, is "a must have for my daily skin care routine."
Netizens were also quick to respond to posts with this hashtag. "Ang ganda nito promise! 👏👏👏 super love ko siya (I really love this product)," one netizen gushed.
This serum has also accumulated over 21,000+ 5-star reviews on Shopee and Lazada since its launch. A lot of the reviews come from repeat customers, like this netizen who's on her 5th bottle.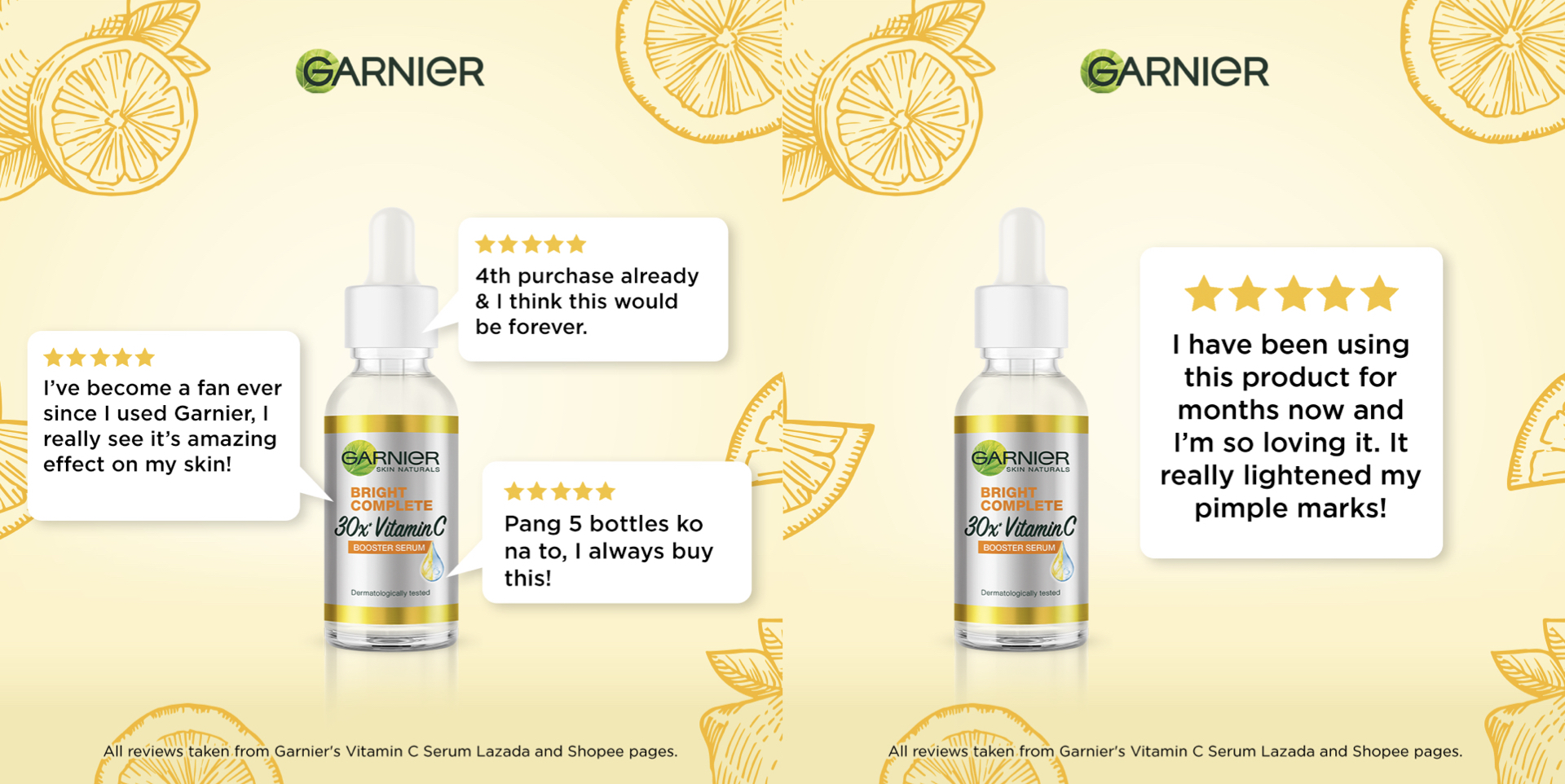 The praises don't stop there. Garnier Vitamin C serum was also hailed as Watson's Most Loved Serum of 2021.
What's in Garnier Vitamin C serum?
What's in this award-winning serum that's tried and tested by Filipinos across the country?
Garnier Vitamin C serum has 30x vitamin C concentration. It's Garnier's most concentrated formula and has the brightening power to fade and lighten dark spots and acne marks in just 3 days. It reduces dark marks in density, size, and color to help you achieve a bright and glowing skin.
Star volleyball player Michelle Morente attests to this. "My insecurity for quite some time now has been the acne and dark spots you can clearly see on my face. I have tried so many products to at least lighten it, but none worked on me. Happy I've discovered Garnier Vitamin C serum and for only a few days, it already lightened some of those annoying marks. It definitely works wonders!"
The serum also has a lightweight texture and non-sticky formula. When to use it? You can make it part of both your day and night skincare routine. Digital creator Cat Triviño has added it to her morning and evening routine and she "can't stop glowing!"
It's also applicable to all skin types, even on sensitive skin. Bela Padilla recommends it for people who, like her, have sensitive skin. "It has more Vitamin C than most serums and feels light and non greasy! (This is so important for people with sensitive skin like me) 💯"
If you're looking for a new serum to add to your skincare routine, look no further! With these testimonials, you can see that Garnier Vitamin C serum has earned its popularity as Filipinos' most loved serum. Whether you're about to be on camera like these celebrities or going about your everyday work like these netizens, this serum can help you get that bright and glowing skin.
Garnier Vitamin C serum comes in three sizes (7.5mL sachet, 15mL, and 30mL bottles) as well as in a twin-pack for extra savings. It's available online on Shopee and Lazada. You can also purchase it in Watson's, 7-11, or your nearest drugstore and department store.
100,000 Filipinos swear by Garnier Vitamin C serum. Try it out and share your own #MyMostLovedSerum experience on your social media! – Rappler.com