Here's how you can make sure everyone at home has their fill of this nutritious drink
Aside from being a source of calcium, milk contains vitamins and minerals such as protein, vitamins A and C, B-vitamins, and zinc. These help strengthen their immunity, build muscle growth, and also help them grow and build healthy bones, making it an important staple in one's diet – no matter how old you are.
Experts advise that kids above the age of 3 get at least 2 cups of milk daily, while adults should have one or two glasses a day. However, it can be a challenge to make everyone in the household drink milk.
We have some tips to make drinking milk more exciting.
Incorporate milk into meals
One of the simplest ways to enjoy milk other than drinking it on its own is by incorporating it into meals.
Many savory dishes have milk as an essential ingredient: Filipino-favorite sopas, pasta dishes like spaghetti carbonara and macaroni and cheese, etc. You can even add milk to your omelettes and scrambled eggs to make them extra fluffy and creamy.
If you've unlocked your baking skills during the quarantine period, you would know that pastries use a lot of milk too.
You can even make preparing these dishes a bonding activity with the whole family. Kids would especially love to try the meals they made themselves.
Serve milk by making fruit smoothies
If you don't have time to whip something up in the kitchen, you can also go a simpler route. Get your blender and whip up a smoothie by blending your family's favorite fruits with half a cup of milk.
Not only are smoothies tasty, they are also healthy – perfect for the health-conscious members of the household.
Pair milk with snacks
Good things come in pairs: hotdog and eggs, peanut butter and jelly, mac and cheese.
It's not difficult to partner milk with food. Cookies, brownies, breakfast cereal, and even grilled cheese sandwiches all go really well along with a delicious glass of milk.
Let kids have fun with their drink
Drinking milk can also be an activity that will exercise children's creativity, on top of getting their daily dose of nutrition. For instance, you can let them accessorize their drink with silly straws and fun colorful cups or mugs.
You can even make the drinking experience fun by making it interactive. For instance, you can let kids dunk cookies and marshmallows before they finish their cup of milk. Parents can also join in the fun by having a mini-contest and see who can get the biggest milk mustache by the end of their glass.
Select milk which is creamy and delicious
The easiest way to get everyone at home to drink milk is by selecting a milk brand that not only provides the nutrients you need, but also has no-frills deliciousness.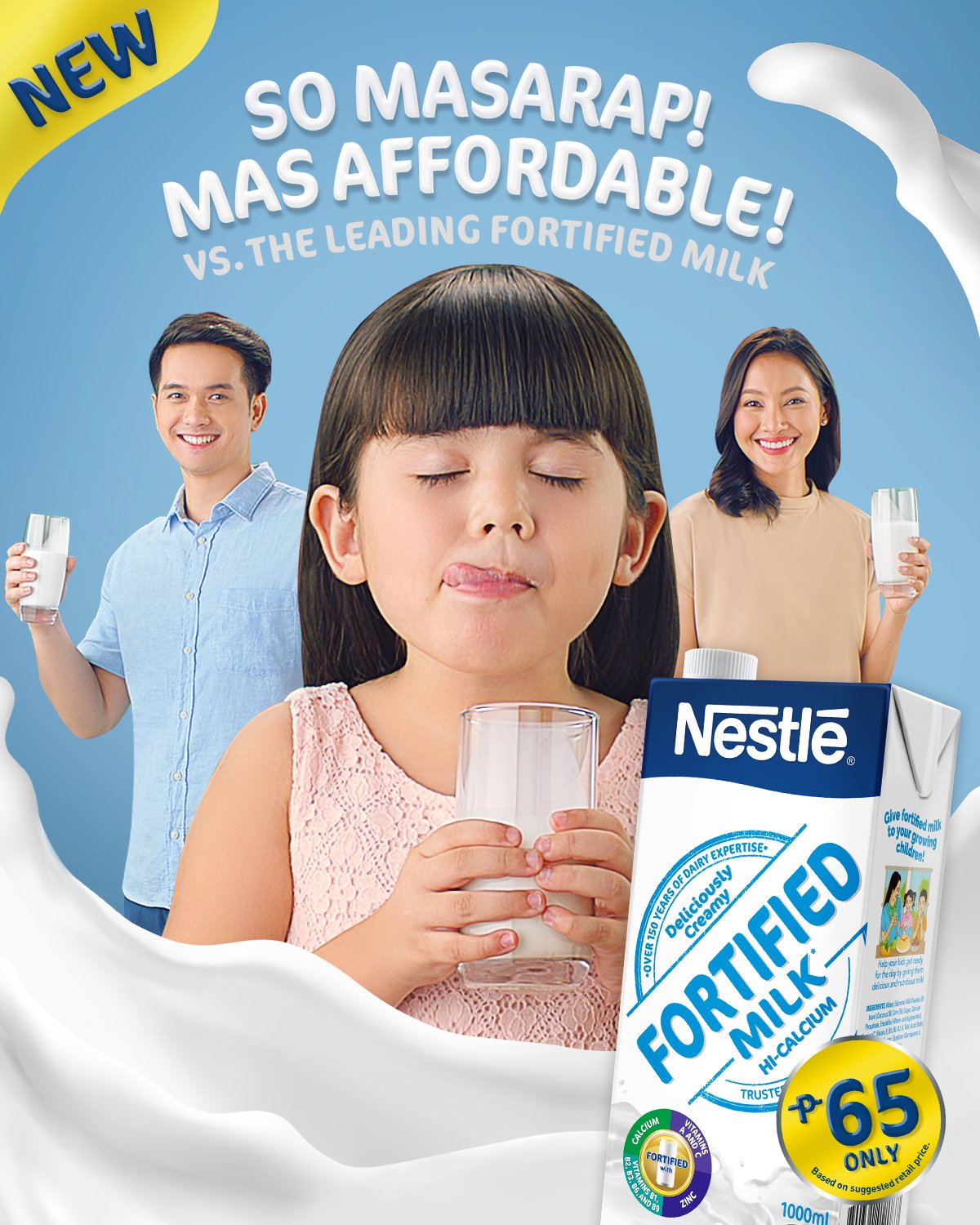 The new Nestle® Fortified Milk is a deliciously creamy fortified ready-to-drink milk that is made by Nestle®, a trusted brand by moms and has 150 years of dairy expertise. And it is made affordable at only P65 per 1L pack! You can order the new Nestle® Fortified Milk at Shopee or Lazada.
Making milk more than just a drink — and choosing one with a taste that everyone prefers — is a surefire way to have the whole family look forward to drinking it at home. — Rappler.com