When you take time for yourself, you can give better care to your loved ones
Let's face it: work from home for moms is doubly tiring.
Many employees have observed that the work situation necessitated by the ongoing pandemic has made it difficult to create boundaries between work hours and personal time. For moms, this means that while they accomplish their daily tasks, they are likewise always on call for the concerns of their kids and family.
These days, moms don't just work from home. They work at least two jobs while staying at home.
Does this sound familiar? Moms, we're here to tell you something you need to hear: It's okay to take time for yourself.
Moms, take time for yourself
We have this mentality that moms always have to focus on their children, husband, or other members of their families. But we're here to tell you that you should also prioritize yourself.
It's important for you to assess yourself and, if needed, improve your health. Do you feel fatigued, either mentally or physically? We understand. It's definitely tiring to juggle two jobs at the same time.
Puritan's Pride, one of the leading health supplement brands made in the USA, notes that moms can take time for themselves by creating healthy spaces at home.
Moms, create healthy spaces at home
Because you work from home, you may feel as if you can't escape from your tiring jobs and endless tasks. Sometimes, you may even feel like you don't enjoy your kids' presence as much as you did before. That's why it's important for you to cultivate healthy spaces for yourself and your loved ones.
How can you do this? Take note of these tips shared by Ms. Olivia Yao, Puritan's Pride's expert on Parent Education and Empowerment during an online workshop with influencer moms.
ACKNOWLEDGMENT AND KINDNESS. Ms. O tells us that one of the first things you can do is to acknowledge that while​​ all this family time is a blessing that we should be thankful for, it's also perfectly valid to sometimes feel like it's just too much. You always have to remember to be kind to yourself.
MINDFULNESS. It's also important to be more mindful of how you use your time. You should keep an eye out for when you're starting to feel pressured about spending time with family.
OPENNESS. Gather your family and facilitate proper communication. Make sure to talk about how you can all help each other to have time for yourselves individually as well as with each other and altogether as a family: me time, we time, us time.
SPACE AND CULTIVATION. One important tip is to define physical spaces. Allow yourself and each of your family a measure of personal space. Teach your kids to define their personal space as well as to respect the personal space of others. You can then use this personal time and space to develop your own interests.
ROUTINES. While you don't always have to stick to a rigid schedule or task list, putting things down on paper helps ease anxiety by helping everyone know what to expect. It also gives everyone something to look forward to.
BREATHE. Most importantly, you have to remember that it's okay to step aside and take a breather. Don't forget to take some time to chill and relax.
Moms, Puritan's Pride is your companion for everyday living
Introduced in the Philippines in 2015, Puritan's Pride is an affordably priced, high-quality line of vitamins and health supplements.
This year, they launched their #HealthIsEveryday campaign to encourage holistic wellness practices that combine a healthy diet, an active lifestyle, and ensuring that we meet our daily vitamin requirements with the help of their wide range of supplements.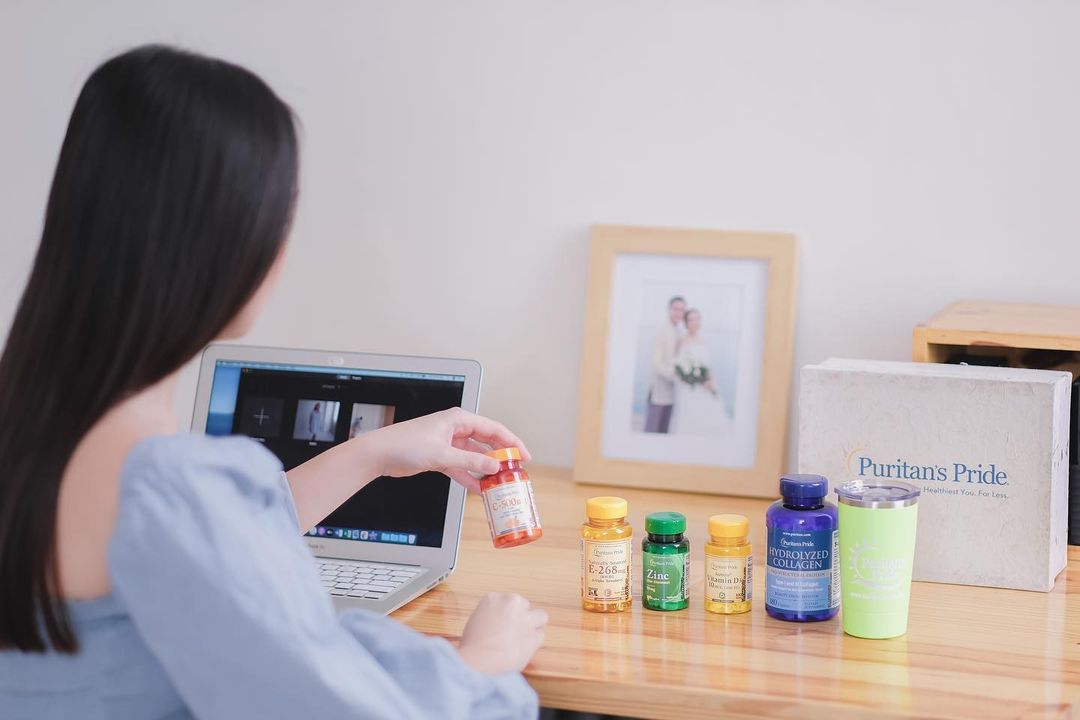 Puritan's Pride's Power Up Bundle consists of Vitamin C Citrus Bioflavonoids Rose Hips 500mg (100 caplets) and Vitamin D3 400iu (100 tablets). These vitamins are vital to ensure normal immune system function, making them a helpful partner for moms with busy lifestyles. You can purchase the bundle on Lazada.
You can also try their Collagen supplements which, in addition to physical activity, can help you gain more muscle mass. Meanwhile, Melatonin supplements help in putting your body into a state of quiet wakefulness that helps promote sleep.
As they showed in their online wellness seminar, you are not alone in your struggles. Puritan's Pride is here to support you as you power through your work every day.
Moms, remember to take time for yourself so you can give better care to your loved ones. – Rappler.com