There's a new way to enjoy our favorite MILO
When I was a child, I used to get up at five in the morning, wash my face, and then prepare three mugs of hot MILO – one for myself and the other two for my sisters. My morning wasn't complete without it. It not only woke me up from sleep but also provided me with the winning energy to get through the school day.
This might be something you're familiar with.
MILO is part of the childhood of many Filipinos, and many of us grew up with it. I know children who used to drink MILO for breakfast – like my sisters and I – and others who drank it over ice along with their snacks. By now, you may be recalling your own preferences when it comes to this drink.
I believe that growing up with MILO is truly a Pinoy experience. MILO has been producing champions for over 50 years and generations of Filipino families have been nourished by its nutritious energy. It's pretty rare to find a Filipino, young or old, who hasn't had a taste of this powdered choco malt milk drink. How many of us discovered MILO because our parents also used to drink it as a child?
This was all because growing up with MILO was more than drinking it. It was a lifestyle.
Growing up as a MILO kid
As a young girl, my dad encouraged me to develop my skills in basketball, a sport we both loved. He enrolled me in a MILO Summer Sports Clinic, where I spent my school vacations playing basketball with children my age. In these clinics, I learned life values I carry with me until today: discipline, respect, teamwork, and confidence.
These clinics also helped instill in me the mentality that health is not just about what you eat. It should always go hand-in-hand with physical fitness. They also exemplified the brand's commitment to advocating physical activities towards a healthy lifestyle.
MILO has always sought a holistic approach to a healthier lifestyle. The brand considers the varying needs of its consumers and seeks to address these with different solutions such as nutritious drinks to provide the winning energy or sports programs that inculcate the character-forming values they need to pursue their ambitions in life.
Now that I'm older, I find myself unsurprised to realize that MILO continues to address its consumers' needs.
A new MILO variant for the new generation
Kids today have different taste preferences. Some love the taste of MILO many of us grew up with, but there may be others who are looking for a new but still delicious taste. There may also be moms who are looking for less table sugar in their kids' drinks.
Here's some good news for all of us: MILO is launching its new MILO Less Than 1g Table Sugar. With this new offering, adults who grew up with MILO and the kids of today can have a different way to enjoy the same nutritional goodness MILO provides, at an affordable price of P12 per sachet.
Because it contains the same Champion Energy Nutrients of Protomalt®, Iron, and B vitamins and the same delicious MILO flavor through the natural goodness of milk and the unique chocomaltee taste of malt and cocoa, it is as satisfying as the regular variant.
When combined with a well-balanced diet, a glass of MILO Less Than 1g Table Sugar can help kids have the same champion energy to finish their academic work, chores at home, and other physical activities.
Do you miss those MILO-filled days? Or are you interested in helping your child grow up with MILO? No matter what your preferences are, there's a MILO variant for you.
For more information about the NEW MILO Less Than 1 Gram Table Sugar, you can visit: https://www.milo.com.ph/MILO%C2%AE-LESS-THAN-1-gram-TABLE-SUGAR.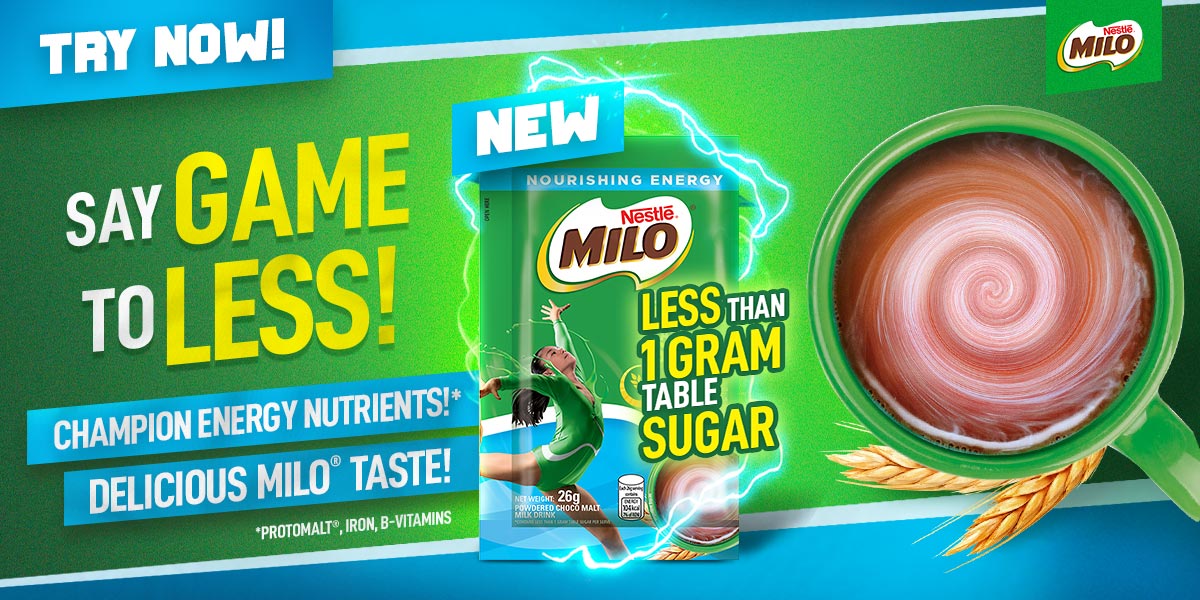 Energize champions with the new MILO Less Than 1g Table Sugar. Try it out today! – Rappler.com