1
Ride to thrive: Three Tales of Courage
desktop
Getting up everyday to hit the road to wherever we need to go is in itself an act of courage. We brave the heavy traffic and the crowded buses and trains just to get to our destination. For these three riders, that's just the starting point. They don't just ride to arrive, they ride to thrive. And they are willing to go as far as they can go.
---

---
All photos by Martin San Diego
---
TJ ALBERTO
Going for gold
At 4 years old, most of us were just learning how to tie our shoelaces, string words into complete sentences, or tell the color red from yellow.
It's a little different for TJ Alberto. When he was 4, he was already learning how to drive a motorcycle. By the time he was 5 years old, he was on his way to his very first race.
"I remember finishing in third place. It was just three laps around a short oval track but little did I know it was going to be the start of a racing life for me," said TJ.

"Winning is very important but it's not everything. For me, if you're winning but you're not enjoying it then there's no point."
While some parents do what they can to keep their children away from motorcycles, TJ's parents are very supportive of his passion for riding.
"I started with a mini motocross bike with my dad teaching me. It was really an experience that shaped my life. I've been riding and racing ever since."
After all, his dad, Toti, used to be a champion racer as well.
"My parents gave me this opportunity but they did not force me to do this. This is my choice."
He went on to compete in a series of motocross races, taking home his first national title at a very young age of 7 years old.
But TJ has never let every gold trophy or checkered flag go to his head.
TJ makes sure that he would enjoy every win by taking every race seriously. From the months of preparations to the actual race day, he never takes shortcuts and he doesn't do it by himself.
"In motorcycle racing, it's a combined effort among three things – the bike, the rider, and the team," said TJ. "Without the perfect harmony existing among the three, it's very difficult to win a race, more so the championship."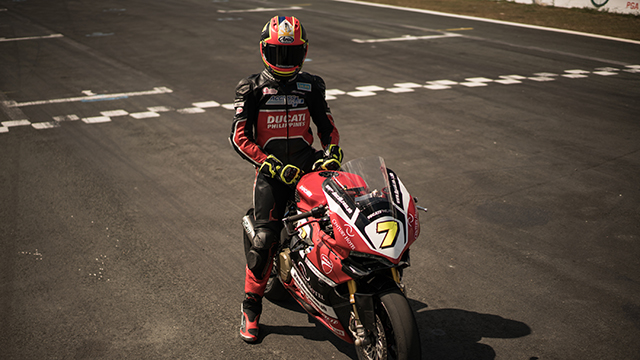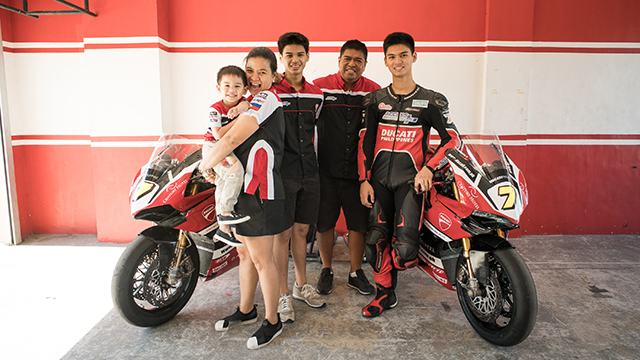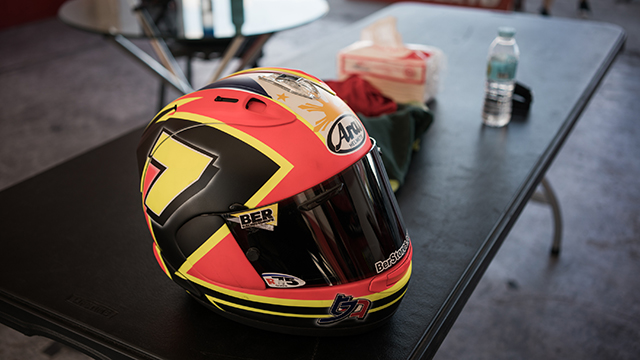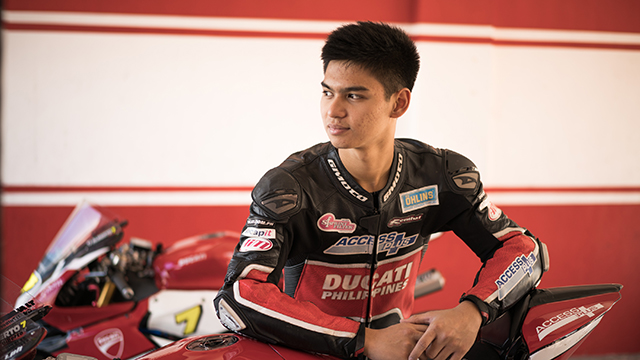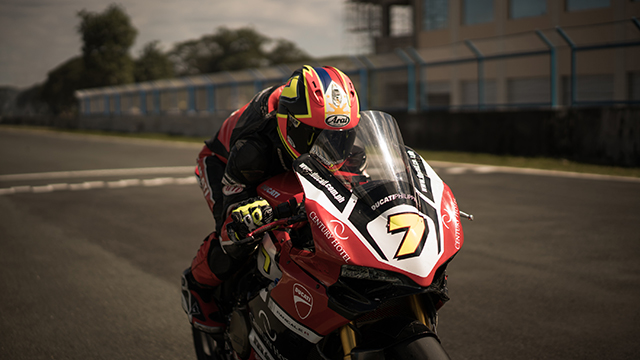 Safety is also number one on TJ's list.
"Whenever I ride I make sure to wear the proper safety gear to make sure that in case of an accident I'm always safe. I learned that no matter how good of a rider you think you are, accidents can always come to you so we should always be prepared."
For TJ, it's not enough that a rider is good or that your bike is the best out there. You have to have a solid team who helps you train and prepare for a race, fixes and maintains your bike. If you don't have a team that stands by you, you can never go for gold. TJ is lucky to have his parents as part of this support group.
However, the road to the finish line is not a freeway. TJ often deals with rivalries and suffers from crashes and injuries.
"Sometimes you have a bad season. You're not winning as much as you should be. So sometimes it's hard to find the motivation to train and overcome those problems but those are what make you a stronger person in the end."
"Two years ago in Batangas, I had a major accident at the very start of the race. It's called the 'high side,' a road racing term that means you flew off the bike. I hit my head and got a concussion," said TJ. "It was a bit scary. I don't remember anything after I hit the ground. Some people thought I passed away."
But this did not and will never stop him.
Now at 20 years old, the passion for motorcycle riding and racing that TJ discovered when he was 4 has never left him. From that humble mini motocross bike, he now races a Ducati Panigale R in the Philippine Superbike Championship with Ducati Philippines and in the Italian Superbike Championship (Campeonato Italiano Velocita) with M. Motocorsa Racing on a Ducati.
Judging by his more recent achievements, he has no plans of slowing down.
After being the first Filipino to compete in the Italian Superbike Champion in 2017, TJ won two championship titles in the Philippine Superbike Championship in the same year.
For now, he'll just keep on practicing, riding his bike around the block, and competing in another kind of race as a Business Management student at the De La Salle University. But he is always keeping an eye on the next checkered flag to take home.
"Nothing compares to the feeling of winning a race. It's like a release of tension and emotions when you finally reach the victory that you've been hungry for the last months or even years for. I'm especially happy to see the contentment of my team and family and everyone around me when we reach our common goal and go for the win!"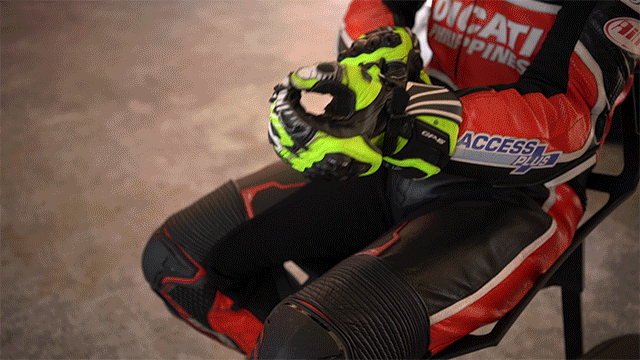 GAKI AZURIN
Breaking the barriers
She calls it her one-woman show. She's the star, director, and editor.
She's Gaki Azurin. Or as her Youtube subscribers know her – she's GakiMoto.

Gaki is the kind of woman who inspires little girls to think twice about becoming princesses. Why fit in with tight dresses and painful shoes, when one can stand out, wear leather, and ride a motorcycle?
As a kid, Gaki recalls wanting to be different.
"When I was in grade 3 I said, mom I want to learn how to play the drums," shared Gaki. "And then she got me a keyboard."
Like most concerned parents, Gaki's mom and dad weren't exactly excited when she started showing signs of interest in motorcycles.
"I was already 20 years old when I started riding motorcycles. My parents weren't okay with it," said Gaki. "I only got my own motorcycle when I could afford it."
But Gaki knew that the heart wants what it wants.
In college, she and her friends formed the local indie band, Flying Ipis. Today, she's a successful motovlogger with over 12,000 subscribers.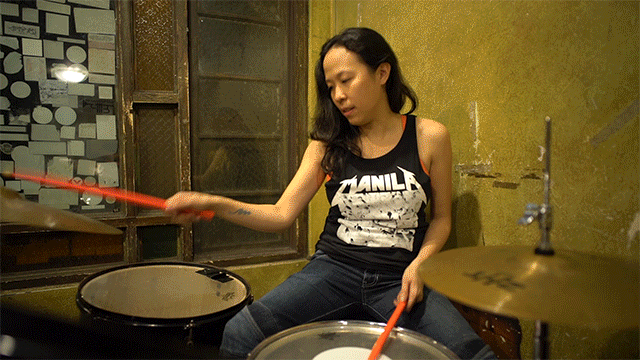 "I didn't expect the vlog to become like that. I was just doing it for fun," said Gaki. "My husband just suggested I put a camera on my helmet because I talk a lot."
Gaki's first content was actually a video game tutorial for Clash of Clans.
Now, she gets media passes to events and offers from different brands to test drive all sorts of motorcycles.
"It's better when you don't expect it to be big unlike when you're really doing it for business."
Aside from riding motorcycles and making music, Gaki is also a personal fitness trainer by day. She doesn't only take care of her clients, she also makes sure that she is taking care of herself.
"I don't drink. I don't do drugs. I want to take care of my body because I feel like you enjoy life more if you're clean and aware of what's happening," said Gaki. "I like surfing a lot. How do you enjoy surfing when you're high?"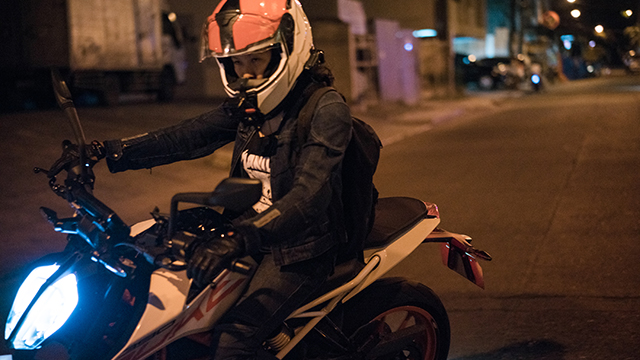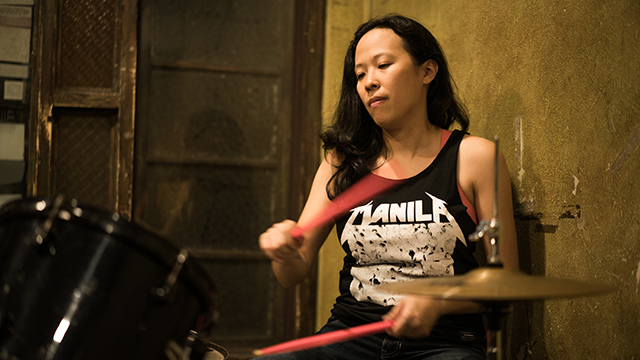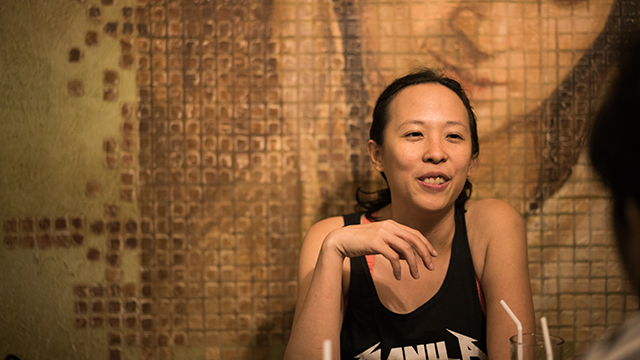 But life wasn't always this fun and carefree for Gaki. It was a choice she had to make.
"One day when I was still working in a gym, I was in the office and I was crying because I was so tired already," shared Gaki. "And I just thought, screw that! I'm going to do what I'm passionate about and I'll make it work for me. So here I am."
And she's never been happier.
Since then, she's earned her first 100 dollars (and more) on Youtube, met up with her subscribers for an afternoon of lomi in Batangas, biked to Baguio and Quezon with her husband, and set up The Litas Manila, a group that aims to connect women riders with other women to ride with and talk about shops that are brave enough to carry women's motorcycle gear.
Her dream is to turn The Litas into a one big community. A place where women riders can look out for one another.
This year, she also plans to be a tourist in her own country and take life more slowly this time.
"I plan to go to more places in the Philippines and document it. I think moto-tourism is possible in the Philippines."
Gaki considers her road trips in countries like Vietnam as some of her most memorable experiences with her motorcycle. The roads and its people are biker-friendly.
She hopes that one day, other riders will come here, too, and go back home with memories of riding their motorcycles in the Philippines that they will never forget.
"There have been many challenges and at the time it seemed like a big challenge and then something bigger comes along. You just accept that these things happen and you just look forward. Don't get stuck in a moment."
RICKY ABELLA
Fuelling compassion
Reckless drivers, overtakers, overspeeders, and rule breakers – they all give motorcycle riders a bad name but a small group of motorcycle enthusiasts down south is trying to change that.
Meet the Western Bicutan Riders Club.
They're fast, furious, and always on their way to lend a hand to those who need it.

The group started in 2003 with a handful of members. A year after, they've decided to make the club official by registering the group name 'Western Bicutan Riders Club (WBRC)' with the Securities and Exchange Commission (SEC).
"Nakita ko kasi na madaming nag-momotor. Kaya naisipan ko, bakit di kaya ko gumawa ng grupo? [I see a lot of people who ride motorcycles so I thought, why not turn this into a group?]" said Ricky Abella, founder and chairman of WBRC.
In 13 years, WBRC has branched out into chapters: Manila, Masbate, Manila-Masbate, San Pedro, Taguig, Iloilo.
They're not the usual riders who drive around in their flashy bikes. They ride their motorcycles to the poorest of the poor barangays and sitios in cities and provinces around the Philippines to conduct feeding programs and blood letting activities, donate school supplies, and come bearing gifts during Christmas.
Everything they spend for these charitable work all come from their own pockets.
"Naumpisahan na namin na tumulong sa kapwa e. Ganun naman mga Pilipino [We've really been helping our fellow men. That's just how Filipinos are.]" said Ricky when asked about why the WBRC chose to be a charitable club. "Ginawa naming mas malaki yung grupo para mas malaki rin ang maitutulong. [We expanded the group, made it bigger so we can help more people."
Children hold a special place in the hearts of WBRC members. Just recently, they pooled members' contributions to heed a mother's call on Facebook to help her kid who's suffering from leukemia.
When they're not on the road, the club members also work day jobs to get by.
Ricky, the group's chairman and founder, works as a cameraman for a TV network. His monthly salary is just enough to take care of his small family. But there are times when it's not. He recalls the time when his newborn baby got sick, and he had exhausted all his means.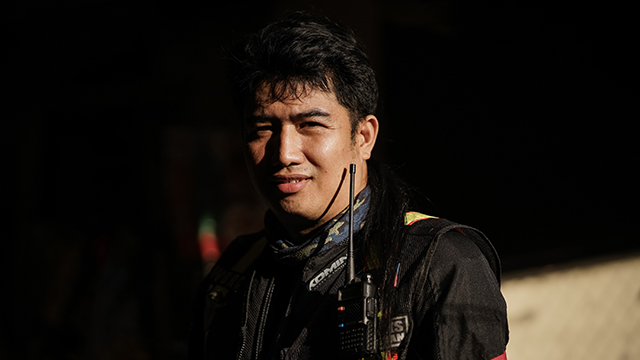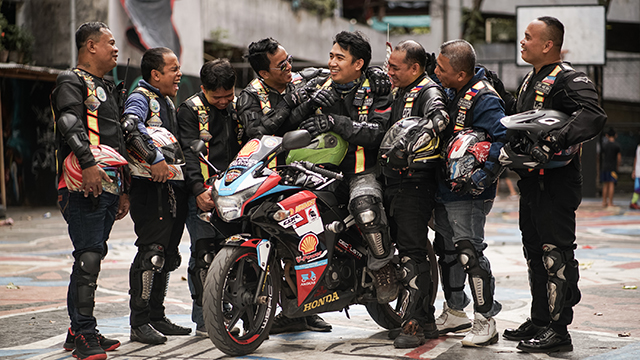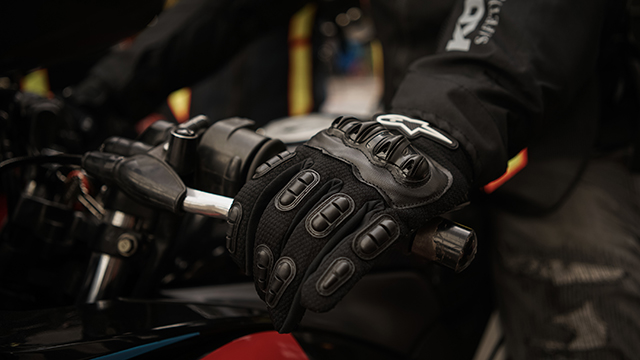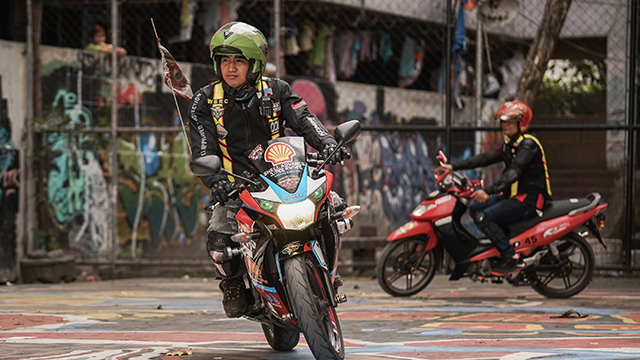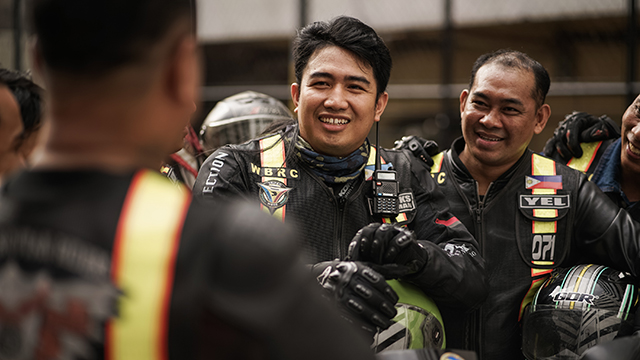 "Nagipit ako pero hanggat kaya ko, ginagawan ko ng paraan [I was really strapped for cash but as long as there's something I can do about it, I find a way.]" said Ricky. "Nalampasan ko naman dahil sa tibay ng loob at tiwala sa Diyos. [I got through it by keeping a strong faith and trusting in God.]"
This painful experience is one of the things that motivates Ricky to help those who are in need.
"Naiisip ko kasi na paano kung ako 'yung nasa sitwasyon na yun. Mas ok na 'yung kami 'yung tumutulong kesa kami yung mangailangan ng tulong. [I always think as if I were in their shoes. It's better that we're the ones who are helping instead of being the ones who need help.]"
His dream is for WBRC to only get bigger and bigger so they can do more and help more.
"Ang sarap tumulong e. Nakakataba ng puso pag tumutulong ka sa kapwa. Lalong lalo na sa mga bata. Para magbigay ng inspirasyon na wag silang mawalan ng pag-asa. [It feels good to help others. It makes our hearts feel full. We especially love helping kids because we want to inspire them to reach for their dreams and not lose hope."
---
The road can be an unpredictable place and you need to be protected against every challenge that comes your way. Shell Advance motorcycle oil is formulated to give your bike's engine complete protection, giving you the courage to outride anything.
---