With TravelBook.ph's Friend Code program, you can take your friendship to the next level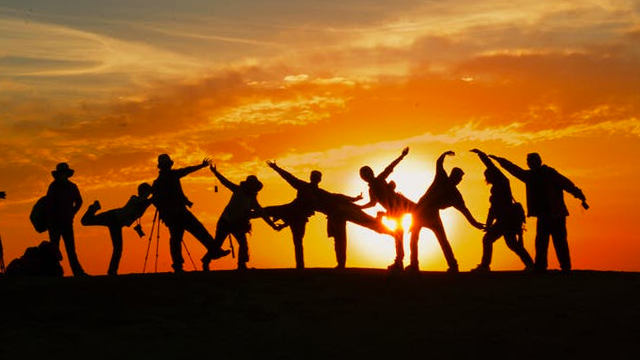 MANILA, Philippines – Bes, bessy, beshie, beshiecakes.
The way we call our best friends may have evolved over time, but the meaning of friendship stays the same. It's still about being there for each other: for better or for worse, in sickness and in health, for richer or for poorer, single or taken.
Can you imagine life without your beshies? I can't. If not for them, we wouldn't be able to enjoy the things that are best when shared – memes, food trips, movie nights, and travel adventures.
They are our travel buddies and instant photographers
We are encouraged to travel alone at least once in our lives. But for the rest of it, we would rather be with our friends. We can split the bill to pay for food and hotel, and take advantage of discounted group promos.
Friends also go the extra mile – climbing up trees, standing on the edge of a cliff – to take our most Instagram-worthy photos. We get lost sometimes but when we're with our friends, every wrong turn or unexpected detour is an adventure.
Did you know that you can take your travels and friendship to the next level by signing up for TravelBook.ph's Friend Code program as an offline partner? 
All you have to do is just introduce Travelbook.ph to your friends and give them your friend code. Every time your friends use your unique code when they book hotels through TravelBook.ph, you earn a referral fee which you can use for your next adventure.
For instance, if your friend makes a hotel booking worth P28,000 using your friend code, you earn as much as P2,240 instantly!  
They are a receptacle of memes and hugot articles
A cute corgi shaking his butt, another hilarious 9gag video, or a '17 signs the guy you're dating is not yet a man' article – it's not enough that you watched these, then gushed, laughed, and worried on your own. These links have to be shared and sent to our group chat with our beshies for better appreciation and further discussion.
Because who else can confirm if a guy is good news or bad news? They've witnessed all our relationships, so we value their opinions when it comes to who we should date.
They are our 'constants'
There's always a Sarah and John Lloyd movie to watch, a 3-day sale to go to, or yet another new food park to try. We'll never run out of reasons to fan girl over chick lit films, endure the traffic and long lines to the cashier, and wade through a thick crowd to get that famous egg waffle.
With our 'constants' by our side, squealing as loudly during almost-kissing scenes, scrutinizing the outfits and shoes we're fitting, and waiting (cute-spotting) with us while it's taking us forever to look for an unoccupied table, any activity, even if it's tiring, becomes fun.
They are our confidants
We may forget about them every time we meet 'someone special' but they will always be there every time that someone special forgets about us.
Friends are only one call away for get-togethers over beer and pizza. They're always there to hear us talk about our most recent heartbreak: they'll allow us to sulk and cry for a few minutes, then help us move right on by telling us what they've wanted to say along, like "he's not cute anyway!"
They are our worst critics
They may be there to soothe and comfort us whenever our hearts break but they won't think twice to shatter our poetic fantasies. They are not hesitant to give us the 'real talk' if they know that what we're doing will end up badly – be it in relationships, work, or family.
At times, our beshies may be the meanest – but as it turns out, they only want the best for us.  
Life may be hard but we get by with a little help from our beshies. – Rappler.com
For more details on how to use TravelBook.ph's Friend Code program, watch this video:
Start earning extra income with TravelBook.ph's Friend Code program. Just sign up, confirm your e-mail, receive your unique friend code, and start sharing with your friends. Travelbook.ph is the leading online travel agency in the Philippines that offers wide range of hotels and tours nationwide.