'Nagti-TikTok naman ako, bakit walang James Reid na lumilitaw?'
Wah! Me and my jowa… This seemingly simple expression became the catchphrase of a viral TikTok video that depicted a couple and their adorable never-let-me-go relationship. 
James Reid reinterpreted this hit in a new video with Mountain Dew Ice. This is the third video in the series. [READ: Online class, K-drama getting tense? Call James Reid]
When James interrupts a girl midway through her cover of the viral video, a new catchphrase is also born: "me and my Dew Ice." He then proceeds to chant the new lyrics set to the catchy tune. "Mas cool 'pag may Dew Ice! Lemon-lime sarap! Lemon-lime sarap! Anuman ang trip, mas cool pag may Ice."
The video was well-received by fans and netizens, who all wished for a James Reid of their own. "I do tiktok kaya I deserve a James Reid chr (I do TikTok that's why I deserve a James Reid charot/joking)", a netizen quipped. 
Mountain Dew engaged with witty comments and jokes of their own. "Dew Ice ka muna (Drink Dew Ice first)", the brand said in reply to the aforementioned comment.
Here are a few of the funniest interactions: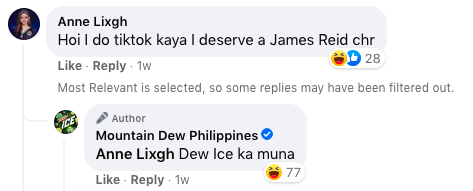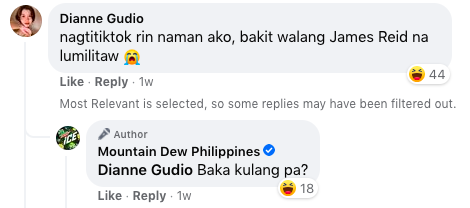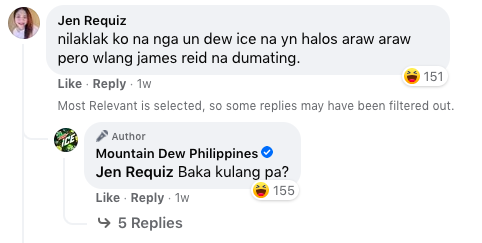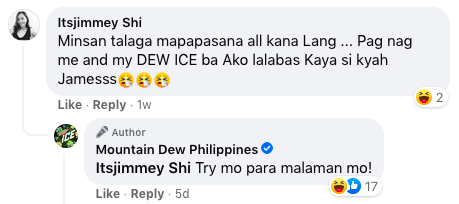 Mountain Dew is a refreshing, lemon-lime soda that can brighten your day. No matter what you want to do – making TikToks, having fun on social media, or even hanging out with friends – everything is cooler with Mountain Dew Ice. 
Are you ready? When James sings "me and my Dew Ice," let our response be: Anuman ang trip, mas cool 'pag may Dew Ice! – Rappler.com