Goodbye to 10.10 'budol,' hello PayDay Save!
Yasss, PayDay! Sahod, sweldo, salary – whatever you call it, its mere occurrence is an instant serotonin boost for any tired mind and soul, eyes gleaming and all. And nothing is more satisfying than checking out your online cart or giving in to those cravings after a period of hustling and scrimping. After all, #daserv, 'di ba? (You deserve it, right?)
But what if there's a way to treat yourself and pay for necessities while still getting sweet, extra savings? It's possible, and luckily, PayMaya has you covered. Bookmark this page or get ready to take screenshots because starting this 10.10, the e-wallet's PayDay Save celebration has boatloads of savings for all your transactions so you can spend with no regrets!
With #PayMayaPayDaySave, you can bid your 10.10 budols (temptations) goodbye, because all the deals you need to stretch your sweldo are already here.
Mission impossible: Savings galore!
If you still don't have PayMaya, download it now! From October 10 to 17, you can take advantage of all of the PayDay Save "missions" for your wants and needs, which can save you up to P1,544 as you go up each one. To get you hyped up, here's a peek of how much you can save: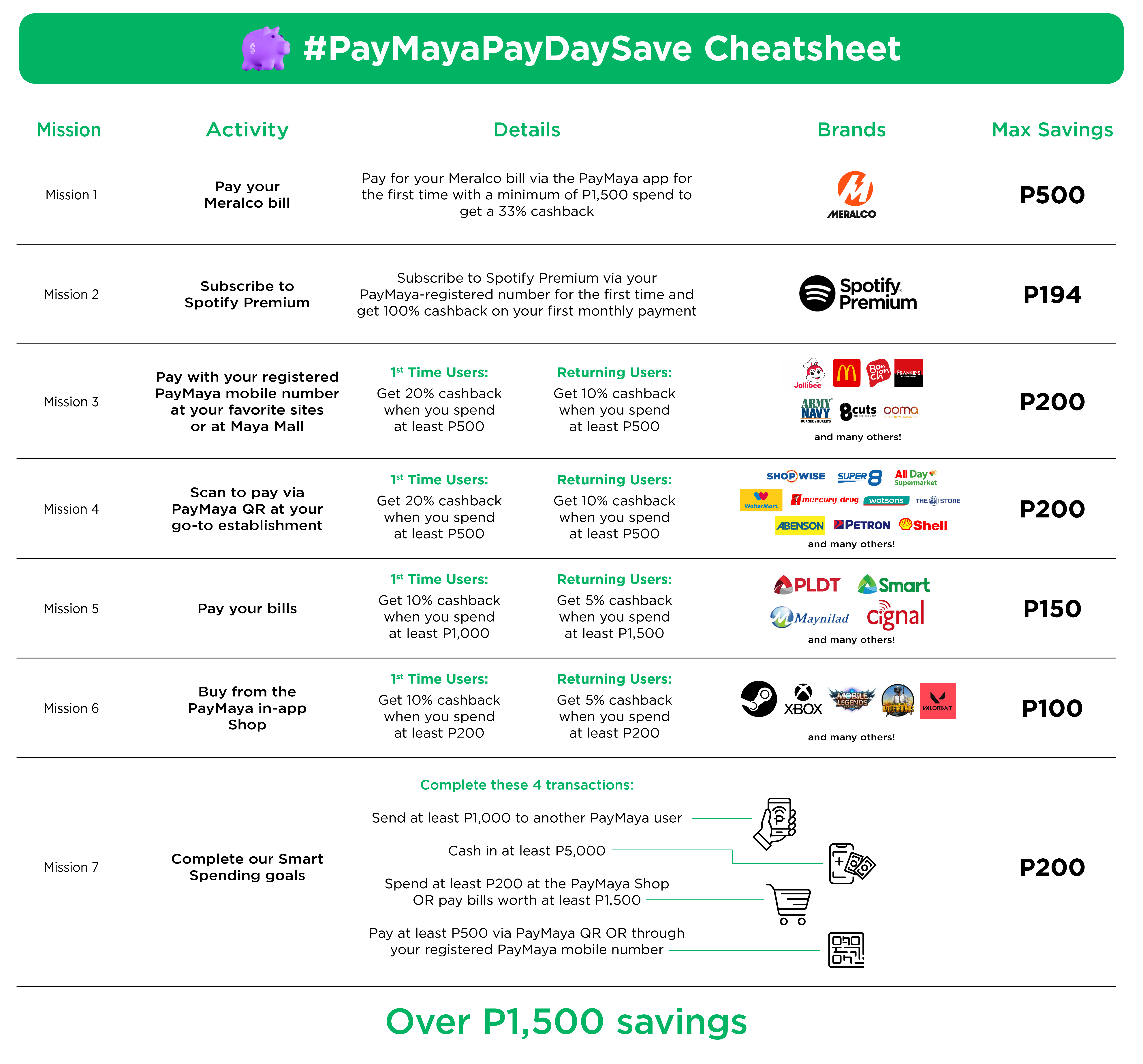 PayMaya has teamed up with a wide array of brands to ensure that you can save as much as you can. Check out how you can earn these savings and where you can enjoy them below:
Mission 1: Settle your Meralco bill to save up to P500
Take advantage of massive savings when you pay for your Meralco bill via the PayMaya app for the first time! You can earn up to P500 savings for a minimum bill of P1,500. Paying for your bills in just a few swipes isn't only convenient, but is also made even more rewarding.
Mission 2: Subscribe to Spotify to save up to P194
First-time Spotify users can now purchase Spotify Premium subscription plans and enjoy savings of up to P194. Get up to 100% cashback off your first month when you use your registered PayMaya mobile number to pay, to access more than 70 million music tracks and 2.2 million podcasts. This offer is applicable for the following Spotify Premium Plans:
Student (P65) Monthly Subscription Plan
Individual (P149) Monthly Subscription Plan
Duo (P169) Monthly Subscription Plan
Family (194) Monthly Subscription Plan
Mission 3: Pay more bills to save up to P150
This can be enjoyed by returning PayMaya users too! Save up to P150 when you pay for your bills with a minimum spend of P1,000 via the PayMaya app. Utilities, postpaid mobile plans, credit cards, insurance premiums, you name it – you can pay over 600 billers on your smartphone!
Mission 4: Shop safely when you can scan-to-pay in stores and save up to P200
When heading to your local drug store or supermarket for essentials, make sure that you're using a safer way to pay – PayMaya QR. Enjoy instant savings when you use this payment method too! Get up to P200 savings when you scan-to-pay at establishments such as Robinsons Supermarket, Shopwise, Super8, AllDay, Waltermart, Mercury Drug, Watsons, The SM Store, Abenson, and more.
Mission 5: Shop online and pay with your PayMaya number to save up to P200
In the mood to treat yourself? Pay using your registered PayMaya mobile number and rack up to P200 savings when you purchase a minimum of P500 at your favorite website or at the in-app MayaMall.
You'll get this benefit when treating yourself and the whole fam to a hearty meal from Jollibee, McDonald's, BonChon, Frankie's, Army Navy, 8cuts, Ooma, and more. Or even when grocery shopping at Landers or Pick.a.roo!
Mission 6: Buy digital goods from the PayMaya Shop and save up to P100
Save up to P100 for a minimum spend of P200 on digital goods and vouchers on the in-app PayMaya Shop. You get extra savings when you recharge prepaid load or when purchasing items like gaming pins like Steam, Xbox, Mobile Legends, PUBG, and Valorant; lifestyle subscriptions like Viu; and even Tinder for yourself or for a friend – if she's too shy.
Mission 7: Complete the "smart spending goals" for additional savings worth P200
Get extra savings of up to P200 when you complete the following transactions:
Cash in at least P5,000 to your PayMaya wallet.
Send Money worth at least P1,000 to another PayMaya user.
Purchase items worth at least P200 from the PayMaya in-app Shop or pay a biller in-app, worth at least P1,500.
Scan to Pay with PayMaya QR for a minimum spend of P500 or pay with your PayMaya-registered number for a minimum spend of P500
If you want more details on all the awesome savings you can earn from shopping with PayMaya, check out the Missions tab on the app. You will find it by clicking the Profile button on the upper right side of the homepage. Once you've availed of all these offers, you can redeem your cashback vouchers on your app's Vouchers tab.
This 10.10, all of the sulit (worthy) savings you never knew you needed are here. With PayMaya, you can start turning those PayDay sales into PayDay Saves. – Rappler.com
Click here to download PayMaya.