Win GCs and gift baskets too when you visit and shop at Robinsons Malls
Editor's note: Robinsons Malls kicked off their Christmas campaign by launching a jingle sung by Ben&Ben, as well as lots of holiday promos and deals. Below is its press release.
Robinsons Malls, just like home, is a place you're welcome to return to any time, wherever you have been, whatever you've been through.
They kicked off the season with the annual tree lighting event at Robinsons Place Manila – made special by a virtual performance from Robinsons Malls' newest brand ambassadors, Ben&Ben!
Festive as the event was, the momentum was kept at a steady high as the official music video for this year's campaign, Ben&Ben's rendition of "Tuloy na Tuloy Pa Rin ang Pasko," premiered on all of Robinsons Malls' official social media pages.
In this fun and quirky music video shot at Robinsons Magnolia, the band members can be seen going about their day, shopping, dining, and simply enjoying their time together in this "new normal". This reminds us that the spirit of Christmas lives on and that there is still a reason to celebrate no matter what the circumstances are.
In case you missed it, you can catch the video here: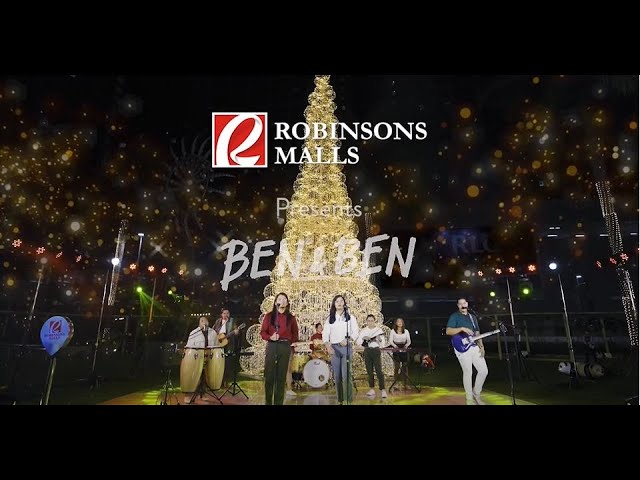 In case you're LSS-ing already, you can add this song to your Spotify Christmas playlist, now!
With the season being about gifts, and the spirit of giving, Robinsons Malls encourages the gifting culture by having a few promos in store, to help you:
#RMallsSmilesOfChristmas
Immerse yourself in the spirit of Christmas and take a photo with their festive decorations. Share the joy and tag @robinsonsmalls in your lovely photos on Facebook or Instagram (make sure the post is public) and use the hashtag #RMallsSmilesOfChristmas. The most creative submissions will be featured on the official Robinsons Malls Facebook and Instagram pages. Three grand prize winners with the most creative entries will win P5,000 worth of Robinsons Gift Certificates each, and three runner-ups will win a Christmas Basket worth P2,500 each.
The promo period will be from October 24, 2021 to November 21, 2021. Check out this post for the full mechanics:
Merry-Galo raffle promo
Win up to P100,000 worth of e-Gift Certificates when you join Robinsons Malls' Christmas Weekly Raffle.
Get 1 raffle entry for every minimum purchase of P1,000 from any of the participating merchants, or a minimum of P3,000 from Robinsons Supermarket.
The Christmas Raffle Promo runs weekly starting from November 15 to December 31, 2021.
Click here to view the full mechanics.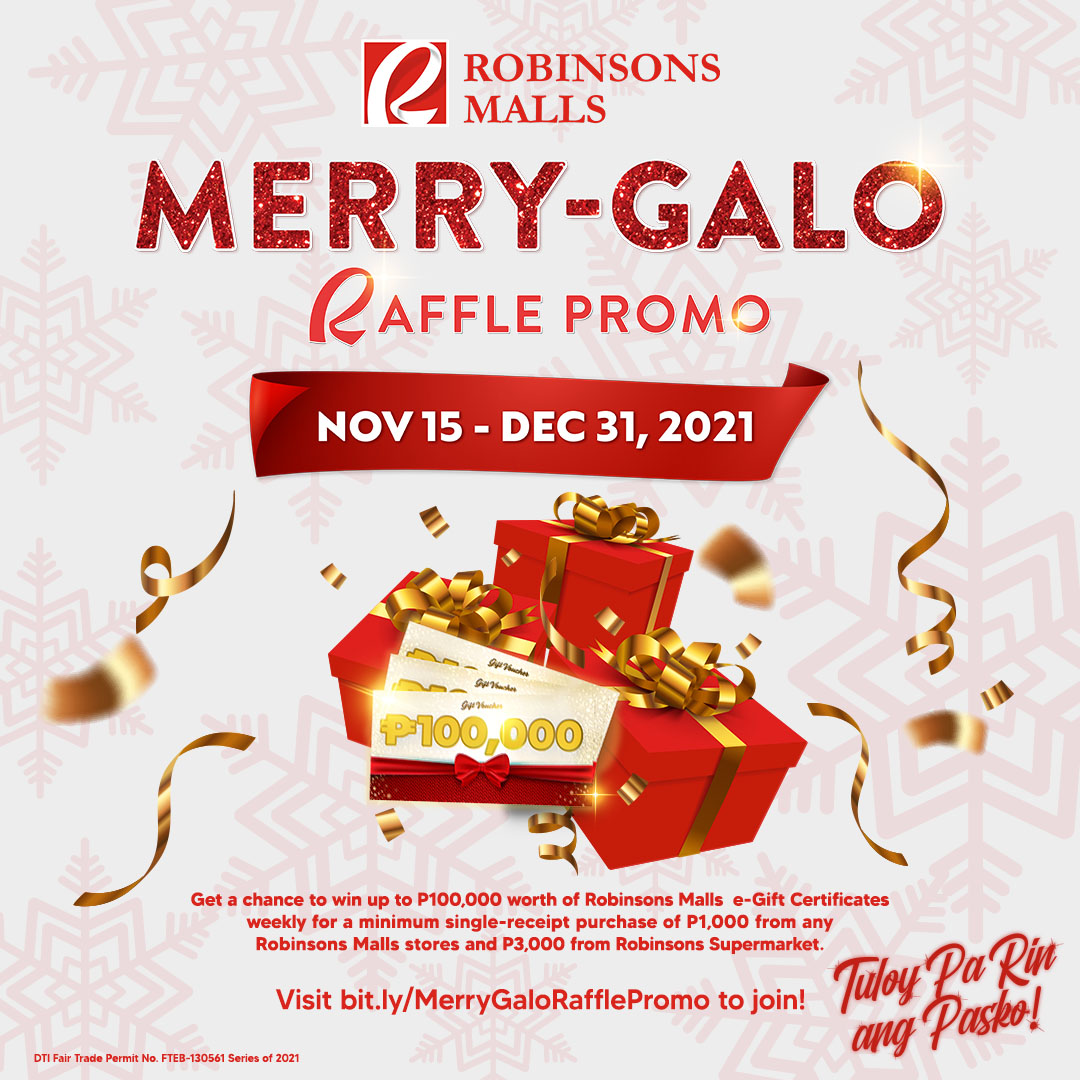 Robinsons Malls 12.12 sale
Tuloy na tuloy na talaga ang Pasko sa Robinsons Malls! Get amazing deals and discounts of up to 80% off in the Robinsons Malls 12.12 Sale! Score the perfect gifts for the special people in your life – a watch for Dad, a new bag for Mom, the latest gadget for Kuya, or a pair of shoes for your BFF.
Let Robinsons Malls help you make them feel the love they deserve this holiday season. The 12.12 Sale will run from December 11-15, 2021.
Now doesn't that make you want to head to a Robinsons Mall near you? Come and experience our picture-perfect Christmas trees that will definitely get you all perked up for the holiday season!
Step into the magic and enjoy the sights and sounds of the holidays at Robinsons Malls as you tick off your Christmas list items yourself – but if circumstances won't permit, you can always tap RPersonal Shoppers Robbie and Rosie to get your special presents and have them delivered right to your doorstep.
From kickoff to promos, to grand mall decor, RFavorite place sure knows how to really do Christmas! This season's definitely made better when we spend it somewhere we can call home – Robinsons Malls.
Check us out on Facebook and Instagram for updates! – Rappler.com