The '80s are back and we're loving it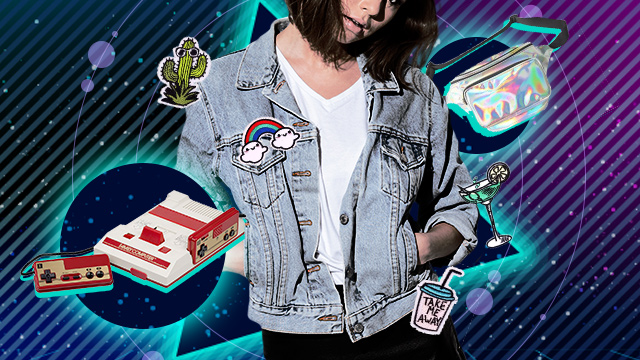 [Editor's Note: This article features XChange Picks – deals and products we think you might like. These features may contain affiliate links from our partners.]
MANILA, Philippines – Loud, bright, colorful – sometimes even gaudy.
That's the '80s, and it's all making a huge comeback now.
Just look around you. It seems everything, everywhere, is making a nod to the '80s: from oversized jean jackets and mirrored sunglasses in fashion to gated reverb and remixing some of today's hottest pop bops in music, to setting entire films and TV series in this decade ("GLOW" and "Stranger Things," anyone?).
As the National Graphic once said, the '80s is the "decade that made us." So to pay homage to the decade that brought about innovations and revolutions, new wave and neon, we're listing down 5 ways on how you can channel it.
Wear your jeans with pegged cuffs 
Got a new pair of kicks that you want to show off? Pegging, or pinrolling, your jeans is the way to go. Make sure to get a pair that's loose and long enough for it.
Throw on an oversized denim jacket 
Denim was big in the '80s, and denim-on-denim was certainly not frowned upon. But if you think that sounds too much, start with an oversized denim jacket. Plus points if you can find an acid wash one (or just DIY it), and make it your own with patches, pins, and buttons.
Switch your go-to smartphone game apps with a handheld Famicom 
If you were a child of the '80s (and even the '90s), you probably grew up spending hours playing Super Mario, Contra, Donkey Kong, Battle City, and other games on a Family Computer. Today, though, you'd be hard-pressed to find a working set. Thankfully, there are pocket versions packed with hundreds of games now available in the market.
Brighten up your home with bold colors and prints 
Bold colors and print is a signature '80s look. Paper your walls with these designs to bring it home. 
Stash your stuff in a fanny pack 
Pack your things the retro way. And in true '80s style, pick one in an attention-grabbing color or kitschy print.
Got your own tips to share? Let us know in the comments! – Rappler.com
Graphics by Ernest Fiestan/Rappler