Lazada sends a powerful Pride Month message through its 'Apology' short film
Sorry seems to be the hardest word, crooned Sir Elton John. But not for Filipinos. When we make the slightest mistake, feel like we are causing an inconvenience, or want a never-ending argument to finish already, we apologize. It could be an instance of our collectivist culture, where maintaining the status quo (in the guise of harmony) is utmost, and anything that's perceived to be out of the ordinary is already considered a threat.
Stemming from this logic, it's us members of the LGBTQ+ community who are most expected to apologize profusely because of who we are – which goes against everything in tradition. Pasensya na (sorry) for behaving, believing, and loving in ways that we shouldn't. All of these sorrys, in a time when our preferences are supposed to be non-issues.
While a reflection of our inherent politeness, this apology culture is also respectful to a fault. Saying sorry for simply tipping the scale limits discourse, which our society needs to continuously evolve for the welfare of all citizens. And as members ourselves, flipping the switch off comes from within.
In celebration of Pride Month, e-commerce giant Lazada tackled this head-on via a short film aptly entitled Apology. The three-part clip emphasizes that one of the struggles of the LGBTQ+ community is driven by an internalized fear of judgment. No matter how far we've come to express ourselves, we still say sorry in advance to cushion the blow of others' opinions. Director Pepe Diokno and trans woman model Kevin "KC" Cusi, who are both part of creating the film, are urging us to break this habit.
Proud, not sorry
Both out and proud, Pepe and KC had their fair share of apologies before, which helped them paint a near-accurate picture of one of the scenarios where a trans woman was seen by two other women using the female restroom.
"I've had many similar events that happened to me like that and I'm sure a lot of young trans women can relate to this," said KC.
In the film, KC's character was feeling worried that she was making the women uncomfortable so she apologized. But as it turned out, they were just admiring the shade of her lipstick.
KC and Pepe hope that through this film, encounters like these shouldn't have to be something a trans woman like her should apologize for.
"Whether we realize it or not, those apologies can often be shackles. We should break free, to love those who love, and be who we want to be," said Pepe.
A labor of pride
When Lazada and its partners asked the two to be on board, they didn't need much convincing.
"It's about time someone featured and highlighted the real-life struggles of a member of the LGBTQ+ community. It's short, impactful, and very relatable," said KC.
Pepe, in particular, felt from the get-go that he needed to do this project. "It's an empowering message. I'm grateful to Lazada for their love and support for the LGBTQ+ community, and putting our stories on screen."
Apology is a small, albeit significant, step in the fight for fair gender representation in media and advertising, not just in the story but also production-wise. Real members of the community were cast to preserve the authenticity of Lazada's vision.
"It was a joy to work with Concon, Shaun, and KC. The shoot was emotional for all of us. We exchanged stories, we laughed, and we cried. It was really important for me that they had a say in how their characters were portrayed."
Like what the film's characters realized, there is nothing for us to apologize about. By being defiant about who we are, we will inspire confidence among other LGBTQ+ to walk tall, and in the process, might be able to persuade the broader society to be our allies.
"Being you is your power," said KC.
There is a sliver of hope. A 2019 report showed that 73% of Filipinos think that homosexuality "should be accepted by society." Now stop saying sorry and let's make it to 100%.
Watch the Apology short film here: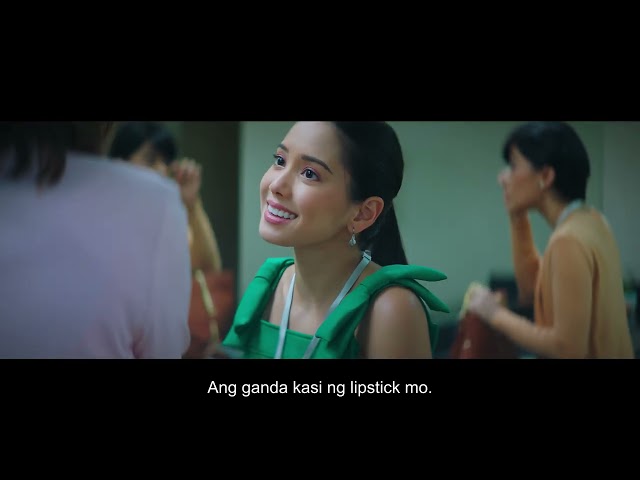 – Rappler.com
*Responses edited for brevity