Suhel Alfonso's 'tibay' fuels his drive to pursue his education
To say that the pandemic affected the state of our education is an understatement. For students, whose life journeys have just begun, the hurdles are noticeable.
A recent summary report revealed a myriad of issues that hound families as their little ones dealt with the sudden shift to online classes. A few concerns were economic, such as the constant need to buy mobile load for data access, while others noticed that lectures without face-to-face interactions with teachers aren't the same.
Is going to school worth all these troubles? As demonstrated by some students' attempts to keep up with their requirements, it still is. A sixth-grader volunteered to teach her peers. Two teens sold beloved items to be able to purchase learning gadgets. A civil engineering student from Masbate climbed up a mountain to get a better connection. Despite their circumstances, these students defied the odds just to attend and complete their classes.
Time and again, Filipino students exemplify the tibay (strength) to face insurmountable odds. One such student is Suhel Alfonso, who was recognized as one of ten BEAR BRAND® Batang Matibay Awardees in 2019, when he was 11 years old. Despite his young age, he had already seen the harsh realities within his community, which, instead of breaking him, motivated him to study harder for his family's future.
The tibay to soldier on
What exactly is tibay in this context? It is choosing to persist, despite life's adversities, towards changing the course of one's life, and banking on education as a ticket to a better tomorrow. Suhel, armed with his goals, draws inspiration from his native town of Midsayap, Cotabato to bravely face each school day – rather than be discouraged by the adversities that loom.
"May umaga na tahimik sa lugar namin…. May mga umaga rin na magulo. Ngunit hindi ito naging dahilan para tumigil kaming matuto," he said. (Some mornings are quiet… Some mornings are noisy. But it will not stop us from learning.)
Suhel and his family live in the middle of a war zone, where the conflicts have left them no choice but to relocate several times. Once, there was a clash near their school but Suhel bravely led his classmates and teachers to safety. Despite all the challenges, Suhel dreams of becoming a soldier himself – inspired by his hope for a better life.
"Sabi ni ina, ang ibig sabihin ng pangalan ko ay "mapayapa." At ito rin ang buhay na gusto kong ibigay sa aking pamilya at sa aming lugar bilang isang sundalo," said Suhel. (My mother said that my name means "peaceful." And peace is what I want to give my family and my town when I become a soldier someday.)
No dream far enough
Suhel's journey is extraordinary. Before the pandemic, he had to walk more than an hour to get to school, and in times of heavy rain, he and his classmates rode boats for faster and safer transport.
"Isa-isa kaming sumasakay ng bangka at naglalakbay papuntang eskwela. Malayo kasi ang daan para makapag-aral," he said. (One by one, we ride my boat and cross the marshland to get to the school. It's a long and difficult journey for our education.)
The things Suhel learns in school outweigh these hardships, and he credits their teachers, especially Teacher JR, for not giving up on them. His choice to teach these kids amidst Midsayap's conditions also inspires Suhel to have the tibay to continue moving forward.
"'Pag matibay ang pangarap mo, titibay ang loob mo. Parang bangka rin pala, basta patuloy sa pagsagwan, mararating mo ang gusto mong puntahan," said Suhel. (If you strongly believe in your dreams, your heart will endure everything. Just like a boat, as long as you keep paddling, you will eventually get to your destination.)
The obstacles faced by each Filipino student today may be different from Suhel's, but they all need extraordinary tibay to power through. Like Suhel, BEAR BRAND® Fortified believes that education – combined with proper nutrition – are the keys to giving children the tibay to face life's challenges. The stories of the Batang Matibay awardees are a testament to this – and inspire us to equip this generation of children with tibay ngayon, tulong sa matibay na bukas (strength they need today for a firm tomorrow).
Know Suhel more by watching his inspiring story below: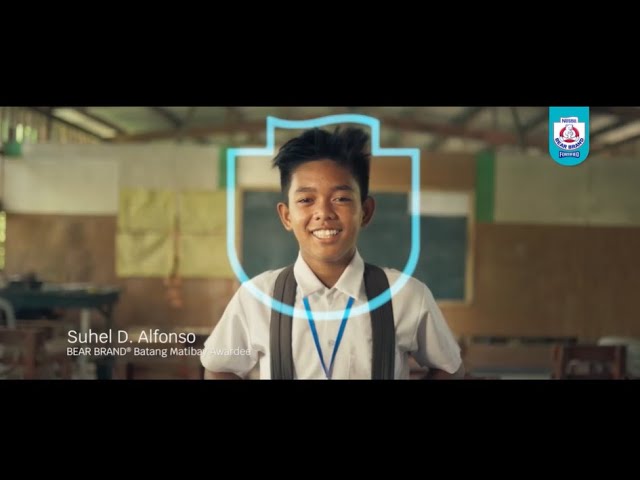 – Rappler.com