Smart subscribers started lining up as early as 11 am last Thursday, November 10 to get the new iPhone 7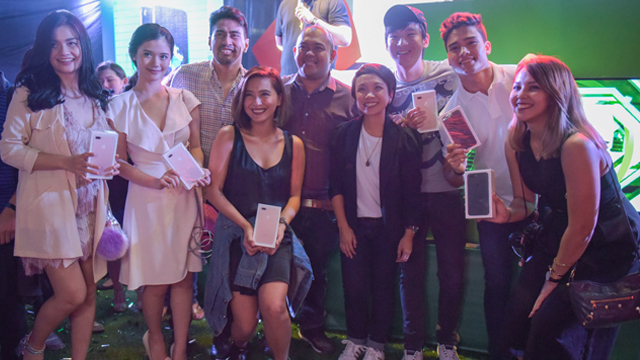 MANILA, Philippines – Smart subscribers and iPhone fans gathered at Eastwood City Walk midnight on Friday, November 11, for the network's launch of the much-awaited iPhone 7 and iPhone 7 Plus, as well as its new postpaid Giga Plans.
"We do so much more online than ever before," Smart's Brand Head Kathy Carag told Rappler during the launch. "Before we were [already] happy with messaging, with Facebook. Now it's live videos on Facebook, it's watching catch-up TV on YouTube [and] on iWant TV. So it really takes up a lot of data and we're seeing that that's what consumers want."
Smart bundles the iPhone 7 and 7 Plus with the new Giga Plans 2499 and 2999, both without cash out on the handsets. And unlike existing postpaid plans, Smart offers higher data allocation at 15GB for Plan 2499 and 18GB for Plan 2999 so subscribers can fully maximize the latest iPhones.
Both plans come with unlimited texts to all networks and 1 free app every month, as well as 80 and 90 minutes of calls for Plans 2499 and 2999, respectively.
Picture-perfect iPhone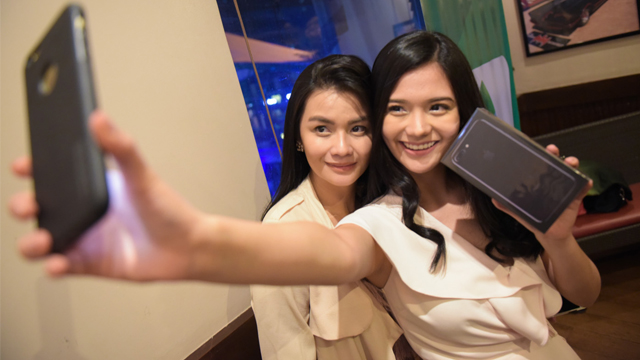 Social media influencers, bloggers, and celebrities were present at the event, all of them raring to finally get their hands on the new iPhones and try its newest features themselves.
We talked to some of them and and found out that the feature they're looking forward to the most is the improved camera.
"Since we bring cameras almost everywhere, it's not that convenient or handy. But with [the iPhone 7], we can bring just our phones," travel vlogger Verniece Enciso said.
Verniece's sister and fellow vlogger, Vern, agreed. "It's always been a rumor that Apple will improve the camera drastically. There were rumors that the 7 or 7 Plus will have the better camera, so now that it's finally out, that's when we [said], 'Okay, we really have to make the switch from the [iPhone] 6 to the 7.'"
The sisters behind the eponymous travel vlog also said that they plan on filming some of their upcoming videos with the iPhone 7.
Blogger Patricia Prieto also looks forward to snapping pictures away with the new iPhone. "Being a blogger, I like documenting things. So for me, camera quality really means a lot," she said.
Host and comedian Ramon Bautista said: "Balita ko maganda na raw 'yung camera. Maganda na 'yung camera dati ta's nag-improve pa lalo," adding in jest, "Siguro mas lalong makaka-pogi 'yung mga selfie na magagawa ko diyan." (I heard that the iPhone 7's camera was already improved, better than previous iPhones. I think I will be able to produce better-looking selfies with it.)
Blogger Mark Macanas of TechPinas also had good words for the new iPhone. He said: "They can work as great point-and-shoot substitutes. So whether you're in a concert, or if you're a food blogger, or you just love sharing photos on social media, you will really enjoy these phones. I think Apple has really perfected the camera phone category with these releases."
The influencers added that they're also looking forward to the new iPhone's longer battery life, faster processor, curious lack of an earphone jack, and its durable, water-resistant build.
The first iPhone 7 owners in PH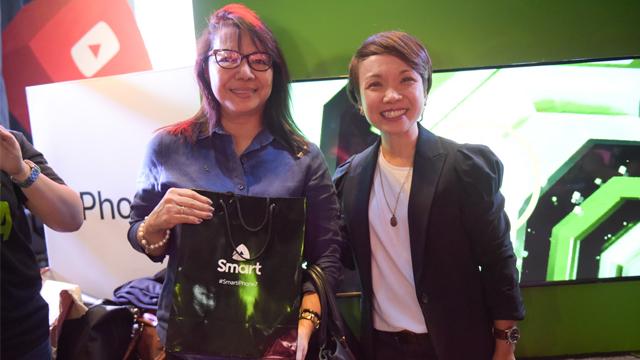 A few hours before the midnight launch, Smart raffled off 7 units of the iPhone 7 to lucky subscribers as everyone enjoyed games and music. The iPhones were awarded to the winners come midnight, around the same time as Smart ambassadors and postpaid subscribers who pre-ordered were given their units.
Rafaela Jose was excited and proud to be the very first Smart postpaid subscriber to receive the iPhone 7.
"I've been hearing a lot of additional [improvements] from the iPhone 6, which I'm currently using. I can't wait to use the additional features," Jose told Rappler.
For more information on Smart's Giga Plans, visit www.smart.com.ph. – Rappler.com