Gearing towards economic recovery and other highlights from day two of PH Digicon 2021
Every year, PLDT Enterprise gathers together experts and industry leaders to discuss the latest in digital technology and how these can be applied in business to improve lives and increase productivity at the Philippine Digital Convention (PH Digicon). This year, the three-day event took place in a virtual stage from October 6 to 8, centered around the theme of REVOLUTION, in reference to the disruptive technologies that enabled businesses to bounce back from the setbacks of the global pandemic.
Let's take a look at some of the highlights from day two of the convention – from how different stakeholders are preparing the country to become a destination for hyperscalers to how local companies are experiencing digital transformation.
Investing in hyperscaler needs
With a larger demand for digital services and a recovering economy, industry leaders expressed optimism in turning the country into a hub for hyperscalers. These are the global technology companies providing cloud and internet-based services, which require huge amounts of space, power and connectivity in regions they expand in, to allow rapid IT scaling that will support their massive customer base and user demand surges.
Think Google, Microsoft, Amazon, or Alibaba (which recently launched its local data center in the Philippines).
During the Executive CEO Roundtable Discussion on hyperscalers, the panel talked about the industry's need for more robust infrastructure, which means better connectivity and power requirements at desirable costs.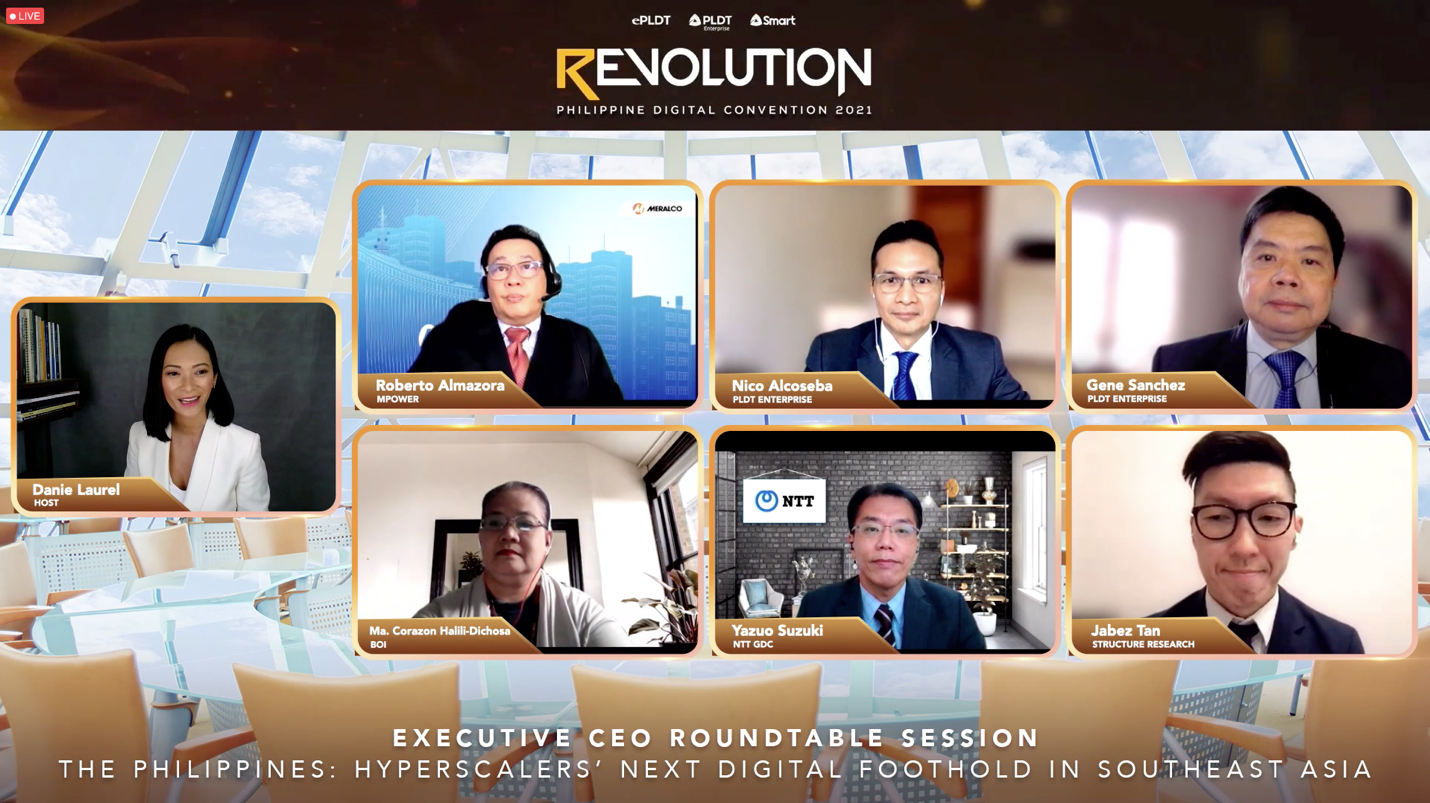 Nico Alcoseba, vice president and head of ICT business for PLDT Enterprise, unveiled that they have been hard at work at designing a hyperscaler data center facility, and have finally secured approval for building it. He said that this will be the first of its kind in the Philippines, which will have more capacity than all PLDT data centers in the country combined.
PLDT has also been scaling up submarine cable capacities, starting with the Jupiter project that will connect with Japan and the US to be completed by next year. They also shared that two other projects will be completed within the next five years. These are the Asia Direct Cable in the West Philippine Sea that will have a landing station in Batangas, and Apricot which will be connecting Japan and Singapore via Baler and Davao.
NTT Global Data Centers president Yasuo Suzuki said that hyperscaler markets are now present in the US, EU, Hong Kong, and some parts of Southeast Asia. And that it is high time for the Philippines to also be positioned as the newest hyperscaler destination in the region especially with the greater demand for internet access and collaborative tools across all industries in the country.
"The pandemic has pushed us to maximize the use of digital platforms, which accelerated the growth of our data center market. Our country's digital landscape makes it an ideal setting to support the growth of the hyperscalers as well as data center operations," said Department of Trade and Industry Secretary Mon Lopez.
Rising tide to lift all boats
Almost any industry and a large part of government services in the country have either been fully or partially digitalized.
President and CEO of PLDT Al Panlilio spoke about how internet connectivity had essentially become a human right at this point, describing how having access to the digital world is a necessity to pursue many things in life – including education, business, entertainment, and so much more.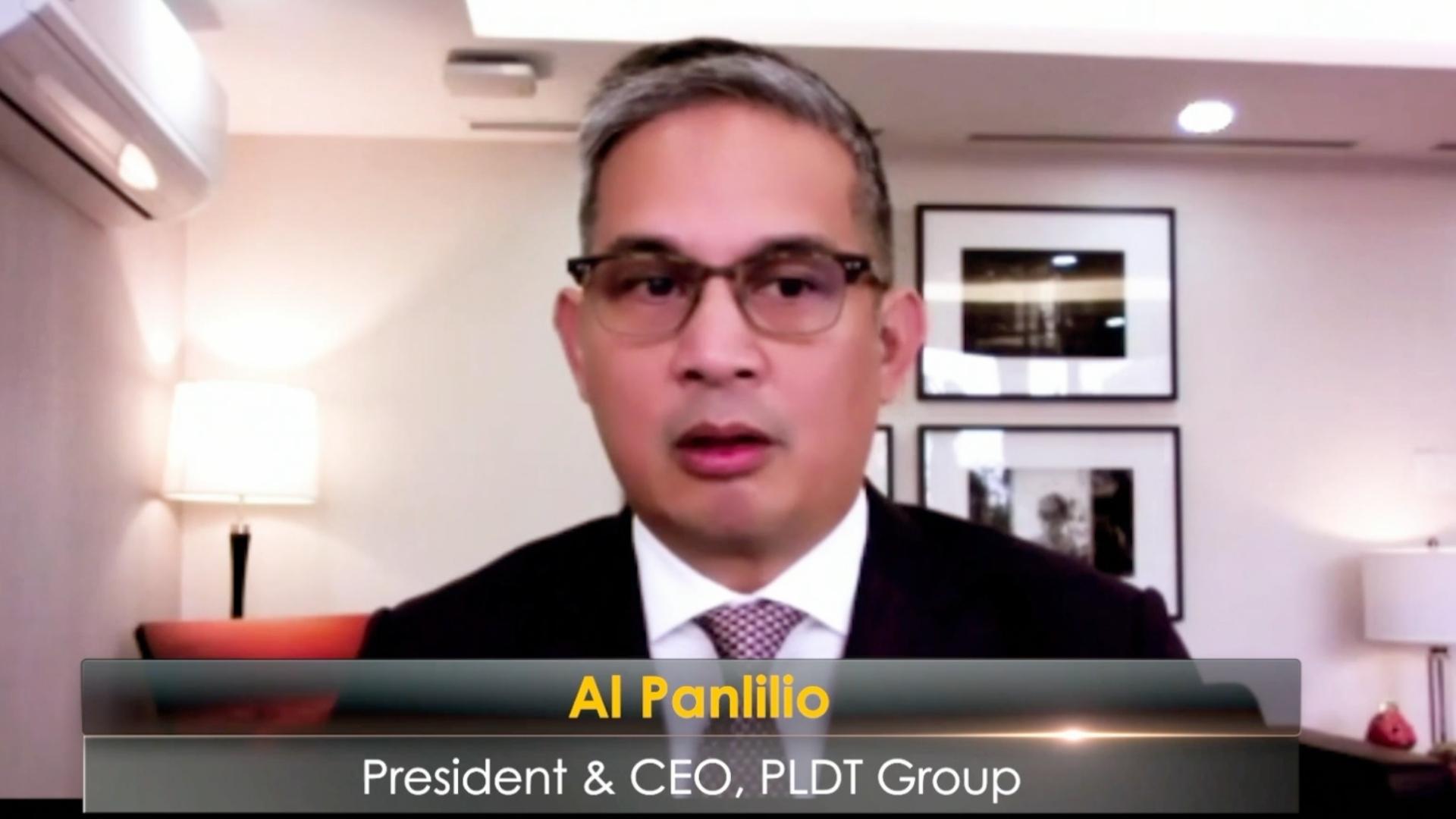 "We've actually had to transform as a telco, to be able to really address the demand that was there for connectivity and we were trying to make sure that it remains to be strong during the height of the pandemic," he shared during the main plenary session on revolutionary changes in the Philippine business landscape.
The plenary session – consisting of executive panel members from companies like Penshoppe, Century Pacific Food, Alliance Global, Jollibee, JG Summit, and of course PLDT – talked about how the pandemic affected the industries they're involved in, their initial steps for digitalization, and the innovations they have been coming up with since then.
Enhancing the online and offline experience
For companies like Jollibee, Penshoppe, and Century Pacific, among the different strategies they deployed included the ability to bring the products to their customers who couldn't go to the stores themselves.
Apart from the technology itself, they also had to find other ways to maintain a level of experience. Joseph Tanbuntiong, chief business officer of the Jollibee Group, shared that they succeeded in this by making sure that the food delivered will still taste as expected even though it takes several minutes for deliveries to be completed.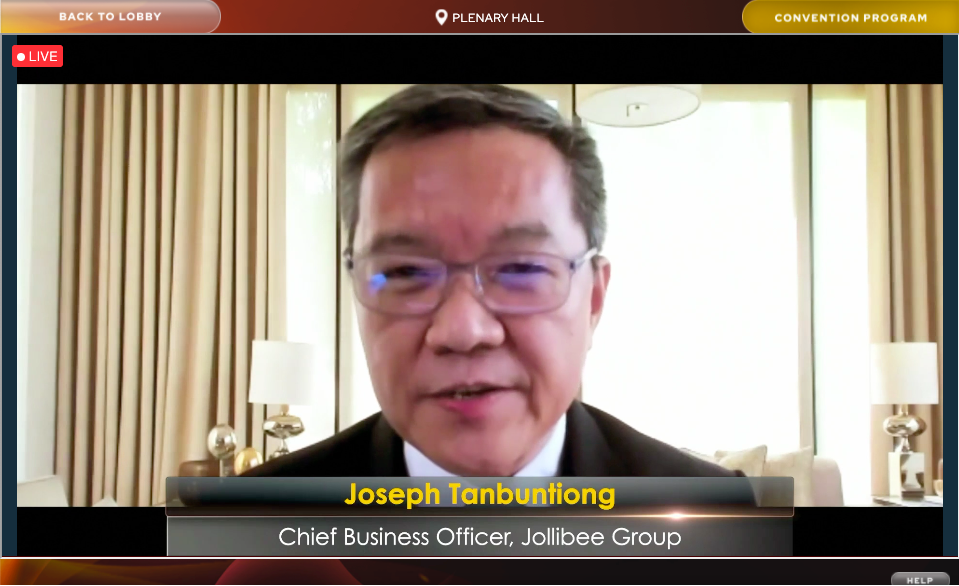 "People will continue to look for great tasting food and people will continue to look for experience. And so our first set of strategy [sic] was actually how to strengthen our fundamentals," he shared.
Christopher Po, executive chairman of Century Pacific Food, Inc., also added that for their other products like canned food, they are now exploring Direct to Consumer, or D2C, bypassing the retailer and going straight from manufacturing to the end consumer through apps and e-commerce platforms.
The group also shared that "delivery-only kitchens" or "ghost kitchens" is an old concept that is now gaining more popularity as food delivery has taken off. For Shakey's pizzas, delivery now consists of 30% of their total business, when in 2020 it was only 15%, and only 1 to 2% in 2019.
Although online channels seem to be a large driver for retail, Penshoppe's chairman and CEO Bernie Liu pointed out that brick and mortar will also be here to stay, and that we should continue to reimagine what a store of the future should look like.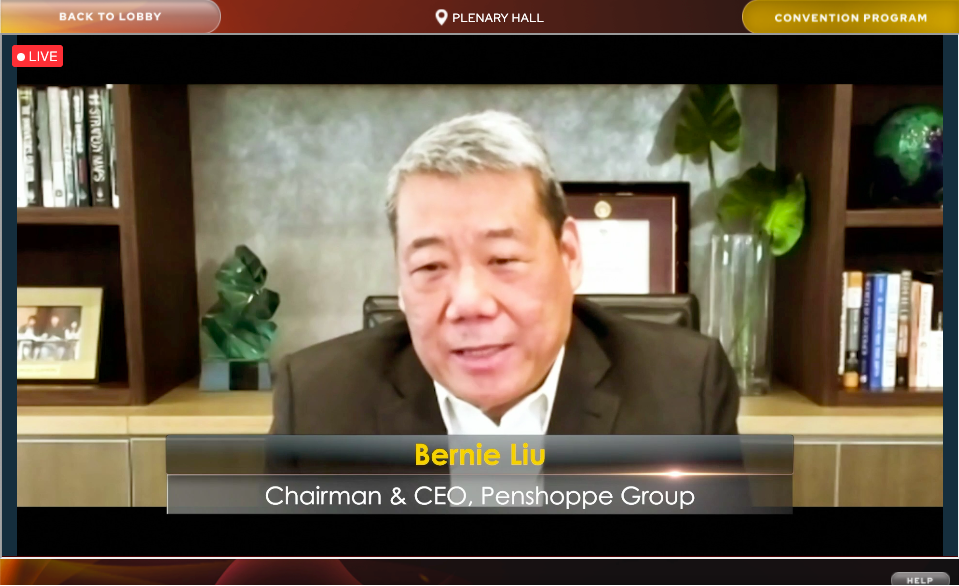 "We're working with PLDT and Smart as well, to make sure that the connectivity with all our stores, and the inventory system, and the data management that we have in our company, will be able to support what we call now the Omnichannel transformation. This is really the future of retail," said Liu.
A multiplier effect brought by real estate
Another industry strongly hit by the pandemic is real estate, and both Alliance Global CEO Kevin Tan and JG Summit Holdings president and CEO Lance Gokongwei touched on how offering new investment products in the form of REITs has helped the industry as a whole. For MREITs (Megaworld) and RLC REIT (Robinsons Land), their exposure to the BPO industry has also helped in maintaining the industry's stability.
It also helps that REITs are long-sought investment instruments that have been largely unavailable in the previous years due to regulations that restricted companies from participating that have since then been changed. Investing in REITs is also made easier as they are available through web and mobile investment apps.
Gokongwei noted that as more REITs are made available through the stock exchange, we can expect to see a multiplier effect that will extend towards other industries. He said that for RLC REIT, they are targeting to raise P23.5 billion which will help their "aggressive" program in expanding to other growth areas including data centers and logistics warehouses.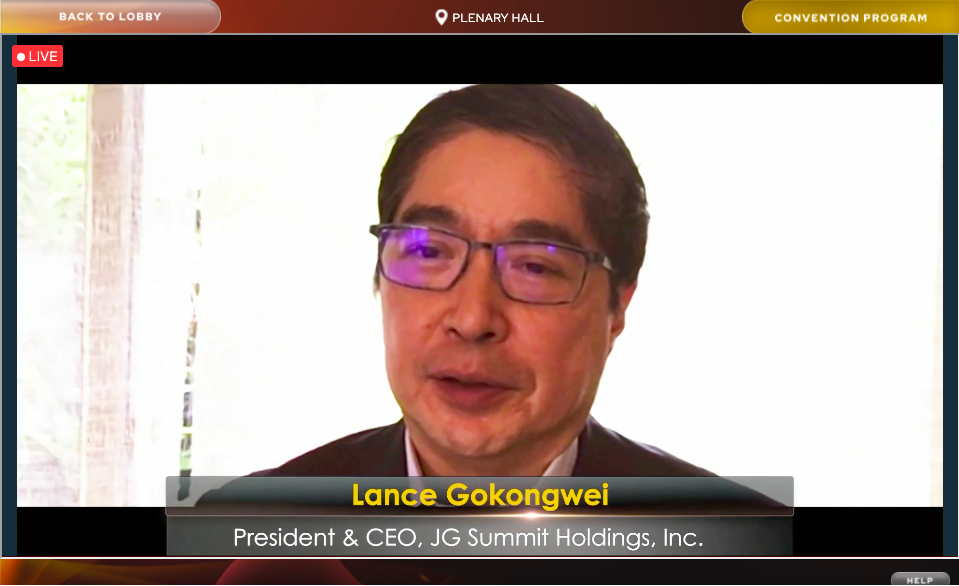 "If you have this multiplier effect across all the industry's players, you're going to see a significant amount of capital coming into the country to continue to support the economy especially in these challenging times when every investment peso is required," he shared.
The panel members of the plenary all took time to thank their employees for the great work they have been doing and the patience they have given. The panel agreed that without the openness of their employees in pursuing hybrid work, continuing to do business would not have been possible.
They also have been looking for ways to extend capacity-building opportunities to their people, and most of all express more empathy as they work together.
JG Summit's Lance Gokongwei had the last word for the plenary session, and he shared: "The pandemic has shown us that the world is really a small world, we're all connected to one another, so situations like these, we just really have to get together with our broader set of stakeholders starting of course with our own employees, making sure that they feel safe, they feel rewarded, that they feel recognized in all the things that they do."
Accelerated digital customer processes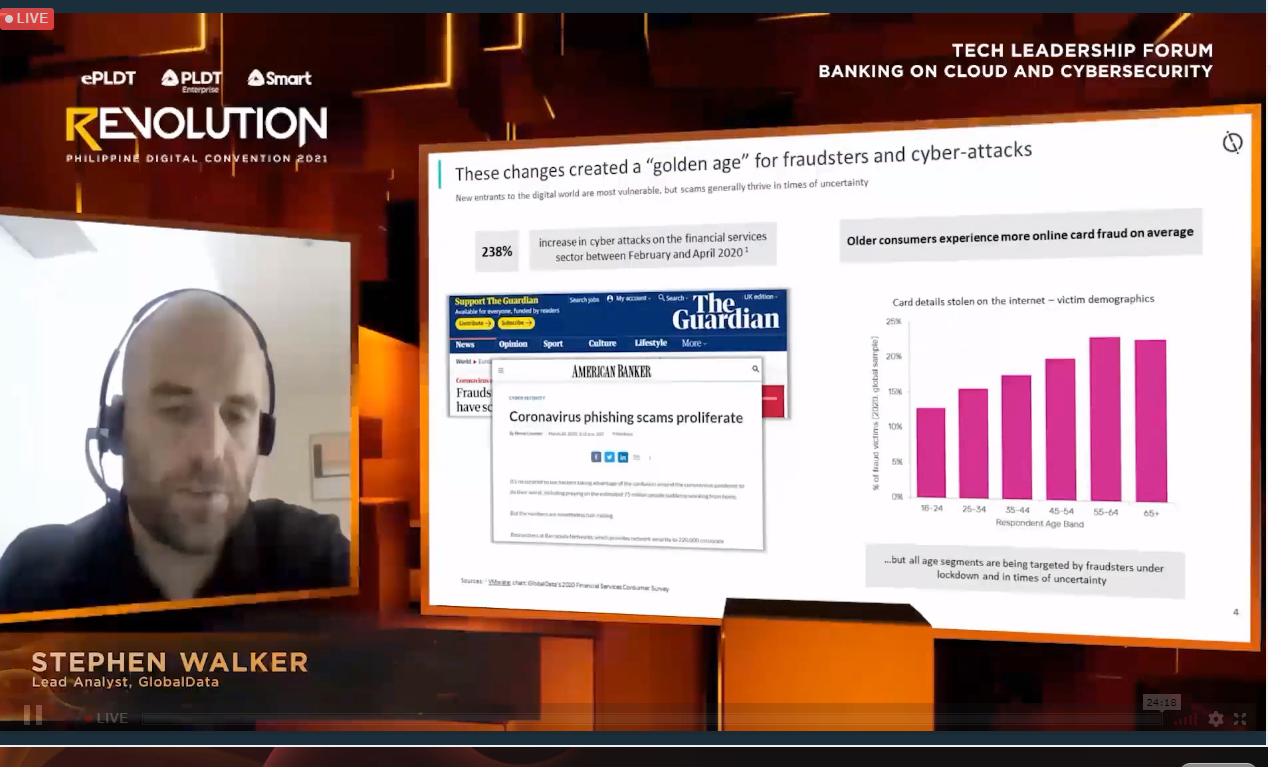 Digital hesitancy wasn't just observed through corporate lenses, but with consumers too, especially when it came to financial transactions. In a Tech Leadership Forum focused on e-banking, panel members discussed the trust in digital payment channels and online banking that was only granted by consumers as the benefits of convenience, security, and safety were better demonstrated during the pandemic.
Faster KYC (know your customer) processes were also made possible with digital technology, enabling individuals to create new accounts in a matter of minutes by using photos of valid identifications like government-issued ID cards, and facial scanning. While these technologies aren't new and have been around for years, it was only during the pandemic that people really began embracing them.
Solving education woes, and continuing to empower people
Despite the sharp focus on technology, there was one consistent theme that was present throughout PH Digicon 2021: addressing the needs of the people.
Among the many challenges that people continue to face is access to education, which panel members from the Tech Leadership Forum on Learning in a Hybrid World addressed. While the panel admitted that there are still problems that education systems across the world face, they are optimistic that better technology and executions will be developed as we learn more about how they are being applied today.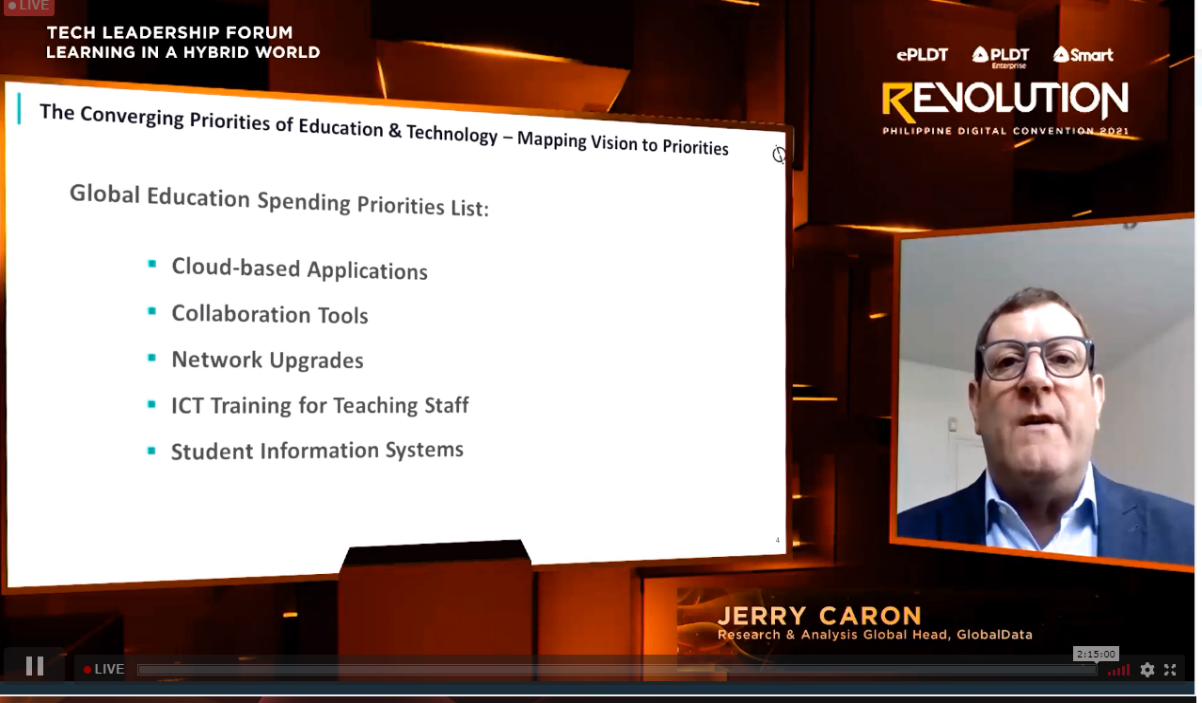 GlobalData research and analysis head Jerry Caron spoke about the biggest priorities for institutions that they have observed, and among the list are cloud-based applications, collaboration tools, network upgrades, and student information systems.
He also pointed out that many of the technologies being used require continued learning for the teachers themselves as they would need to know how to operate and build their curricula with tech in mind. This continued learning is also correlated to what the main plenary session ended on, which put the focus back on people.
At this point in time, Philippine businesses have proven that they can wield the will and capability to accept change whether in the form of revolutionary technologies or flexibility in adopting new strategies and principles. And now that we are seeing signs of recovery, decision-makers and heads of industries are ready to turn their heads towards the near and long-term future, embracing a new hybrid reality and more technologically capable Philippines. – Rappler.com