Read about how accelerated digital transformation is changing businesses and humanitarian campaigns as seen from day one of PH Digicon 2021
Every year, PLDT Enterprise gathers together a group of global technology leaders and industry experts to talk about the latest in digital technology and how they are being applied in business to improve lives and productivity for the Philippine Digital Convention (PH Digicon). This year, the three-day event took place on the virtual stage from October 6 to 8, centered around the theme of REVOLUTION, in reference to the disruptive technologies that enabled businesses to bounce back from the effects of the global pandemic.
Let's take a look at some of the highlights from day one of the convention – from rethinking manufacturing with the use of sensors and virtual factory dashboards, reimagining retail models, reconfiguring business models around tech capabilities, and enabling humanitarian efforts especially in remote corners of the world.
The new business as usual
We are on the cusp of a new era where we can unlearn and relearn technology and its role both in business and our lives. This was the opening idea that Jovy Hernandez, ePLDT President & CEO and SVP and head of PLDT & Smart enterprise and international business groups, shared as he welcomed delegates on the virtual stage. He added that digital transformation has accelerated as a response to the pandemic. "Now is the time to reimagine the world of business as we would like it to be," he announced.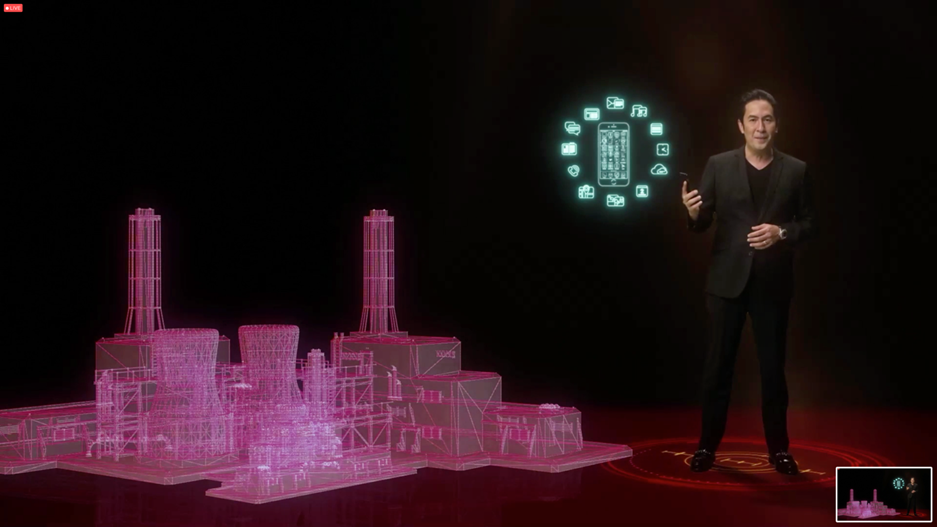 And a lot of reimagination has indeed occurred in the last 19 months since the lockdowns began. What would have taken years to accomplish in digital transformation were crammed into mere months. Many businesses that used to rely on legacy systems have either fully embraced a digital platform or are currently in the process of digitization.

Most of these efforts were driven by a change in consumer behavior as more customers relied on online portals to acquire services they would normally pursue in person, fueled by people's cautiousness and adherence to movement restrictions. This is the new "business as usual" – customers wanting less physical touch, but still having a semblance of human interaction.
This is the new "business as usual" – customers wanting less physical touch, but still having a semblance of human interaction.
And unsurprisingly, the foundation that supported many of these transformations is connectivity enabled by telecommunications companies like PLDT.
Laying the foundation
"During the pandemic, network connectivity has become critical for many things," shared John Harrington, Nokia's SVP head of Asia Pacific and Japan. He pointed out that while many things dwindled during the pandemic, internet demand rose significantly.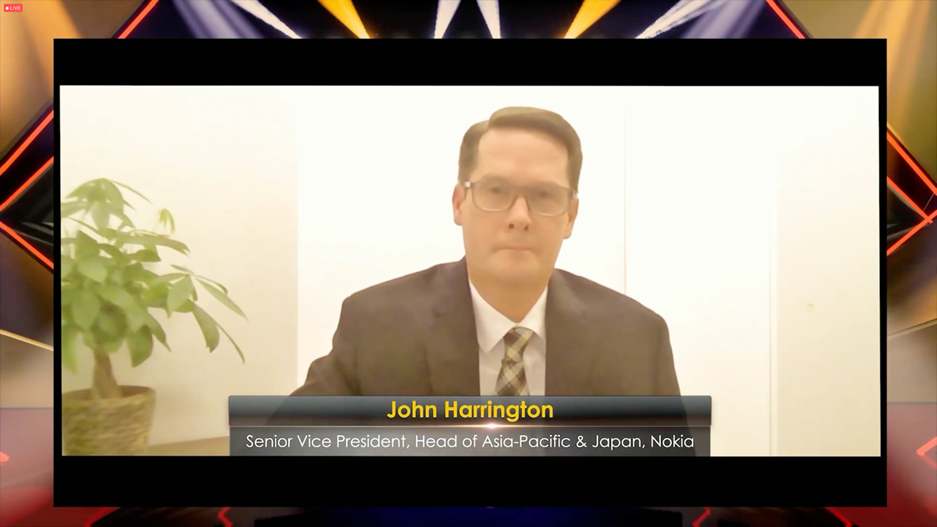 According to PLDT, to meet the increasing demand of consumers and businesses for reliable connectivity, they focused on expanding their services to different areas in the Philippines in 2020. Today, they have more than 524,000 kilometers of fiber connections throughout the Philippines—the most extensive in the country, 14 cable systems across the country (and more in the next three years), doubled its 5G footprint to 4,000 sites for 5G connectivity, 68,500 base stations, and the largest telco-neutral data center network with 9,000 racks across ten sites.
Harrington added that 5G's rollout also hasn't been dampened by the pandemic and that Nokia along with other telecommunications companies across the world had been busy establishing new 5G connections.
"We've actually seen an increase in demand for connectivity. We've seen global internet traffic rise by 30 to 50% … We've seen the initial rollouts in Japan, Korea, Australia, and Singapore, and [recently], we've seen Nokia with Indosat in Indonesia launching 5G."
He also pointed out that they have observed new patterns in traffic and demand such as broadening times of high traffic, which means increasing network capacities has been important as internet consumption has widened.
Increasing capacity, increasing security
Along with consumer demand was the rising need to create and maintain remote workforces, which meant that connectivity suited for office work was no longer limited within the actual premise, but had to be extended to people's homes.
This meant a lot of changes and challenges, requiring better speed and capacity, as well as security. The panel also added that there is now more demand (and there will be more demand in the future) for artificial intelligence, advanced data analytics, and cloud services.
As a result of these, analytics suggest that there may be a lot of growth for data centers in the next few years. A few examples of developments being explored in creating better data centers include using liquid cooling for base stations to lessen the heat generated and lower energy consumption, as well as using modular design delivery systems that allow faster deployment of mechanical and electrical systems.
Issues and innovations on cybersecurity were also discussed on the virtual stage. During one of the Tech Leadership forums, Karrie Ilagan of CISCO described the new issue as having "more surfaces for you to get attacked".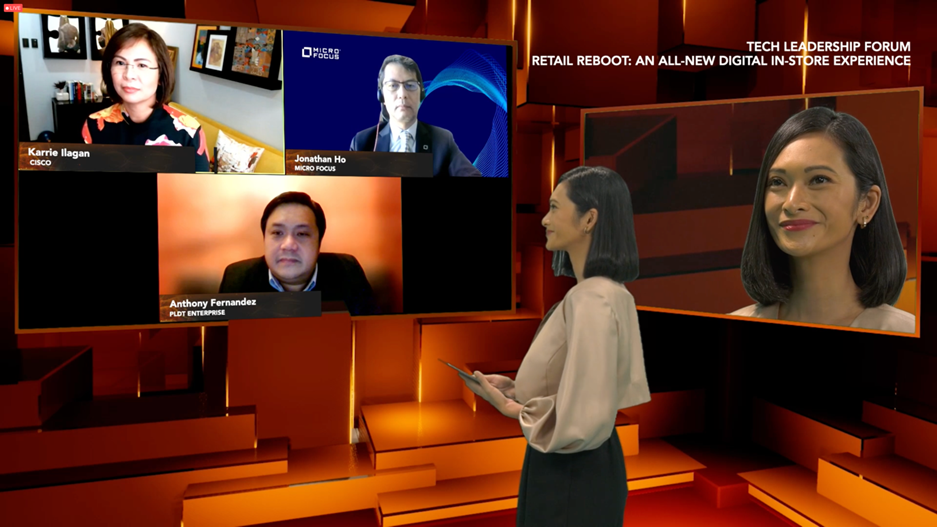 Some began implementing principles like Zero Trust which means removing assumed trust or security across the board, Secure Access Service Edge (SASE), as well as other next-generation access models for security. These measures increase observability and transparency to help boost cybersecurity especially when you have different third-party suppliers that may have been working in silos in the past.
Internet of Things, Internet of possibilities
There were a lot of interesting applications introduced throughout day one of the PH Digicon 2021. Several panelists during the plenary sessions as well as the Tech Leadership forums demonstrated how digital transformation took place in their fields of work. IoT is essentially synchronizing digital and physical systems, and this as a principle has been changing many business processes.
In manufacturing, Internet of Things (IoT) has enabled factories to install hardware and software that help them operate, monitor, and service machinery remotely, and create a system where all the moving parts can talk to each other. By using sensors, system mapping can tell operators which machines are working efficiently, what parts need fixing, how much product is being produced, and so much more.
In a leadership forum, this was described as having "twin factories", the first being the real physical factory and the second a virtual copy where you could see a layout view of all the different moving parts.
For retail, new models are being introduced in response to changing consumer behaviors. Several panelists gave insights on how they have been addressing these.
For Grab Philippines' country operations head Ronald Roda, they pivoted their services from ride sharing to include delivery services, adopting an "Any time, anywhere, any reason" delivery model.
Another model demonstrated on the virtual stage was called BOPIS, or "Buy online, pick up in-store" as explained by GlobalData's head of thematic research Cyrus Mewawalla, who also touched on the importance of having an omnichannel approach in retail to make sure that brand presence is consistent.
Mewawalla also talked about the shift from artificial intelligence to augmented reality in retail, and some brands are making use of this by allowing customers to digitally try on certain products without having to purchase the items beforehand.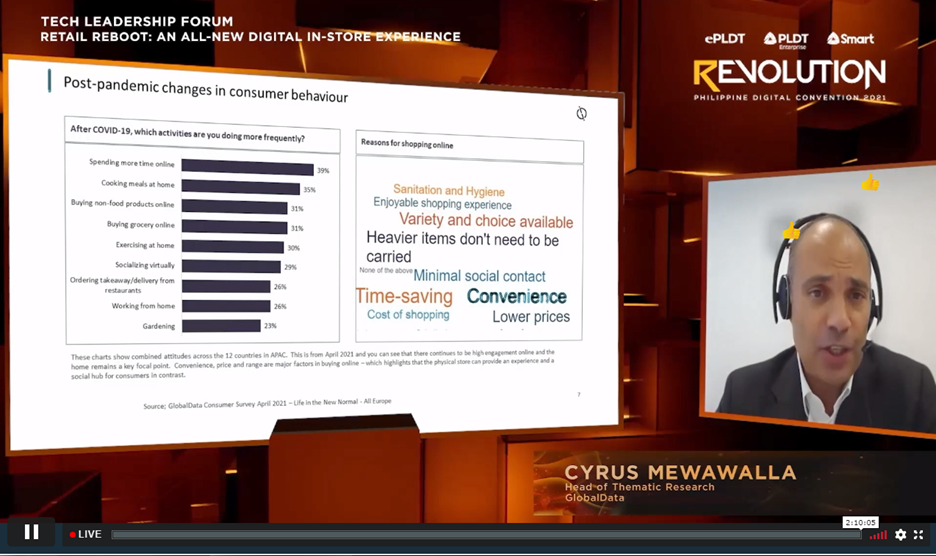 There was a close look at business process outsourcing as well as the sector is a major contributor to the country's GDP. And a major change that occurred for BPOs is having to move their services out of the office and into their employees' homes, which means IT systems had to be expanded in a short period of time.
Luigi Casas, vice president and CRM head of PLDT Enterprise, said that one way this was made possible was through IT architecture designed and powered by SD-WAN, which grants powerful combined LTE and Fiber connection, advanced firewall and threat management, and dashboard monitoring. He also shared that these systems will be even made more powerful as PLDT finishes three more major international cable facilities within the next five years.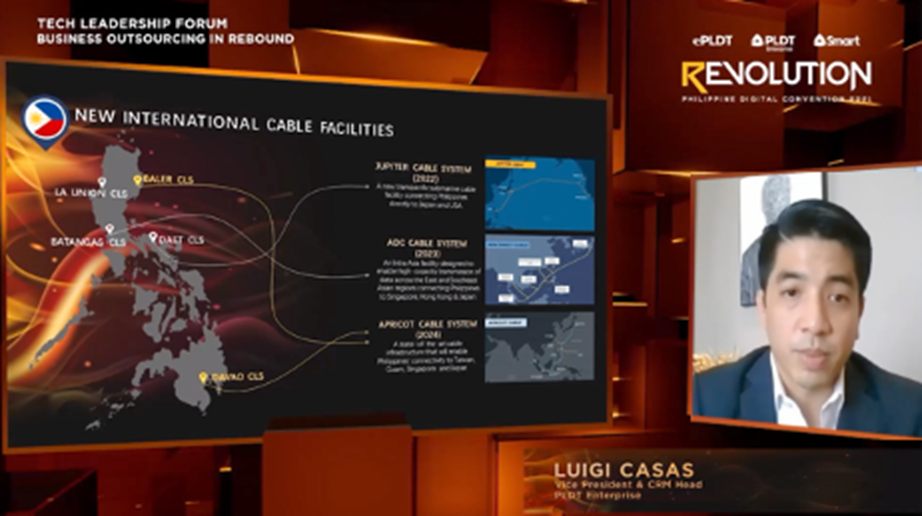 Another application of new technologies is in emergency services. Harrington described a system they are implementing in Sendai, Japan, where 5G was used for alert systems, and 5G-capable drones can be deployed for assisting in evacuation and delivery of emergency supplies.
PLDT and Smart president and CEO, and MPIC chairman Manuel V. Pangilinan (MVP) explained that these revolutionary technologies are also becoming enablers for conglomerates and companies to be Environmental, Social and Governance compliant as issued by the Securities and Exchange Commission.
He pointed out that it would take revolutionary leadership to adopt these necessary changes. "The mantra has always been the customer experience, at the end of the day all of these are being done to ensure network processes transformation are being done to ensure that we are able to ratchet up our ability to raise the quality of customer experience."
Humanity in the center
Among the highly renowned panel of speakers during the first day of PH Digicon 2021 was Hollywood actress, entrepreneur, and philanthropist Charlize Theron who talked about the role of communication and information for the advocacy work they have been doing in Africa. Theron is a United Nations Messenger of Peace, and is the founder of the Charlize Theron Africa Outreach Project (CTAOP), a foundation that has been investing in African youth and fighting against HIV/AIDS.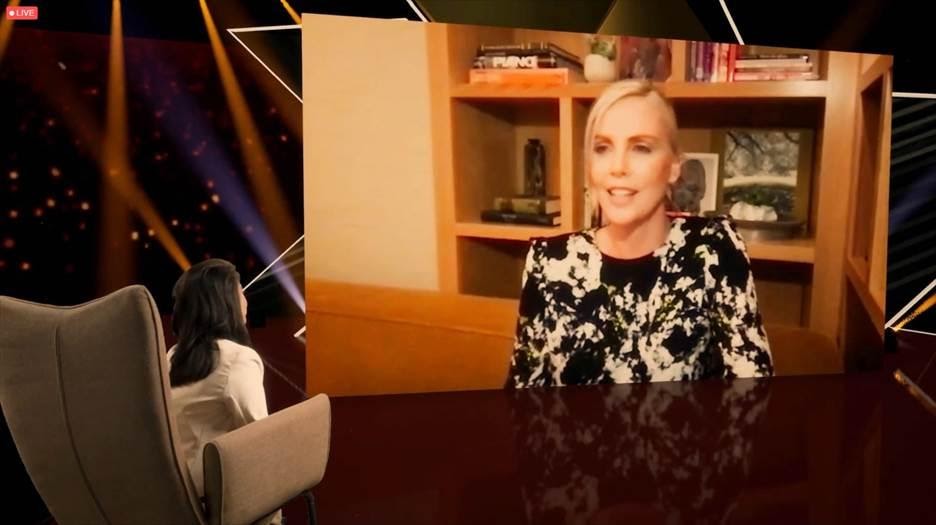 Theron looked back to the beginnings of the foundation, sharing that they first began with only three mobile clinics that brought health-saving information and tools to communities that had no infrastructure to support them. The mobile clinics also became a way for children to have access to the internet for the first time in their lives, and be able to learn how to use computers as work and life skills for their future.
She shared recollections of growing up in South Africa at a time when there were still a lot of fears and questions about the AIDS pandemic and compared it to what has been happening recently with COVID-19. Theron pointed out that what matters right now is being able to listen to the people on the ground even when we can't be with them physically.
According to Theron, among the issues exacerbated is gender-based violence, which they have been trying to address through a program called "Together for Her". Their foundation has also been hard at work in securing vaccines for their beneficiaries.
All these packed discussions happened only during the first day of PH Digicon 2021, and a lot more unfolded as insights were shared and new connections were established. – Rappler.com