E-industry leaders discuss how digitizing their operations helped in streamlining today's workflow
Even before the pandemic hit, technology has drastically changed the way we live and the way we work. As a result, entire industries have functioned and transformed immensely.
Now, as this digital transformation is being accelerated by current events, PLDT Enterprise looked to e-industry leaders in understanding what it takes to adopt digital innovations into different businesses. 
In PLDT Enterprise's latest Tech Talk On Air, "Technological advancements at work fueling the growth and development of e-industries today," these leaders tackled problems, solutions, and opportunities in all sectors of what they dub as the "eWorld" – e-learning, e-banking, e-commerce, e-government, and e-healthcare.
Participating in the talk were several professionals in the e-industry who have in-depth experience in digital transformation:
For e-learning
Vic Tria, First Vice President & Sales Head of PLDT Enterprise
Fr. Elmer G. Dizon, President of Catholic Educational Association of the Philippines
Usec. Alain Del B. Pascua, Department of Education
For e-banking
Jojo Gendrano, First Vice President & Head of Enterprise Core Business Solutions
Hans Sicat, Country Manager, ING Philippines
Danny Smolders, Regional Manager APJC – SD-WAN, Cisco
For e-commerce
Nico Alcoseba, Vice President & Head of ICT Business of PLDT Enterprise
Guilherme De Moura Porto, Managing Director, Food Panda
Martin Yu, Associate Director, Shopee
For e-government
John Gonzales, Vice President and Head of Enterprise Digital Solutions
His Excellency Steven J. Robinson, Australian Ambassador to the Philippines
For e-healthcare
Mitch Locsin, First Vice President & Sales Head of PLDT Enterprise
Dan Horan, Advisor, Metro Pacific Healthtech Corporation
Dr. Jaemin Park, Partner, Bioconnexus Ventures & Healthcare Advisor, Index-Asia
The discussion was moderated by TV host and news anchor, Danie Laurel. Meanwhile, PLDT Chief Revenue Officer and Smart President and CEO Al Panlilio and ePLDT President & CEO and SVP & Head for PLDT and Smart Enterprise Business Groups Jovy Hernandez delivered the opening and closing remarks.
To watch the replay of this episode of Tech Talk on Air, watch the video below: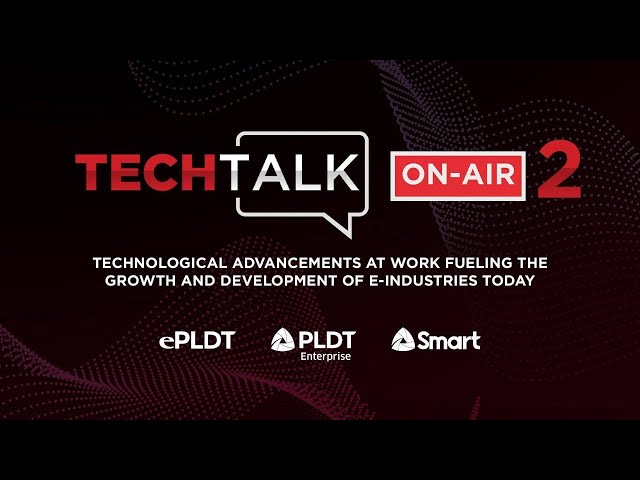 – Rappler.com