This is AI generated summarization, which may have errors. For context, always refer to the full article.
The exam passers would have to go through a rigorous complete physical examination before they are chosen as cadet candidates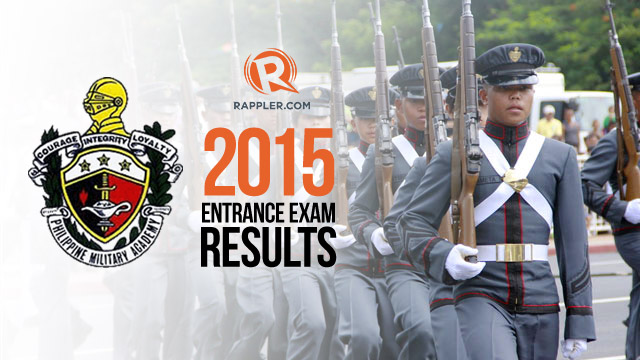 MANILA, Philippines – (UPDATED) The PMA released the results of its 2015 entrance exam on Tuesday, September 15, listing down 1,642 passers.
The premier institution is the military school of the Armed Forces of the Philippines. It was established in 1936 through the National Defense Act.
The exam passers will undertake a complete physical examination (CPE) at the AFP Medical Center (AFPMC), where their medical, physical, mental, and emotional condition will be examined to "determine their readiness and fitness for the military training."
According to the PMA website, the CPE takes days so the cadet candidates will be required to stay in the billeting area provided by PMA in the AFPMC.
Out of the initial 1,642 exam passers, only 350 will be admitted to the academy. Those who successfully make the cut will be brought to the PMA campus in Baguio City in April 1, 2016 for an oath-taking and reception ceremony.
Throughout history, the PMA has produced some of the country's most renowned military leaders like former president Fidel Ramos, incumbent Defense Secretary Voltaire Gazmin, and former senators Rodolfo Biazon, Panfilo Lacson, and Gregorio Honasan, among several others.
See the full list of exam passers here. – Rappler.com
Editor's Note: In an earlier version of the story, we said that the exam passers were already PMA cadets. The passers would actually have to go through a complete physical examinatio before being selected as cadets. We apologize for the error.