Two Asian communication icons will be given one of the highest honors in the field of communication in Asia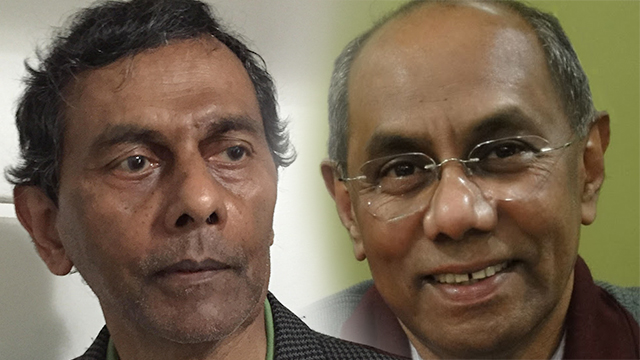 This is a press release from Asian Media Information and Communication Centre.
Two Asian communication icons – a theorist and a practitioner – will be given one of the highest honors in the field of communication in Asia by the Asian Media Information and Communication Centre (AMIC) on September 27 at Miriam College, Quezon City.
Shelton Dhavalasri Gunaratne, a former Sri Lankan journalist who is now professor emeritus of Minnesota State University Moorhead (MSUM), will receive the AMIC Asia Communication Award for 2016 in recognition of his "ground-breaking scholarship and intellectual contribution to Asian media and communication research." 
Wijayananda Jayaweera, a Sri Lankan broadcaster who spent a lifetime developing community broadcasting in Asia up to the end of his distinguished career as UNESCO Director of Communication and the International Programme for the Development of Communication (IPDC), will be given the AMIC Asia Communication Award for 2017 in the field of institution building.
The awards will be handed out at the 25th AMIC Annual International Conference September 27-29 at Miriam College, Quezon City. Over 400 foreign and local communication scholars, educators, researchers, practitioners and students have registered for the conference.
About the conference 
This is the first time the annual conference is being held in the Philippines since AMIC's transfer from Singapore to the Philippines in 2015. 
Themed "Rethinking Communication in a Resurgent Asia," the conference includes sessions on Asian Communication Paradigms and Theories; Asian Philosophy, Religion, and Communication; Freedom of Expression in a Post-Truth Era; Communication and Culture; Communication Education and Training;  Political Communication in Traditional and Online Platforms; Media and Information Literacy; and Children and Gender Issues in Communication. 
"The theme forces us to question the seeming dominance of Western philosophies and paradigms in communication media in the Asia-Pacific. The event hopes to provide a platform for reasserting the pioneering contributions of Asians in communication as well as examine the impact of Asian philosophies and religions on communication paradigms, strategies, and practices, said Crispin C. Maslog, AMIC Board of Directors Chairperson. 
Some "legends" and experts in communication and journalism education in Asia Pacific have confirmed their participation. Among them are John Lent, Shelton Gunaratne, Ronny Adhikarya, Ang Peng Hwa, Cherian George, Arun Mahizhnan, and Peixin Cao. They will be joined by Filipino communication scholars including AMIC Chairperson Crispin C. Maslog and Florangel Rosario-Braid. 
About Gunaratne, communication theorist, 2016 awardee
Shelton Gunaratne started his distinguished career as a journalist in Sri Lanka and went on to conquer new journalistic worlds in Malaysia, Australia and the United States. Go West, young man, he was told. He did, like many other Asian communication scholars of his generation, and eventually became the first Sri Lankan to receive a doctorate in mass communication from the United States in 1972.  
He then switched to academe as a journalism educator for the next decade in Malaysia and then Australia. From there he went to the United States to teach at the MSUM from where he retired as professor emeritus in 2007. All throughout his teaching career in the West, he continued his love affair with Asian journalism and communication. 
After 2000, Gunaratne focused his academic energies on globalizing communication/journalism studies with his attempt to merge Eastern philosophies—particularly Buddhist and Daoist phenomenology–in his seminal book, The Dao of the Press, published in 2005. 
Gunaratne argues in this book that the classic Four Theories of the Press, articulated by Fred Siebert, Theodore Peterson and Wilbur Schramm since 1956, and which had become standard textbook in communication and society courses in Asia as in the rest of the Western world since then, was based on Eurocentric history, theory and practice.  
Dr Gunaratne's development of a humano-centric theory of press freedom presumes a world system that reflects the characteristics of a yin-yang (libertarian-authoritarian) spiral-shaped continuum. Therefore, he argues, communication theory must concede the Daoist notion of diversity within unity (varying degrees of freedom in different countries) because it describes the reality of nature.
About Jayaweera, institution builder, 2017 awardee 
In his career of about 50 years in the communication media sector—starting as a production assistant in 1969 at Sri Lanka Broadcasting Corporation up to his distinguished career as UNESCO Director of Communication and the IPDC—Wijayananda Jayaweera has either initiated or introduced "revolutionary" programs that are redefining communication policies, standards, and programs. 
Jayaweera's initial major contribution to media development was the establishment in 1984 of Mahaweli Community Radio, a pioneering Asian community radio project. This facilitated the relocation of nearly 60,000 families under one of the most ambitious resettlement projects implemented by the Government of Sri Lanka. Throughout his career, he has played various significant roles in institutionalizing community radio in many other countries including Bhutan, Mongolia, Nepal, the Philippines, Thailand, and Vietnam. These initiatives were under the aegis of UNESCO and the Asia-Pacific Institute of Broadcasting Development (AIBD), among others. 
As an institution builder, Jayaweera led the reform process for the Paris-based IPDC, successfully reinvigorating it with renewed donor confidence as the main multilateral instrument to support the development of free, independent, and pluralistic media in the developing countries.
He was also instrumental in bringing safety of journalists and the issue of impunity to the Intergovernmental Council of the Press in Developing Countries (IPDC), and in making the Council a global oversight body on the issue by obliging UNESCO member-states to report on the judicial follow up of the killing of journalists in their respective territories.   
During his tenure as Director, he led the crafting and introduction of Media Development Indicators, now regarded as the only set of internationally approved indicators to determine media development needs. It was also under his directorship that UNESCO set the standards for journalism education with UNESCO's Model Journalism Curricula and criteria for instructional excellence applicable to media training institutions.  
Among his other significant initiatives is Media and Information Literacy (MIL), now a major pillar of UNESCO Media Development Programmes. In this age of post-truth, hate speech, and fake news, MIL has evolved as a potent tool in empowering media users to be discerning media consumers and responsible and ethical content producers. –Rappler.com