Support these events from Baguio artists for a great cause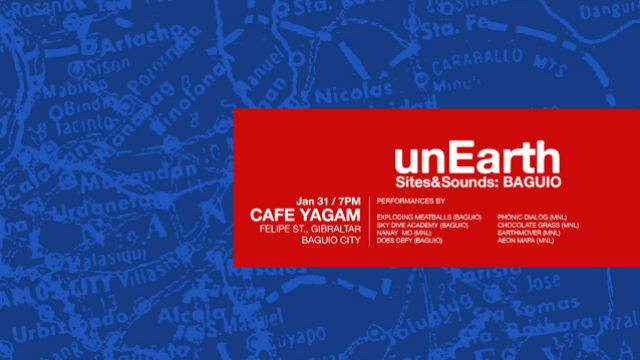 MANILA, Philippines—To reiterate responsible tourism in Baguio, artist-initiated ecology movement UnEarth: Baguio is set to hold a group exhibit that will showcase local environmental art in March 2015 at Manila-based contemporary art gallery Altro Mondo. 
Founded by local artists, the initiative aims to "re-green" tourism in the city and empower native art, also by fostering responsible travel. 
"UnEarth: Baguio is an artist-run initiative that aims to correct tourism for Baguio City through arts and music," one of the campaign heads, Iya Regalario, emphasized. 
This also happens after SM Baguio's controversial cutting of trees surrounding the mall for its expansion, a move which angered social media users and residents. 
Baguio beckons
To help fund the group show, local artists and musicians will collaborate to put up a benefit concert in Baguio this month. Along with Baguio-based bands, such as Exploding Meatballs, Sky Dive Academy, and Does Defy, Phonic Dialog, Chocolate Grass, Earthmover, Nanay Mo, and Aeon Mapa will come all the way from Manila to perform and support the campaign on Jan 31, 2015 at Cage Yagam. Door charge is P150 only. 
In line with this advocacy, an environmental cleanup led by the group will lend a helping hand with getting rid of the trash left by tourists during the holiday season at Mt. Cabuyao on January 30, 2015. Everyone is welcome to join the hike. 
Let's all help preserve one of the greatest prides of Philippine tourism by nurturing a spirit of responsibility and respect within us and among our peers. For more details, you may visit the movement's official page: UnEarth: Baguio. – Rappler.com